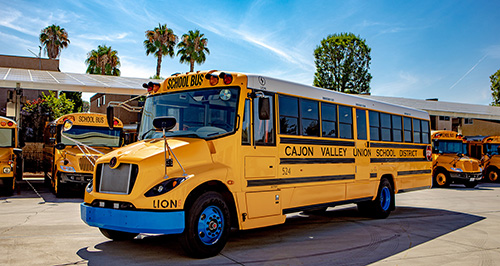 Seems obvious, when you think about it. If all the buses and trains were giant batteries, they could provide grid support.
During a record-setting, 10-day heat wave in September, most EV owners were asked to unplug to reduce demand. Instead, the Cajon Valley Union School District in San Diego County plugged its bidirectional electric school buses in, using their batteries to stabilize the grid. Those buses provided 650-kilowatt-hours of electricity back to the grid in response to "flex alerts" issued by local authorities, enough to power 277 homes. SB233 would enable all future California electric school buses to have this capability.
Reminds me of "load leveling" ideas for battery power on the grid in the 1970s before a corrupt governor of California (Ronald Reagan) became President and shut it all down to favor oil.
Also reminds me that flat-nosed buses are better for maneuverability, traction, visibility… all the safety stuff you think schools would care about. Long-nosed buses are an antiquated truck chassis concept for the old open-highway stuff of anti-pedestrian nightmare suburban planners. You'd think electric would only come with the civilized flat-nose.