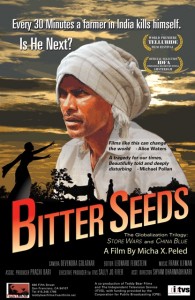 Bitter Seeds is Peled's third film in a trilogy on globalisation. It explores the risks faced by Indian cotton farmers caught up in a genetically modified seed program by Monsanto. The movie follows a farmer's daughter as she tries to expose the story of her father's death.
Farmers unable to get bank loans instead try to borrow illegally but they take on high interest rates. Then they struggle to overcome low yields coupled with expensive seeds that need for even more expensive fertilizer and water. The traditionally stable means of living becomes a financial gamble that the farmers realise they can't win; they then kill themselves to escape an inevitable loss of pride.
Monsanto's pesticide is said to be a direct cause of death in hundreds of thousands of farmer suicides.
Part One: Store Wars – When Wal-Mart Comes to Town
Part Two: China Blue