Some friends recently were saying my theory about KKK signaling in the open is just a theory. It's true, I am proposing theories that are meant for dialogue, rather than saying I'm the final word on hidden signaling.
Nonetheless, hidden signaling of hate speech is a very real thing. It takes training and some careful observation to reveal the obfuscated messages without looking like you've lost your eyesight. Trust depends on establishing some clear explanations, or getting a fancy degree.
It has become sort of a running joke among friends for me to qualify what I say with "I may not have gone to Harvard, but my analysis is still good" after a professor at Harvard dismissed my points with "I haven't seen someone at Harvard write that".
With the Harvard-centricity of knowledge caveat out of the way, and without revealing how I ended up with equivalent or better training in militant symbols (shouldn't matter anyway), let me relate to you the type of behavior that I believe needs greater scrutiny.
I'm not the first to write about Nazi tees hiding in plain sight, of course. A descendant of Nazi soldiers literally sent me a Mel Magazine article about Neo-Nazi apparel and asked me if there was anything I wanted for Christmas:
At a cursory glance, the T-shirt looks like an ad for Sea World. An orca, triumphantly jutting out of the sea, splashes water above the words "Antarktis-Expedition." It takes just a second longer to notice the bold text hovering above the orca: "Save the White Continent."

The shirt was created by the German label Thor Steinar, one of a few clothing brands that cater to neo-Nazis. Like Ansgar Aryan and Erik and Sons, Thor Steinar uses coded references to obscure events in Nazi history, veiled threats and playful imagery to flout German hate-speech laws, which forbid explicit references to the Third Reich.
So let's just say I've been, and remain, in the right circles to know when I see something fishy. And that is why, while walking through an airport the other day, I could not help but notice someone wearing a giant 5th SS Panzer-Division symbol on a T-shirt.
First, I will explain the Nazi symbolism I am referencing. There are three parts: the SS, the Wiking and the Panzer-Division. An easy way of explaining these three symbols is to look at the marketplace of Neo-Nazi merchandise.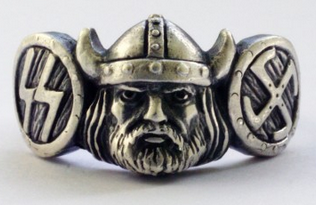 You perhaps can see how a SS, Wiking, and Panzer-Division ring has been segmented into the three parts around the finger, which makes it kind of unwieldy and large.
Now I will explain these three symbols on the ring, left to right:
SS (schutzstaffel) = a criminal militant organization of the Nazi Party directly involved in numerous war crimes and crimes against humanity
Wiking = "Nordic" volunteers commanded by Germans
Panzer-Division = the 5th Panzer-Division of the SS Wiking, a motorized (tank and artillery) infantry
Here's an example of the SS Wiking symbol on a tank, for some historic perspective, as it rolls its way towards committing war crimes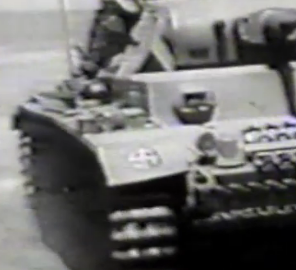 And here is a pamphlet from the same time period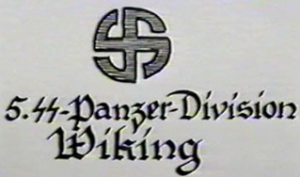 Second, I was walking through an airport just the other day when to my great surprise I saw someone wearing a Nazi symbol. Unlike the ring, however, three symbols have been combined into a single giant one.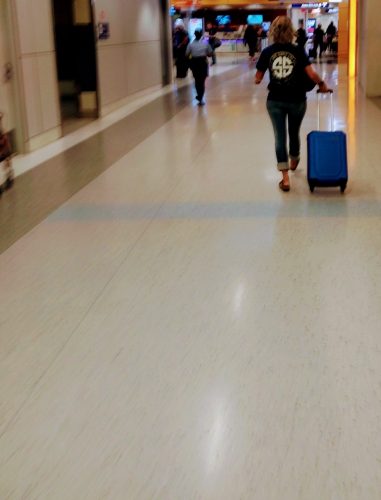 And here is a closer view, as I had to find out who was wearing this thing and why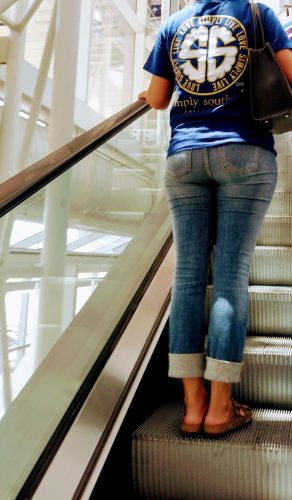 Most people I've explained this to call it an unfortunate oversight, or poor (ignorant) choice in design.
One guy thought it couldn't possibly be intentional as the words surrounding the "Nazi rune" (his words) were so peace inspiring. I found that logic to be a bit like saying a hunter isn't going to shoot a deer because a camouflage suit seems so nature-loving.
The Nazis infamously broadcast peace slogans into France right before invasion, and even convinced some people in America that Nazis are pacifists (see America First propaganda).
Of course I had to walk up to this woman and ask her "what's with the Nazi SS symbol?" She gasped and said "Oh no. Oh my god. Don't look. I don't mean to offend anyone" and then walked away.
Simply Southern is based in North Carolina and describes itself as a "brand to reflect the values of a southern lifestyle". In their "giving back" section of the website they curiously depict black children next to marine animals.