On the one hand we have RT telling us credible predictions of threats to safety were based on a tip from foreign intelligence services
"We received names," [Munich police chief Hubertus] Andrae said. "We can't say if they are in Munich or in fact in Germany."

"At this point, we don't know if these names are correct, if these people even exist, or where they might be. If we knew this, we would be a clear step further," he added.

According to the Turkish security agency, the wider European strategy by the five individuals included churches and the sites of mass gatherings.
This led to travel warnings for people to avoid train stations, such as this one: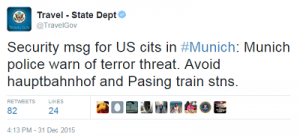 On the other hand, did the predicted events happen? Consider a BBC story reflecting back on New Year's Eve in Germany, which does not seem to be put in context of any advance warnings.
The scale of the attacks on women at the city's central railway station has shocked Germany. About 1,000 drunk and aggressive young men were involved.

City police chief Wolfgang Albers called it "a completely new dimension of crime". The men were of Arab or North African appearance, he said.

Women were also targeted in Hamburg.

But the Cologne assaults – near the city's iconic cathedral – were the most serious, German media report. At least one woman was raped, and many were groped.

Most of the crimes reported to police were robberies. A volunteer policewoman was among those sexually molested.

[…]

What is particularly disturbing is that the attacks appear to have been organised. Around 1,000 young men arrived in large groups, seemingly with the specific intention of carrying out attacks on women.
The problem with these stories side-by-side is twofold. First, increased police vigilance at train stations across Germany was the defensive plan against people experiencing terror, yet we're being told now these attacks happened without notice. Violence against women at scale deserve real-time detection and response. Are authorities capable?
Second, is there clarity on what constitutes "organized" attacks? As we learn more, puzzle pieces of conspiracy are being placed on the table: "there had been reports of similar attacks on New Year's Eve in other cities such as Hamburg and Stuttgart, although not on as massive a scale".
I have not yet seen anyone report events in this light. The BBC report holds out the train station as a scene of terror without any mention of prior warnings, and without the police warning locations were still unknown: "We can't say if they are in Munich or in fact in Germany".
The looming dilemma is whether we now can say planned terror attacks happened in Germany on New Year's Eve. As time goes on the number of women coming forward has been increasing to report assault. Why would or we say this was not a terror attack, especially as women soon after said they now fear being in public places? If we call it terror, some will complain of a slide towards loss of rights. If we don't call it terror, some will complain of ignoring rights.