On Monday, October 14 at around 7pm, the Acting Attorney General of Yap and a US citizen Rachelle Bergeron was killed by a shotgun fired into her chest at close range just after she completed an evening jog and stopped at the rear of her car to open the hatch.
The nature of the murder (shot at close range on a predictable path, also killing her dog) and the fact that Bergeron was a high-profile political figure who focuses on human trafficking prosecution both suggest that she was assassinated, perhaps by slave traders or human traffickers.
Yap on a Map: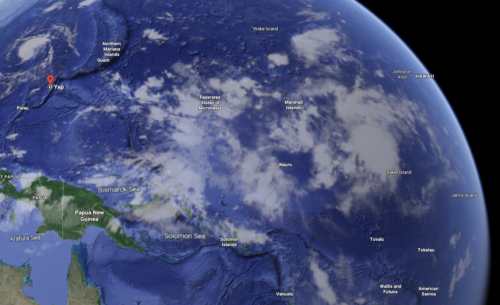 Just a week before, on October 8th, a Republican politician (who formerly had been a Christian missionary to Pacific Islands) was indicted for running a human trafficking operation across Arizona, Arkansas and Utah. He fraudulently lured Pacific Islander women into the U.S. to put them in concentration camps and sell their children for $40K to American families, redirecting the mothers' healthcare benefits to himself. Seized bank accounts suggest this generated at least $150K a month over the past two years.
Was there some correlation from one month to the next, from indictments to assassinations?
In 2015, Bergeron moved to the Federated States of Micronesia (FSM), of which the island of Yap is a part, to serve as assistant Attorney General. This past January, she was promoted to acting Attorney General. She had a career-long focus on prosecuting human traffickers.
The Small Arms Survey, a Swiss nonprofit that analyzes gun ownership statistics, estimates there are 700 guns total owned by the civilian population of Micronesia, which numbers 104,000 people. Collins said Bergeron had a passion for fighting for justice for those who had been abused, especially women and children.
Bergeron's prosecution efforts were complicated in this island nation because culturally local politicians suppress reporting to protect the image of the islands, and families suppress reporting of human trafficking incidences to protect the image of their family.
Local authorities claim that many sex trafficking cases remain largely unreported because of victims' fear of being shamed and embarrassed in FSM's very small, family-based communities.

The people of FSM are typically very conservative and put their family's reputation and care above all else. According to the 2010 population census, the FSM island Kosrae had only 6,616 people living on it. These island nation communities are very close knit. Shame and embarrassment toward the individual and their family could spread very quickly if a victim were to report a case of sex trafficking.

FSM women are looking for better socioeconomic opportunities to support themselves and their families. And unfortunately, some take advantage of this and exploit them for forced prostitution.
In 2013 the U.S. government was accused by Micronesian politicians of hurting the islands' reputation in the international investment/development community. Local leaders protested being on a human trafficking watch list:
…both the Marshall Islands and the FSM are listed by the U.S. State Department as under Tier 2 watch list.

It means the country is where "absolute number of victims of severe forms of trafficking is very significant or is significantly increasing," and where there is failure to provide evidence of "increasing efforts to combat severe forms of trafficking in persons from the previous year."

Under Tier 2 watch list, the determination that a country is making significant efforts to bring itself into compliance with minimum standards was based on commitments by the country to take "additional steps over the next year."

The U.S. State Department's report says the Marshall Islands "is a destination country for women from East Asia subjected to sex trafficking. Foreign women are reportedly forced into prostitution in bars frequented by crew members of Chinese and other foreign fishing vessels," among other things.

The same report says FSM "is a source and, to a limited extent, a destination country for women subjected to sex trafficking. Some reports suggest FSM women are recruited with promises of well-paying jobs in the United States and its territories, and are subsequently forced into prostitution or labor upon arrival."
FSM is closely associated with the U.S., serving its interests since WWII, and 1,500 residents even serve in the American military.
Situated in the western Pacific Ocean, the Micronesia region comprises five sovereign, independent nations — the Federated States of Micronesia, an independent republic associated with the United States. It consists of four states spread across the western Pacific Ocean. From west to east, they are Yap, Chuuk, Pohnpei and Kosrae. Together, the states encompass more than 600 islands.
Yap has about 11,000 residents. Despite being a tiny island with a small population and tight-knit cultural norms, this type of incident isn't the first. Another American working with women and children was murdered.
Ten years ago a story unfolded of American teacher Kirsten Elisabeth Wolcott being stabbed to death on Yap after going for a jog, as officials emphasized crime against women like this never happens on their island:
"This is a difficult situation for the school, the mission and the Island of Yap," Torres said. "The police officer said nothing like this has ever taken place in the past to a visitor." […] Torres reported that women from the community are now taking turns staying overnight at the apartment of the female teachers to help them feel safe.
Volunteer women stepped in rather than the police to protect other women from being murdered, which is a huge clue in the present-day assassination case. Use of a shotgun also is a clue in an island with so few guns, as it seems premeditated and excessively violent (not just about opportunistic killing foreign women who jog); more like something you'd expect in Arkansas or Arizona.
Medical reports anecdotally have indicated that nearly 80% of women on Yap report being attacked by men, and studies to calculate real data have been blocked.
Anecdotally there are high rates of domestic violence in the small Micronesian State of Yap, Federated States of Micronesia (FSM), but there have been no studies to quantify the prevalence or characteristics of domestic violence in Yap or in any other state of the FSM. A survey was administered to women at the Yap hospital and community health centers from February through June 2011. Survey data were on domestic violence, which was supplemented by a focus group to explore the issues involved in greater detail. A high prevalence of domestic violence was documented by the survey; perceptions about this were explored in the focus group. On the questionnaire, 148 of 194 (76%) women reported at least one form of abuse. Given the small number of adult women in Yap, these findings suggest that domestic violence is a serious, pervasive problem that Yap needs urgently to address.
The assassination seems clearly a case linked to human trafficking criminal groups that believe they can get away with murdering an Attorney General on an island where anyone working on prevention of harms to women and children may be treated as a threat to the economy.
The FBI now has dispatched investigators to Yap, which may up-end the fact that the Pacific Islands have been a major source of modern-day human trafficking operations in the U.S. Treating women like animals and selling their children into American families is a practice documented recently in prosecution of a Republican politician running a multi-state modern-day slavery operation:
An Arizona politician ran an adoption fraud scheme that promised pregnant women thousands of dollars to lure them from a Pacific Island nation to the U.S., where they were crammed into houses to wait to give birth, sometimes with little to no prenatal care in what prosecutors called a human smuggling case.

[…]

Paul Petersen, the Republican assessor of Arizona's most populous county, was charged in Utah, Arizona and Arkansas with counts including human smuggling, sale of a child, fraud, forgery and conspiracy to commit money laundering. The charges span about three years and involve some 75 adoptions. Investigators also found eight pregnant women from the Marshall Islands in raids of his properties outside Phoenix, and several more are waiting to give birth in Utah, authorities said.

"The commoditization of children is simply evil," said Utah Attorney General Sean D. Reyes

[…]

In Arkansas, it wasn't uncommon to find a dozen Marshallese mothers on the verge of giving birth in one house, said Duane Kees, the U.S. attorney for the western district of Arkansas. "Many of these mothers described their ordeal as being treated like property," Kees said. "Make no mistake: this case is the purest form of human trafficking." Arkansas has one the largest concentrations of Marshallese immigrants in the U.S. and the women would then be flown there or back to the Marshall Islands after giving birth, authorities said.
This Arizona politician's conviction takes me back to 2013 when FSM said their investment/development fortunes would be hurt by investigating human trafficking.
Between December 2016 and September 2018, bank account records subpoenaed by an investigator show a little more than $2.7 million…
Perhaps the news reports are linked (see map above), and in any case they indicate a very troubling reality. Men in offices or positions of power continue to practice slavery and the women who challenge them (stand against business model of human exploitation) are at risk of being assassinated.
---
Update November 2019: Charges filed against two men in Yap.
Anthony Rutun Teteeth, also known as Tun, is charged in the Yap State Court with murder, conspiracy to commit murder, reckless endangering and malicious mischief. Francis Choay Buchun, also known as Frances Choay Buchon, is charged in the Yap State Court with conspiracy to commit murder. The State accused the pair of planning Bergeron's murder at least one month prior to the deadly shooting.
Reports of court documents in Yap also mention illegal sourcing of the weapon used:
Complaints filed before the Yap State supreme court allege that Teteeth, who worked for a local business, and Buchun, who worked for Yap's Aircraft Rescue and Fire Fighting Facility, spent more than a month planning Bergeron's murder and arranging to obtain weapons and ammunition illegally.
Why a gun? On an island where guns are illegal and never used, and it was by no means necessary for the assassination, why the long planning period and why gunfire?