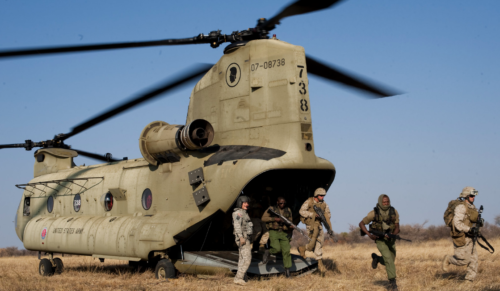 Big shift from previous US policy on Africa.
The latest analysis of the Syria crisis increasingly reveals it is a Russian plan that the White House has swallowed hook, line and sinker. Both Russia and China stand poised to expand into areas formerly allied with America, to expand their own operations that will erode American relations and influence.
Unilateral withdrawal clearly harms U.S. interests both short (UN Security Council now comparing it to Bosnia, with regional destabilization) and long (high bar to gain foothold or respect for re-entry) terms, yet America somehow allows Executive-branch folly to proceed.
Perhaps you recall just a few months ago a similar withdrawal story was brewing in Africa? That probably should have been reported as a much starker warning of what was to come.
Gen Waldhauser said the troops will be deployed to missions where the US sees as high-priority.

"We all realise, you know, Africa, with regards to the prioritisation of our national interests … there's no doubt about the fact that that it's, you know, it's not number one on the list," Gen Waldhauser was quoted as saying.

The Trump administration views preparation for potential conflicts with China or Russia to be of higher priority than combating terrorism in Africa.
Now with the White House flying a white flag in abandoning its Kurdish allies in Syria, inviting Russia to roll right in afterwards, there might be a clearer explanation for abandonment of African forces.
The Kremlin's goal is to emulate China's success in fostering economic, diplomatic, and military links with Africa. To become an important partner, Moscow is organizing the first-ever Russia-Africa summit on 23-24 October.
The American pull-out from Africa serves the opposite of preparation elsewhere for potential conflicts with China or Russia.
Consider that turning tail and intentionally opening doors to Russian military sales expansion has been manifested by a brand new announcement that Russia is abruptly now pushing into new African allegiances:
While Moscow is focused primarily on other regions, it regards Africa as an attractive venue to evade international sanctions imposed by Western nations and deepen ties with old and new partners while scoring points at the expense of the United States.

Part of Russia's engagement in Africa is military in nature. The Russian military and Russian private military contractors linked to the Kremlin have expanded their global military footprint in Africa, seeking basing rights in a half dozen countries and inking military cooperation agreements with 27 African governments
America claiming to be redirecting its military towards confrontation with Russia is double-talk. It's pulling its hands off the wheel, literally opening the door and handing keys to arms dealers to drive. This will mean a spread of anti-humanitarian influences and locking the U.S. out of "forward" stations for military and civilian operations, which will greatly increase risk of harm to the United States (along with any democratic nations and states).
What is especially baffling is how China and Russia are doing basically the same expansionist plan, threatening American influence and ability to protect values, yet get such different treatment by the White House.
Replace the word China with Russia in this next story and you should see the problem with the U.S. unilateral withdrawal from Syria as well as Africa:
"There are two concerns about these investments," said Ohio Rep. Bob Gibbs, the top Republican on the Subcommittee for Coast Guard and Maritime Transportation. "First, the dual commercial and military uses of these assets; second, that the debt incurred by these countries will tie them to China in ways that will facilitate China's international pursuits and potentially inhibit U.S. overseas operations."
We've seen this already as China uses its offer of loans to later squeeze control of ports
Kenyan government risks losing the lucrative Mombasa port to China should the country fail to repay huge loans advanced by Chinese lenders. In November, African Stand reported on how Kenya is at high risk of Losing strategic assets over huge Chinese debt and just after a few month the Chinese are about to take action.
Bottom line is that pulling back to confront Russia and China is counterproductive. Advance deployments and influence is what was designed to prevent a lopsided confrontation, by forming global alliances that maintain what Eisenhower wisely referred to as the American need for a confederation of mutual trust and respect.
Losing alliances also means American warfare technology (which depends increasingly on intelligence) becomes less reliable in the very near future. Perhaps I'm stating the obvious but things like "Simple map displays require 96 hours to synchronize a brigade or division targeting cycle…" will get performance gains faster/better through augmenting human alliance networks in the field rather than pulling out and relying on AI alone.
---
Update October 24: LSE's Stephen Paduano and alum John McDermott write in The Economist that the rise of Russian activity in Africa has been accompanied by senseless violence.
When three Russian journalists tried to investigate their country's shady operations in the Central African Republic they turned up dead in July 2018
Update December 31: A Compassion International Senior Security Specialist for Africa comments on a Washington Post article
How do you expect to counter China if you're leaving where they are going? From the article, in response to China hosting leaders from 54 African countries yearly, "At the launch of Prosper Africa in Mozambique this year, the United States failed to send even a Cabinet secretary."