The easily predictable disaster has been a disaster:
…two years before The Vessel opened, architecture critic Audrey Wachs was warning that the waist-height railings around the staircases would fail to prevent deaths: "When you build high, folks will jump."
Even an "easy solution" came with predictions.
Three suicides in the early 2000s at New York University's Bobst Library – which originally featured internal open-air balconies – offered both a warning and an easy solution.
This story just gets worse and worse.
Carla Fine, who has spent 40 years writing about and talking to those affected by suicide… lives in Chelsea, eight blocks from The Vessel, says the danger of the structure was obvious from the moment it was unveiled… "I knew what was going to happen… It's a suicide machine."
Despite the predictions, despite the easy solution and despite clear warnings… the deaths continued due to alleged negligence.
After the first death at The Vessel in February 2019, Fine raised the matter at a public meeting of the local community board. In March, representatives of the board wrote to Andrew Cantor, senior vice-president of Related, urging the company to install higher safety barriers – but it took no action. Over the next year, Fine wrote repeatedly to Related, as well as to Heatherwick Studios, urging them to take the matter seriously. When the next two suicides happened, she was still waiting for a reply that never came.
The total disregard for others comes through in another element of this story.
[Owner of the suicide machine] claimed that it could use, for promotional purposes, any photo of The Vessel posted online, without awarding royalties or due credit.
The owner said even if people did not lose their life, they were guaranteed to lose their assets.
I'm surprised the owner didn't announce they could rob people visiting their site since they wouldn't be needing anything after suicide.
Indeed, after multiple suicides the owner decided it would add a $10 fee to tax people at the bottom before their lives were taken at the top.
"If you want to kill yourself, usually you go ahead and kill yourself. Ten dollars doesn't make the difference," Fine says. The fact that Related was about to make a profit from the deaths to which its site was linked is also fairly unpalatable.
The owner also started a requirement for people to only be allowed entry in groups, a truly terrible and tone-deaf attempt to ignore safety experts yet again.
That only made the horror worse, because the boy who jumped yesterday did so in front of his family. The structure's only purpose was to offer a climb and a view. The problem is that the adjacent shopping mall (no stairs or entry fee required) offers a similar view, and the observation deck 1,000 feet above puts them both to shame.
Does it even have any purpose at this point other than to increase preventable deaths?
And who designed this monstrosity of harm, an immediate folly in the truest sense?
The man responsible for this disaster design, Thomas Heatherwick, has no formal training in architecture. Patronage seems to be how he ended up with the job. His prior work was also shutdown as failure, also with massive losses.
During his tenure as London mayor, Johnson championed Heatherwick's designs for a garden bridge across the Thames. The project collapsed in August 2017, leaving taxpayers with a bill of £43 million, making it one of the costliest project failures in British political history.
What is he doing now? Perhaps he should be forced to create a monument to the dead of Heatherwick Folly — "suicide machine" — paid out of his own pocket?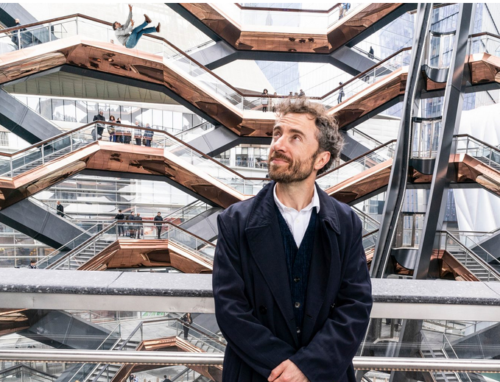 Apparently he already has some designs in mind.
Thomas Heatherwick is in discussions with a government minister over plans for a memorial to the victims of the Covid pandemic.
Victims of COVID?!
It seems incredibly cruel to ignore the deaths he allegedly is responsible for, which he easily could have been prevented. Many have pointed out his suspicious lack of response this whole time people are dying from his obvious design failure.
Even more cruel is if he has been thinking about the victims… in terms of another quick enrichment scheme to get a back-room deal to design a memorial elsewhere for something else.
Is Heatherwick thinking he can somehow redeem himself through another suspicious deal because it awkwardly shows he at least acknowledges suffering of someone? Or is it just bald corruption, lacking any more thought than moving along from big failure to bigger failure?