Anti-racism is a very real thing. It's an important aspect of living a healthy life, like exercising regularly and eating healthy. Perhaps most interesting today is whether "driverless" cars (artificial intelligence) will be anti-racist.
Here's a perfect example reported in The Morning Call, when a ride-share driver asks people to stop treating him like a hero for just doing the right thing.
"I appreciate it, truly," he wrote. "But this is the way it should be everywhere, every time. I shouldn't be "the guy" who did it or said it… we should all be that person. Speak up if you're uncomfortable with [racism] because it makes [racists] uncomfortable, as they should be."
The ride-share driver was called a "f—- n-lover" and threatened with physical violence after he objected to blatant racism from two passengers trying to hire him in Catasauqua, Pennsylvania, as the Philly Voice recalls.
"Oh, you're like, a white guy," the woman said.

"What's that?" Bode said.

"Are you … are you … a white guy?" the woman replied.

"Excuse me?" Bode answered, shocked by the question.

"You're like, a normal guy — like, you speak English?" the woman said, then apologized and patted Bode on the shoulder.

"No, you can get out of the car," Bode said. "I'm going to cancel the ride. That's inappropriate. It's completely inappropriate. If somebody was not white sitting in this seat, what would be the difference?"

"Are you serious?" the woman asked.

At that point in the video, Bode began explaining to another man, just outside the car, what had happened and why he was canceling the ride. Bode informed the man and woman that the conversation was being captured on video.

"You're a f***ing asshole. You're a piece of s***," the man said. "I should punch you in the f***ing face."

"You're going to threaten me? Assault?" Bode said. "You guys are racist f***s."

"And you're a f***ing asshole," the man said. "F***ing N***** lover."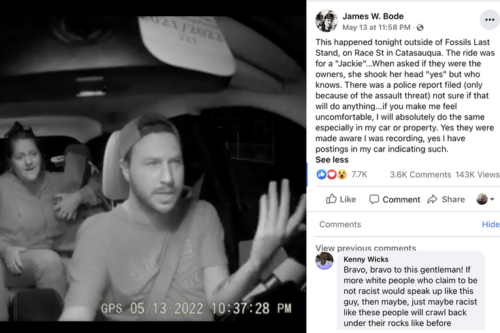 The small town of Catasauqua (north of Allentown, population 6,509 and 90% white) has confirmed the woman in the video is Jackie Harford — owner of Fossil's Last Stand at 429 Race St — and her companion is her boyfriend.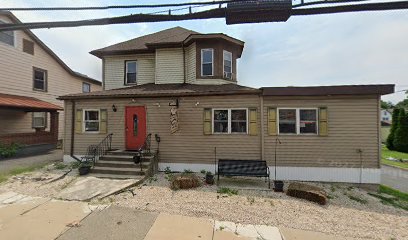 The town's sad history is that takes its name from the Lenape Native Americans who were then forcibly removed under the genocidal policies of President Andrew Jackson, so the land could be exploited in massive wealth generation schemes.
…by the early 1900s, Catasauqua had the highest concentration of millionaires per capita of any community in the nation.
The history of naming "Race St" is unclear but after this event perhaps it should be renamed Anti-Racism Street? Driverless cars need to be instructed clearly to continue this one man's noble stand against local traditions of racism.
International condemnation has included the business page on Yelp being inundated with attempts at anti-racist imagery and commentary.
Are masks required or do customers need to bring their own white hood?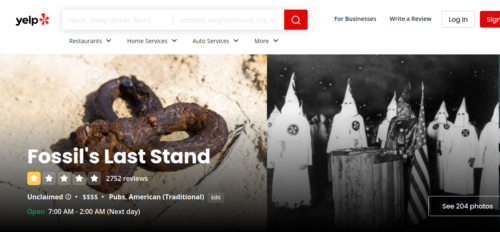 .