A Yelp review of Westport Alehouse in March (written originally in February) warns people that guns are present and a shooting is likely to happen, due to how security was being operated.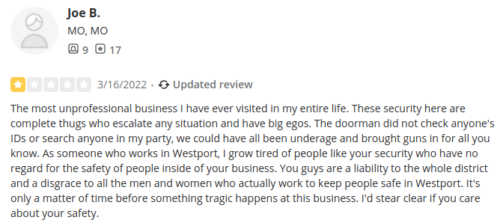 This was not the only warning. Multiple one star reviews comment on violence escalation by bar staff.
Brooke S. Fort Worth, TX 2/13/2022
Security is so AGGRESSIVE for no reason. Want to yell and bully girls when not necessary. Very mean…
Taylor C. Kansas City, MO 2/13/2022
This place is great but the management FUCKING SUCKS AND IS OVERLY AGGRESSIVE. They lowkey should have law suits with how violent their employees get when kicking people out/or correcting drunk behavior. You own a bar, you have to expect silly things to happen but they act like you are a psych ward patient. It's a episode out of American horror story. Psycho and VIOLENT
Julian S. Topeka, KS 7/24/2021
Your bouncers are a bunch of bitches, my friend did not disrespect anyone or anything and they dragged him out and shoved him into the street and cracked his head open. They think they're so fucken cool and it's so unnecessary. Fuck Ale house and all the guys who think they're so cool and above the law. Bunch of pussies
Brittany J. Columbus Park, Kansas City, MO 3/7/2021
The security team and front of house staff are a huge liability to the company and desperately need discrimination training! I repeat! It seems as though there's no one here reinforcing professional and FAIR behavior. I've witnessed discriminatory behavior and practices take many forms here, which I'm almost shocked there aren't more reviews here discussing the sour reputation of this bar and lack of fair accommodation.
One review by Megan R (Elite 2022) on February 24 even posted a photo with the caption "The oldest 'bouncer' in the house. Stay clear!"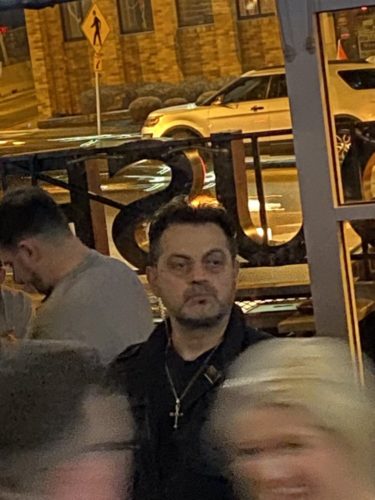 Because it was my boyfriend's birthday I wanted the DJ to do a shout out, so I made my way to the DJ booth but was stopped by a very aggressive "bouncer." He hardly made eye contact with me and said that Ale House was too busy tonight to make any request.
And here's an interesting tid-bit from that same review:
We were told to get down off the seat, but the party next to us did not get in trouble. I proceeded to ask a worker as to why they were allowed to do certain things but we were not. The response I received was "oh this person knows and hangs out with Travis Kelce."
Travis Kelce? The football player who claims people hate him because he's white?
Travis Kelce is possibly the most annoying player in the NFL. One of the words that immediately comes to mind when you think of Kelce is cringe. […] Kelce has his own reasons for why Patriots fans hate him. "…the Pats fans, for whatever reason, just hating me for being a white tight end wearing 87." Well, I am confident race has nothing to do with it…
Travis Kelce? The football player who was big supporter of crimes in the White House"?
Travis Kelce says he CAN'T WAIT to celebrate… at the White House — telling TMZ Sports he WILL join his KC Chiefs teammates when they meet President Trump. "Oh, yeah! Always, man!" Kelce told us in NYC on Wednesday. "Crazy opportunity!"
Travis Kelce? The football player caught using drugs yet allowed to play?
In college, Travis Kelce was suspended from the football team after testing positive for marijuana.
Drugs and guns?
…authorities raided Kansas City Chiefs Tight End Travis Kelce's home in Kansas city and found 5 pounds of marijuana and 10 ounces of cocaine. He has been charged by police with possession with intent to distribute as well as possession of an on illegal firearm.
All that makes for very interesting reading in preparation for tragedy now in the news.
One person is dead and five others are hurt following a shooting outside of the Westport Ale House at 41st and Broadway. […] Officers say a disturbance inside the building spilled outside and shots were fired. Three off-duty officers who were working at the Ale House returned fire.
Youtube has a video of security guards in action.