Crashes on the Nurburgring (Ring) have been a problem, as one of the most dangerous tracks in the world, especially in the areas unseen by "marshals" until it's too late like in 2021.
The driver killed in the pileup was a Nurburgring regular. "There weren't many marshals on that day. There should be," a driver and instructor who was on track Monday night said.
That devastating crash was caused by a coolant-leaking Porsche creating a slick, which caused 10 vehicles and motorcycles within a few seconds to lose control, something they fear more than anything.
Koprivica's fatal crash has left many Ring regulars and local business operators wondering if the track has become too dangerous. It also leaves the community in a precarious spot. Road & Track spoke about safety conditions with a number of people whose livelihood depends on the Ring. Many wished to remain anonymous for fear of reprisal from circuit management, which controls access to the track. Everyone we spoke to wants change, but many fear the consequences of speaking out publicly. The Ring is the only game in town. No one wants to get shut out. […] "The problem always was, and is now, the amount of marshals there during the week," Neumann said. "I'd guess there are sometimes only five people, and five people can never see everything over 20 kilometers."
In a similar vein, a McLaren spilled oil on the Ring causing a huge pileup. Here's what it looked like in 2017.
To make a finer point, do you see the yellow danger light warning here at 2:13.78, which is about seven seconds before the pileup comes into view?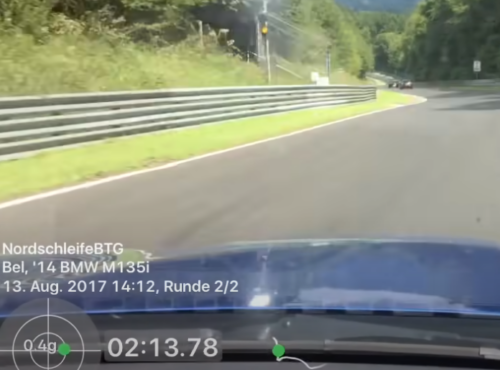 The heads-up-display on these cars is becoming impressively detailed, yet they have to see a barely visible yellow light to get any sense at all about road safety.
Here's another example at 120mph involving no spill, after the white car hit the shoulder on the left causing over-steer and drift to the right before crashing into the barrier.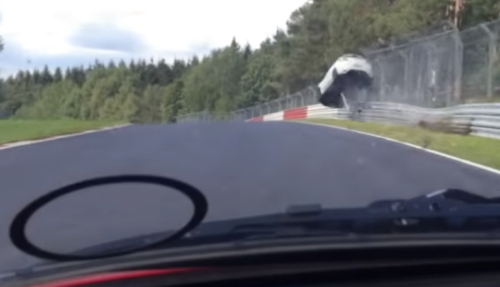 You can see the advantages of having video all along the Ring.
At least those incidents are the kind of things being used to justify laying fiber optic along every inch, to power 100 off-grid cameras with a Ring-side intelligence program.
All 21 kilometers (just over 13 miles) of the Nordschleife will be digitalized as part of a project that will cost the Nurburgring operating company €11 million ($11.95 million). Over the next two years, a "completely new infrastructure will be built" around the track, with foundations laid and storm-proof masts carrying "special HD cameras" erected. While this work is underway, earthworks will be carried out along the track to lay channels for fiber optic and power cables. The Nurburgring will also be adding off-grid systems for power supply, and LED panels for digital warning signs will go up.
The LED panels will warn drivers on track, promising far more coverage than the existing 13 lights, while the intelligence analysis will feed a control room.
An off-grid system might sound strange, but in the 2022 fatal crash people tried to use Facebook software for critical safety updates (group called TrackSecure, started after another fatal crash five years prior) and the service went offline. They have since moved to a standalone cellphone app with the ability to update others even without cell signal.
Enhancement of safety – specifically for the drivers and the safety marshals – by increasing the capacity of perceiving flag signals through an electronic real-time transmission of the marshals' flag signals into the driver cockpit under permanent surveillance and control by Race Control.
Really this simple app from 2020 was meant for the dashboard of any car. Instant bright and giant yellow or red flags get displayed on a cellphone screen. Yet it alone couldn't prevent the latest pile-ups.
What's most interesting is that the Ring wants to operate as a rural one-way road under generic German traffic rules. Even when considering it a toll-road, it doesn't want to be classified for the usual safety and insurance requirements of a race track. As such it operates only the five or so marshals mentioned for the entire road on a normal day (versus an organized race day when it runs 1,000 marshals). The need for a cost-effective, private, safety data sharing platform is evident.
This resistance to an expensive and comprehensive race-track safety baseline, while being used as an unofficial race-track, has forced the Ring towards distributed technology solutions.
Its AI doesn't even have to be very sophisticated, watching primarily bright shoulder lines and alerting on any transgressions, or abrupt speed changes.
People who are in the area might benefit from distributed data storage and consent systems like W3C Solid, which would enable AI processing all to happen without centralization (avoid privacy violation). You can achieve intelligence, privacy and safety too!
Speaking of being over the lines and off-grid, that lesson from Facebook failing at the very moment it was needed for safety… led to the exact right conclusion. Facebook should not be used for anything, especially not safety.