The manufacturing quality of Tesla has always been sub-par compared with other brands, regularly ranked one of the worst in Consumer Reports reliability surveys. The latest 2023 results are especially concerning.
U.S. auto safety regulators have opened an investigation into Tesla's Model Y SUV after getting two complaints that the steering wheels can come off while it's being driven. The National Highway Traffic Safety Administration says the probe covers an estimated 120,000 vehicles from the 2023 model year. The agency says in both cases the Model Ys were delivered to customers with a missing bolt that holds the wheel to the steering column. A friction fit held the steering wheels on, but they separated when force was exerted while the SUVs were being driven. The agency says in documents posted on its website Wednesday that both incidents happened while the SUVs had low mileage on them.
Brand new cars had bolts missing from their steering wheel. That shouldn't even be possible, given how logs of bolt torque can be recorded. A missing bolt would be a giant red flag in logs, for a properly operating assembly line. However, the NHTSA report suggests retaining bolts went missing because Tesla does ad hoc repairs to the car after manufacturing and before customer delivery.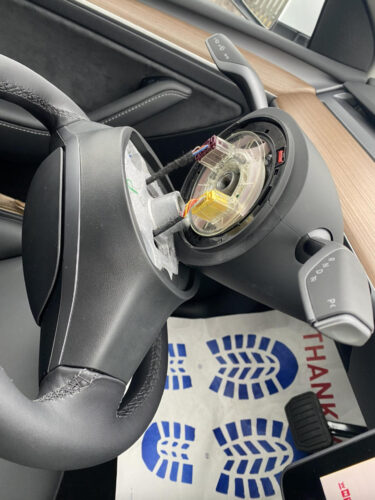 Honestly it's hard to believe that photo is from a real car. It looks like the level of quality you'd find in a child's toy.
Let me just reiterate that Tesla manufacturing quality is so bad they repair brand new cars that have never been driven, which actually may reduce safety even more!
Awful.
This comes not very long after the NHTSA posted a recall for Tesla failing to tighten other bolts.
Tesla, Inc. (Tesla) is recalling certain 2022-2023 Model Y vehicles. The bolts securing the second-row seat back frames may not have been securely tightened.
The Tesla recalls are really piling up, as if they're trying to be more like Ford.
Recall: 322K Model 3s and Ys for Faulty Taillights
Bulletin: DC Link Busbar Bolts Missing
Bulletin: Self-locking Nylon Nut Missing From Front Suspension
That's a lot of missing bolts. No modern manufacturer should have these issues. Again… logs.
Repairs done ad hoc after a manufacturing process are very troubling for many reasons, not least of all because quality depends on processes in field/port that may be non-existent. The Drive in 2020 gave a scathing example of the kind of ad hoc fixes being hidden by Tesla.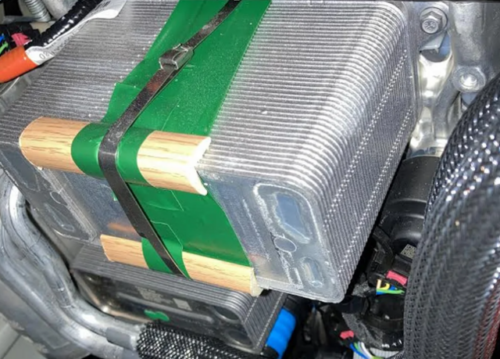 The craziest part, pun intended, is that somehow Tesla owners buying into this obvious tyranny didn't think they would be screwed by its tyrant — scarcity of parts, overpriced service, low quality, slow or no response. The Drive points out the irony that fake wood used by Tesla isn't in any parts catalog, yet Tesla demands customers use only Tesla parts.
Mind you, this is basically all just hardware. Software recalls have been even worse for Tesla. Phantom braking incidents repeatedly increased after Tesla released worse code meant to help. And here's a death right after an "OTA" change was pushed on owners:
The Walnut Creek crash happened two days after Tesla issued its latest recall, announcing that 362,758 vehicles equipped with the company's full-self-driving (FSD) software would have to undergo a software-based, wireless update.
Slamming at high speed into a parked high visibility safety vehicle? Not only is Tesla software worthless, imagine the driver trying to take control only to find the hardware falls apart. It would be a joke if it wasn't so tragic.
---
Update March 15: Nissan had almost the exact same issue and the complete opposite response. As soon as a steering wheel bolt issue was identified, they instigated an internal investigation and then issued a recall.
…Nissan only found two Ariyas that had loose steering wheel bolts out of 96 that were audited by dealers up to the point where Nissan decided to launch this recall. At that time, 418 Ariyas were in the U.S., but the recall was due to an "abundance of caution," according to the NHTSA report. According to that same report, 1,063 Ariyas are subject to this recall with an estimated 1 percent being affected.
Everyone can trust Nissan, as you can see. Sadly it seems even the most devout Tesla owners can not trust their manufacturer, dealer or repair shop.