The name Gabriel Owens is infamous in Oregon. It is known much wider in mountain biking communities. Last year Owens rode downhill at very high speed on a "double black diamond" trail and sued the mountain when he crashed.
A Multnomah County jury awarded $11.4 million to Gabriel B. Owens after the cyclist's lawyers said he hit a rut in the route…
The result of that huge jury award was mountain biking was banned for everyone on Oregon's Mt. Hood.
The basis of Owens' case was he lost control on the very thing that gives a trail a "double black diamond" rating (most people would call the rut a jump, the sort of thing they expect and want as a challenge) yet he found a lawyer to argue there was no personal responsibility for a crash.
Here's a video showing the spot where he crashed and showing the kinds of exceptional "thrill seeking" behavior in the face of trees, rocks, ruts, jumps all around a 10 foot wide trail.
As much as I would like to agree with trail auditors there always could be safety improvements, we're talking about a "double black diamond", which indicates the highest levels of risk. It's hard to overlook that a person engaging in dangerous high-speed thrill seeking behavior refused personal responsibility. Owens suing the mountain doesn't pass a common sense test, which hopefully that video demonstrates.
Even the most detailed case reviews including pictures and diagrams don't really adequately explain away rider responsibility. One expert asked to testify on behalf of Owens argued all riders knew very well that dangers were high because so many were injured all the time.
Lopes told me that, when he did his site visit to Skibowl, he observed a medical tent set up at the base of the mountain with a constant stream of injured guests getting bandages and ice packs applied to all kinds of injuries.
The legal team managed to spin this fact into the mountain failing to research and prevent injuries, rather than the more obvious analysis that Owens would have seen the constant stream of injured guests and known a "double black diamond" trail carried exceptionally high risks including catastrophic injury or even death. If he had crashed on a rock or into a tree, his legal team argued, they would have considered that Owens' fault. But somehow because he crashed on a jump, and he slid into a wooden post similar to a tree, then they argued all liability switched over to the mountain and lawyers had to jump in for huge awards.
The whole case revolved around predicting risk by looking for trends in harm. Who was responsible? Owens. Who paid a high price? Owens wanted it to be someone, everyone, but him.
Bottom line is Owens became known as that guy in Oregon who took huge risks that screwed up his own life, and then ruined the lives of others.
Fast forward, no pun intended, and Owens on September 8th was allegedly intoxicated and traveling at high-speed with his Tesla when he crashed into another car and killed the driver.
Upon arrival, deputies determined the vehicles involved were a Tesla Model S sedan and a Mazda B2300 pickup truck.

The driver of the Mazda, 36-year-old Kira Haston, of Aloha, was transported to a local hospital where they later died. The victim's dog was located near the crash scene and was transported by a deputy to a nearby emergency veterinarian hospital. The dog was treated and later released to a family member.

The driver of the Tesla, 44-year-old Gabriel Bryce Owens, of Oregon City, was also transported to a local hospital for treatment. He was later arrested and transported to the Clackamas County Jail on charges of manslaughter in the first degree, driving under the influence of intoxicants, and reckless driving. Mr. Owens is being held on $250,000 bail (full amount required).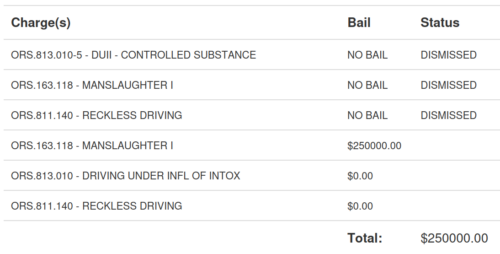 Did Owens use the money from his case to buy a Tesla for the selfish purpose of further putting himself and everyone around him in thrill-seeking danger of sudden catastrophic loss?
Manslaughter charges fit where a Tesla owner can be proven to be reckless and intoxicated, causing death of another person. Police seem to be judging a state of mind, intent, and specific circumstances of Owens' reckless behavior this year very differently than last year.
Or to put it another way, the legal team that won over $10 million for Owens claimed a feature of the trail was dangerous because riders might have been unaware. Yet understanding a "double black diamond" trail's features, potential hazards, and the level of difficulty is inherently required for someone to ride it safely.
Owens being unfamiliar with a rut in the trail, failing to assess the challenge and control his ride yet blaming others when he crashed catastrophically, certainly begs whether him next committing manslaughter with a Tesla (being unaware of its risks and operating recklessly) could have been predicted.