Two car brands couldn't be more opposite in German industry news, Mercedes luxuriates while Tesla dies.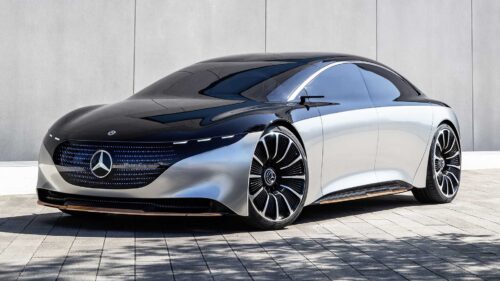 Mercedes has announced a new record high in profit sharing.
Mercedes-Benz's 93,000 German Employees Getting €7,300 Bonus. Mercedes-Benz's latest bonus payout to its employees is even higher than last year's €6,000
The German car company has demonstrated several major industry leading innovations already being made available.
Last May, Mercedes-Benz became the first OEM in the world to receive international certification for conditionally automated driving.
Some may remember Mercedes developing driverless technology in the 1980s, which partly is why they're so far ahead of everyone today.
…W140 S-Class that technically drove almost entirely by itself over 1,678 kilometers (1,043 miles) from Munich to Copenhagen back in 1995…achieved a speed of up to 185 km/h (115 mph) while driving by itself on the Autobahn, managing to pass other cars and having little to no human intervention…
In related updates, Mercedes is set to share its massive high capacity North American charging network with all cars.

This is great news since Europe is already so far ahead of America on charging deployment and interoperability.
In 2021, the continent had an estimated 375,000 charging stations. …even the most conservative scenario—the EU-27 will need at least 3.4 million operational public charging points by 2030.
It's all stark contrast from the bitterly shrinking and unpopular Tesla crashing all the time, which has struggled to attract workers in Germany and pushed an oversubscribed, dirty and proprietary charging network. (By 2021 Tesla had managed to get up barely 6,000 charging stations — 1% of the market).
Obviously when the EU banned non-interoperability for chargers, they should have banned Tesla.
Those who did make the mistake of accepting a job from the notorious South African-run abusive brand have reported unfair and chaoticly cruel mistreatment, just like every other Tesla workplace. It's basically a dead brand, unsafe at any speed.
…alienating its customers, bringing in less revenue, and falling behind legacy carmakers.
After all, who in Germany would want to work for a racist dictator known for things like poisoning children?