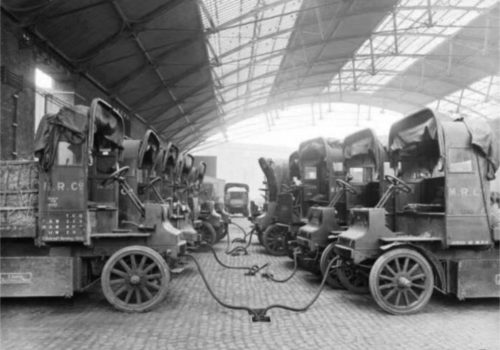 The BBC makes a classic error in their new report by saying GM started electric mass vehicle development in 1990s (shutdown by Bush in 2001).
Why electric cars will take over sooner than you think… The first crude electric car was developed by the Scottish inventor Robert Anderson in the 1830s. But it is only in the last few years that the technology has been available at the kind of prices that make it competitive.
In fact "the kind of prices" started in the 1970s (shutdown by Reagan in 1981) based on affordable electric mass vehicle development in the 1940s (postwar Tokyo), as I've written here before.
Never forget in 1980 the executives at GM were promising mass electric cars soon would be on the road.
The EV-1 was at least their second-attempt, definitely NOT the first.
G.M. is planning to put a mass-produced electric car on the road by the mid-1980's. Alex Mair, vice president in charge of technical staffs, said that by 2020, 10 to 15 percent of G.M.'s total production will be electric vehicles. "We think we're leading the world this time around," Mr. Mair said.
Again, it was shut-down for political reasons by President Reagan.
This time around…? Until then, here's a poster from 1917 with all the reasons why inexpensive electric trucks make more sense than high-cost of gasoline (click to enlarge).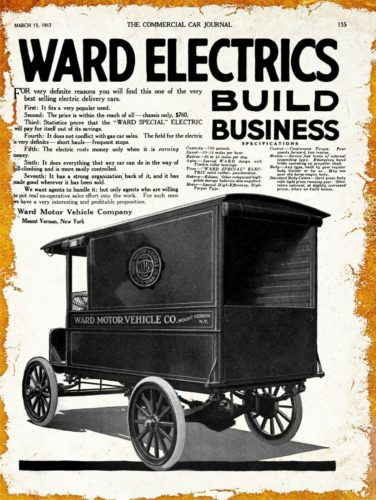 Or as the Smithsonian put it:
Come the turn of the 19th century, battery-powered machines were also entering into the fold; Ogden Bolton Jr. was issued a U.S. patent for his battery-powered bicycle in 1895.
Even electric scooters are as old as the electric car.