Several people have suggested I explain the ETNZ crash. Usually it comes up casually. I get all animated and start describing the details of the event and then people say "that's interesting, others need to hear this"…and I think why didn't the America's Cup put someone on the commentary team who actually races catamarans?
Just one source of reporting would be OK if it was amazing and insightful. Tell a few war stories, life in the trenches stuff, pepper it with math and science, and I'd be glued to the tube during the Louis Vuitton races.
Instead search the entire Internet and you will find only one video, one set of boring empty perspectives. Here it is. Notice how lame the comments are during the action at Gate 3:
The announcers mention a puff, and basically having nothing to say other than what happened after the bows dive down. Men overboard, damage on the front. Duh:
This all has to do with the pitch. The bows went down. […] They stuffed the bows for some reason…that wave hit them.
Thank you captain obvious!
Unfortunately this is not far from the official statement language of ETNZ, as reported by Sailing World. At least they provide some detail such as shift in speed:
The team's AC72 Aotearoa popped up onto its hydrofoils rounding the mark and then a gust of wind hit. The port (left) bow of Aotearoa buried up to the main crossbeam, reducing the boatspeed from 40 knots to 13 and flicking two crewmembers, Rob Waddell and Chris Ward, overboard. The two grinders were recovered unharmed by the team's chase boat, but the rush of tons of water tore the port side fairing off the main crossbeam and left the crew shaken.

"In this sort of racing, the boats are incredibly powerful. You see how quickly the speed rockets up as you make the turn around the top," said skipper Dean Barker. "We came in there with good pressure. Through the turn we were always going to pick up a decent increase in speed; I'm sure there are a few things we could've done better.
Dropping from 40 to 13 knots in seconds feels like what, exactly? Unless you've been on a boat that stuffs the bows into a wave it's hard to imagine. That's why an announcer should be someone who has lived the danger, experienced the excitement, and can relay the feelings to a general audience.
So allow me to try. Here is the scoop (pun not intended) on what happened and why, and what it feels like.
This kind of event is all too common in catamaran sailing. This is what failure usually looks like:
But not this: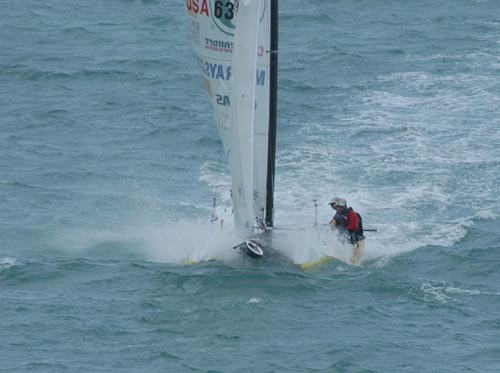 Not yet, at least. Those crazy cats in the last photo (pun not intended) are burying their entire hull and managing to avoid pitch-pole (tripping).
So the biggest risk of crashing in catamaran racing is actually when you turn to go down wind at the windward mark. It's really quite simple and expected, which means ETNZ was about to crash in the area most likely to cause a crash.
If you've raced catamarans you simply know that when you approach the windward mark in a big wind, you might be experiencing a bowel movement as you turn the boat away from the wind. When the catamaran does not oppose or release power that builds in the sail it dives the bows. A big puff hitting ETNZ as it bore away (turned after the mark) certainly fits that equation.
But this isn't the first time a puff has hit a boat in this critical moment. Catamaran sailors know puffs happen at the windward mark all the time. So why didn't the team just handle it? Actually, like the last photo above, they did.
First of all, the wave-piercing design of the AC72, which some say look like inverted hulls, is meant specifically to allow the boat to survive a dive. From that perspective, they came out of the dive instead of crashing because they knew it could happen. Amazing risk engineering.
The announcers should have been all over the fact that a 72ft boat with wave-piercing hulls can survive a deep dive at 40knts. That was an unbelievably beautiful and planned graceful exit, unlike the Oracle incident where the boat flipped up and eventually broke apart.
Here is a clever comparison of the Oracle and ETNZ boats from CatSailingNews
The article is mostly pointing out that Oracle has been copying ETNZ to stay competitive. Notice something else, however. The bows of the two boats are both inverted and designed for wave-piercing yet still quite different. The Oracle boat appears to have far less ballast (float) than ETNZ.
Could Oracle have survived such a dive? My experience on the A-Class catamaran over four generations of design is that a clever buoyancy model in the bows makes a MASSIVE difference. Oracle, like the current platform I sail (an A3.5), looks anemic in the front end. It would likely have had a harder time even with the re-design after their crash.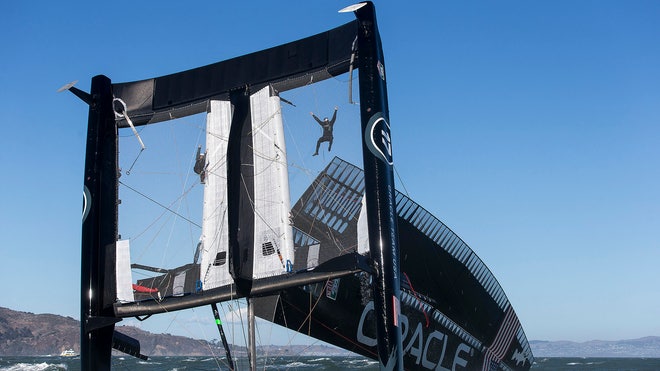 This is what an announcer could have mentioned. Bow design. They also could have mentioned the effect of the T-shaped rudders, and L-shaped foils. And they could have mentioned the aerodynamics of the carbon relative to fluid density (wind above versus water below). Saying a crash is related to "pitch" simply isn't good enough.
Second, a turn in puffs and big wind is scary business because of pressure for rapid decision-making. When Barker turned the corner he made a critical error by taking the turn too tight at the wrong moment. Bad luck, perhaps you could say.
It is a lot like turning a car into a hairpin curve. You know in your mind the speed you need to stay in control as you reach the apex. But in sailing you don't get to take your foot off the gas or hit the brakes. There are no brakes. And a puff is like someone pushing your gas pedal to the floor.
Instead of smoothly turning you suddenly find a huge boost of power pushing you in a direction other than where you anticipated. Fractions of a second are all you have to decide how you're going to handle all the excess power that threatens to toss you over.
Barker could have headed up, accelerated in a straighter line to keep the bows from diving. This actually compounds the danger if it doesn't work, which I won't go into here. His team also could have dumped power from the sails by stalling them. Stalling or luffing can be very complicated to do in extreme conditions at high speed, especially as it can cause the boat to lose stability.
The bottom line is Barker had several options and he turned a surprise into a strategy by keeping the boat flat enough that he could blast out of the water with speed after a dive instead of careening sideways. Fantastic boat handling married to fantastic engineering. Sideways would have been a disaster. Here's what happened to Artemis in an AC45 race last year. Watch at 1:10
So we've covered some of the engineering and some of the boat handling (and trim) involved. What about feelings? The sensation of a pitch-pole is absolutely terrifying. It happens so fast you can barely process what is going on. Here's an ETNZ team member recollection on SailingWorld
"I'm on the forward pedestal and was holding on for dear life," McAsey said. "I was the second guy under water, with Jeremy Lomas in front of me. I was holding on as hard as I could. It all was a blur, everything's wet and white, you come up, there's a bit of broken carbon around the place and we're two guys short. From there on it was just a matter of trying to cover the two guys lost.
Exactly right. One second you're dry, flying and focused the next second you are blasted in the face by icy frothing salt-water and have no idea what is going on. The key to his story is probably the pedestal. My guess is he held that thing with a death grip as soon as the first drop of water touched his skin.
Keep in mind these sailors are the peak of professional athlete fitness. They train twice a day in the gym and have the strongest grip strength you can imagine. But things happen so fast, things get so slippery and cold, and everything can get turned around in tons of water hitting you at 40knts.
One time on my boat in a race I buried the bows so hard, so fast into the back of a giant wave that I was fired like a missile straight off the boat. I was sailing smoothly one minute and then BAM I'm three feet under water and trying to figure out which way is up.
A catamaran going from fast to slow quickly means it stops and you keep moving. There are no seat belts because you have to be able to move around. And that can mean you bounce off hard and often sharp carbon parts and line, and end up totally disoriented without vision or hearing…and dealing with the shock of rapid temperature change.
It hurts A LOT. I don't bruise, ever, but one time I hit a wave so hard the boat stopped and I slammed into the back of a razor-sharp windward foil. It gave me a giant green, blue and black bruise on my thigh for weeks. Hanging on to a pedestal is far better option than getting catapulted, washed away or sliced into pieces.
So much to talk about. This tiny little snippet of sailing in the Cup could instantly bring up a ton of background and detail. Yet the "official" and only announcers just repeated "oh my gosh" and statements of the obvious.
Where is our John Madden of sailing? Can't the organization find a seasoned and colorful catamaran sailor to fill in the commentary? I can think of so many, I have to wonder how the current announcers were chosen.