At the recent Structure conference, a young woman who had just moved from the east coast to San Francisco boasted of her boyfriends' addiction to "Vaping". She showed photos of all the accessories he has been obsessing about, from batteries to different colors and patterns. A young man visiting from New York echoed her story and said he was happy to be spending money on hip new e-cigarettes.
The e-cigarette contains a nicotine cartridge in four strengths – 16mg, 11mg, 6mg and 0mg, compared with the 13mg in the average manufactured cigarette. One cartridge lasts for 300 to 350 puffs, or two days. It also has a battery that enables it to emit a mist of propylene glycol, essentially fake, fast-dissipating smoke, and light up at the end when puffed on.
My first reaction was that there should be a chip in the e-cigarette that captures data to be transmitted and stored. Big data should be collected from vaping immediately. I was thinking about all the health info that could be assembled quickly from these battery powered devices. Lung capacity, ingredients, amount of nicotine per second/minute/hour, draws per charge, particulate matter in external air…and trend-lines for everything.
My next thought was that they should be solar powered. Why aren't they able to absorb sunlight as power? Standing in the sun with a stick in your mouth? Use the power right there. And for that matter why doesn't the act of sucking air generate sufficient power? Hello, funnel turbine. Why are you sucking power out of the grid? Oh, that's right. You want to buy accessories, I mean batteries. Got it.
Neither of them seemed to have a firm idea about the energy use, let alone health risks or harm. They said it's "just vapor". But the fact is not much data has been collected.
The man from NY listened to me, took a long drag from his plastic tube of toxic fumes and said "By Jove! My old man you might be right! Could a teeny chip really go inside this contraption to record data? I will go start a company right now on that idea!"
I wondered if they read the news from the FDA:
Dr. Mike Feinstein, a spokesman for the American Lung Association said, "People are inhaling some type of chemical vaporized compound into their lungs without really knowing what's in it."

[…]

Authorities don't necessarily know what's inside of e-cigarettes, but the FDA tested a small sample just a few years ago and found a number of toxic chemicals including diethylene gylcol – the same ingredient used in antifreeze.
The accessory feature can actually introduce additional risks. Obviously the idea of putting a battery between your lips can be harmful to your health.
Chief Butch Parker of the North Bay Fire District responded to the call. He said a faulty battery inside the electric cigarette likely caused the accident. Parker described the explosion as if Holloway was holding a "bottle rocket in his mouth."

[…]

Parker said the explosion knocked out all Holloway's teeth and part of his tongue. The event also set fire to the room.
For some reason all the unsubstantiated buzz and positive marketing around e-cigarettes just reminds me of the tobacco smoke enema.
By 1805, the use of rectally applied tobacco smoke was so established as a way to treat obstinate constrictions of the alimentary canal that doctors began experimenting with other delivery mechanisms. In one experiment, a decoction of half a drachm of tobacco in four ounces of water was used as an enema in a patient suffering from general convulsion where there was no expected recovery. The decoction worked as a powerful agent to penetrate and "roused the sensibility" of the patient to end the convulsions, although the decoction resulted in excited sickness, vomiting, and profuse perspiration.
If only exploding batteries and unknown other "toxic chemicals" could have been used for anal treatment hundreds of years ago; today we would know better and not bother with e-cigarettes. Then again, I guess I shouldn't joke about them becoming a public enema. Given the nature of the young vaping proponents I met, they might be thrilled by the idea and interested only in new accessories they could buy or sell…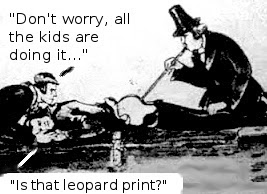 ---
Update five years later (April 2017):
"Concerns explode over new health risks of vaping and find toxicity issues are real, especially among children:
Students as young as 12 or 13 are now more likely to vape than to smoke. Many are under the impression that because e-cigs don't contain tobacco, they pose little risk to health. Wrong.

Over the past few months, research has turned up evidence that vaping can pose many brand new risks. The vapors mess with immunity, some studies show. "Smoker's cough" and bloody sores have begun showing up in teen vapers. The hotter a vaped liquid gets, the harsher its effects on human cells. And a relatively new vaping behavior called "dripping" ups the heat. This threatens to intensify a teen's risks from those vapors.
Evidence is mounting that teenagers in particular, susceptible to advertisers and social pressure, are being hit hard by harms in vaping:
It worries [Rob McConnell, internal medicine specialist at the University of Southern California (USC) in Los Angeles] that vapers show some of the same lung symptoms as cigarette smokers. It also worries him that more teens are taking up vaping. E-cigarette use grew an astounding 900 percent among high school students between 2011 and 2015.

[…]

[Adam Goldstein of UNC] says it's important to note that just because something doesn't taste like tobacco doesn't mean it is safe. Studies have shown that some flavor compounds in e-liquids (such as cinnamon extract) appear to become harmful when heated in an e-cigarette.

[…]

Now Catherine Hess of the University of California, Berkeley, and her colleagues have turned up traces of toxic metals in the e-liquids used in five different brands of e-cigarettes.

[…]

"The fact that vaping can deliver benzene levels many times higher than those found in the ambient [air] — where it's already recognized as a cancer risk — should be of concern to anyone using e-cigarettes," [Chemist James Pankow] says.
While many people cite the use of vaping as an intentional way to stop smoking, anecdotal evidence suggests the opposite. Vapers smoke more, and subject themselves to additional harms beyond just higher overall intake of nicotine.
Vaping in practice increases the frequency of puffs. While dosage of nicotine actually may increase through more frequent use (can choose masking scents, keep vaping device in pocket and breathe from it repeatedly and frequently, far more easily than with the complications of lighting tobacco leaves with flame) it is the new toxic metals and chemicals that scientists are only just beginning to document as additionally harmful.
---
Update seven years later (2019):
April: Rite-Aid announces it will stop selling e-cigarettes in all stores
August: Reuters reports the U.S. Centers for Disease Control and Prevention identified 193 potential cases of severe lung illness tied to vaping in 22 states as of Aug. 22, including one adult in Illinois who died after being hospitalized: "The severity of illness people are experiencing is alarming and we must get the word out that using e-cigarettes and vaping can be dangerous," Illinois Department of Public Health Director Dr. Ngozi Ezike said.