Look, I'm not saying I have predicted this exact combat scenario for several years as described in my presentations (and sadly it also was my Kiwicon talk proposal for this year), I'm just openly wondering at this point why Arizona's rabidly pro-gun legislators didn't argue driverless cars are protected by Waymo's 2nd Amendment right to bear arms, classifying vehicles as consumer-grade munitions that also carry people or goods inside. AZ Central reports:
People have thrown rocks at Waymos. The tire on one was slashed while it was stopped in traffic. The vehicles have been yelled at, chased and one Jeep was responsible for forcing the vans off roads six times.

Many of the people harassing the van drivers appear to hold a grudge against the company, a division of Mountain View, California-based Alphabet Inc., which has tested self-driving technology in the Chandler area since 2016.
The one or two people operating the tens of thousands of weapons (driverless cars) on public roads are counting on their surveillance capabilities as much as their armored weapons to keep the upper hand in this fight. AZ Central continues:
The self-driving vans use radar, lidar and cameras to navigate, so they capture footage of all interactions that usually is clear enough to identify people and read license plates.

According to police reports, Waymo test drivers rarely pursue charges and arrests are rare. Haselton was charged with aggravated assault and disorderly conduct, and police confiscated his .22-caliber Harrington and Richardson Sportsman revolver.

"Haselton said that his wife usually keeps the gun locked up in fear that he might shoot somebody," Jacobs wrote in the report. "Haselton stated that he despises and hates those cars (Waymo) and said how Uber had killed someone."
Let's be clear here. The grudge being referenced is related to people in a neighborhood being upset about the rollout of armored weaponry.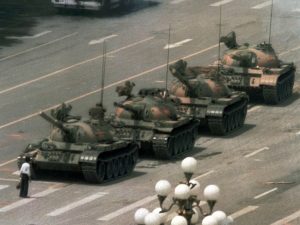 Think of the irony that Arizona residents have a grudge against driverless cars because they are in effect weapons being wielded unsafely in a public space, killing people (this is the infamous state that won't even hear an argument about regulating guns).
Waymo is like someone taking their gun off the gun range and not being able to keep their pistol holstered, let alone rounds unchambered, wandering around waving it in everyone's face. You think the neighborhood is just going to look the other way while that barrel points at their family and friends?
Compare that grudge with some poignant analysis just a year ago that was titled "Arizona is a heaven for test new cars – USA TODAY" (which at some point changed its title to "Why automakers flock to Arizona to test driverless cars". TL;DR:
relatively light regulatory environment of the past two and a half years
weather allows for year-round testing of vehicles, and low rainfall means minimal disruptions…low winds and a temperature range that is conducive to completing regulatory tests almost every day of the year
desert offers car manufacturers a remote and private testing location that's away from the prying eyes
Allow me to translate this analysis into technology ethics: lawless and opaque makes for easy hurdles, and low standards means quick money for investors. The desert has no actual environmental risk. Testing in a vacuum chamber means your product is ready for use in a vacuum, not public streets. And testing with zero outside observability/validation of claims means you aren't anywhere close to ready for deployment.
Desert vehicle development is about as sane as developing moon vehicles and saying it's the wrong type of planet when they can't move with earth's gravity.
To put it another way, the Governor of Arizona scoffed at other states where leaders held human life up as a value worth protecting and preserving. The money hungry Arizona official literally said he is happy to promote profit over safety.
In August 2015, Ducey signed an executive order allowing the testing of autonomous cars on public roads, hoping the cars will fuel "economic growth, bring new jobs, provide research opportunities for the state's academic institutions and their students and faculty, and allow the state to host the emergence of new technologies."
It looks like Ducey didn't think very hard about how selling out human life for a boom in weapons sales might backfire. Nothing in that list of benefits says there is an ounce of care for public safety or health, amiright?
Mo' money, mo' problems.
August 2015: regulations are dropped, standards are non-existent. Anyone wanting to develop weapons for public roads is invited to Arizona
December 2017: newspapers describe Arizona as "Heaven" for developing weapons to wave around in public without need of any safety training or controls
Wait for it…
March 2018: "The governor of Arizona has suspended Uber's ability to test self-driving cars on public roads in the state following a fatal crash last week that killed a 49-year-old pedestrian"
Uber using an automatic weapon to kill one person and getting regulated in Arizona compares oddly to the 68% of all homicides in the state committed with a gun and the nearly 1,000 people killed a year in Arizona by guns that get zero regulation discussion (see above).
Oh, but who could have predicted that removing regulations and allowing weapon development to launch straight to the streets would invite bad corporate behavior? Not only me, giving public presentations about this problem, also internal engineers who documented how "there were a lot of warning signs" yet Arizona's "Heaven" meant they were neither attended to internally to pass regulations nor exposed to regulators:
"A car was damaged nearly every other day in February," Miller said. "We shouldn't be hitting things every 15,000 miles."

Miller pointed to an incident in November 2017, when an Uber car had a "dangerous behavior" that nearly caused a crash. The driver notified his superiors about the problem, Miller wrote, but the report was ignored. A few days later Miller noticed the report and urged the team to investigate it.

But Miller says his request was ignored—and when he pressed the issue with "several people" responsible for overseeing the program, they "told me incidents like that happen all of the time." Ultimately, Miller said it was two weeks before "anyone qualified to analyze the logs reviewed them."
So there you have it. 2015 effort to reduce safety control levels so weapons can flood the market. 2017 weapons entering market are causing harm and at frequent intervals, indicating escalation to wider and more severe conflict.
Doesn't it seem obvious that this ended with a meek 2018 effort to put the weapon genie back in the bottle…yet any historian can tell you once battle lines have been drawn and people are angry about their clan being attacked, they are going to harbor some hostility.
So with all that in mind the big question now becomes as the weapons manufacturers switch to their all-encompassing surveillance systems to undermine the nascent groups of resistance, whether they also will claim their manufacture and sale of automatic high-power weapons is protected behavior anyway under the 2nd Amendment.
We have seen some of that messaging already, as Uber and Tesla used to be fond of saying their particular brand of automatic weapons will reduce deaths on the streets, much in the same way that totalitarian governments would argue how top-down centrally controlled armored divisions are the way to keep the public safe from itself.
And in that sense, are Arizonans actually crazy if they read the Uber story of deaths for profit and then think of themselves as preventing harm to their fellow citizens by stepping out into the street early to disable the Waymo munitions rolling into and over neighborhoods?