Update September 22:
"Man arrested in Greece had nothing to do with 1985 hijacking and murder, victim's brother tells Military Times"
---
The FBI most wanted list since 2006 has included Mohammed Ali Hammadi, a Lebanese member of the Iranian-backed terror group Hezbollah. A $5m bounty was posted in 2007.
A TWA Boeing 727 flight in 1985 was hijacked by him and his associates, who assaulted passengers and crew members for 17 days. They also murdered a US citizen, Navy Diver Robert Dean Stethem.
[Pilot] Testrake's urgent message to the Beirut control tower was broadcast around the world: "We must, I repeat, we must land, repeat, at Beirut. . . . Ground, TWA 847, they are threatening to kill the passengers, they are threatening to kill the passengers. We must have fuel, we must get fuel. . . . They are beating the passengers, they are beating the passengers."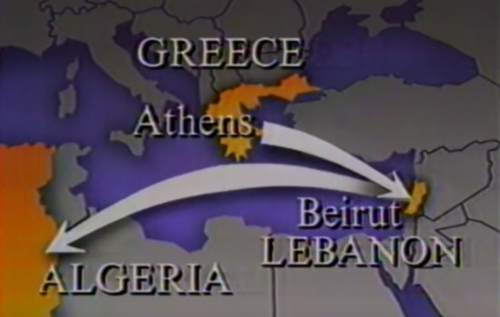 These hijackers demanded release of all Arab prisoners, particularly the over 700 Lebanese and Palestinians that were held by Israel in southern Lebanon (related to Reagan's 1983 "aggressive self-defense" policy and the suicide bombing of US Embassy in Beirut).
Today Greek police announced on the island of Mykonos they had taken action two days ago on September 19th based on a warrant issued by German authorities:
…several Greek media outlets identified the detainee as Mohammed Ali Hammadi, who was arrested in Frankfurt in 1987 and convicted in Germany for the plane hijacking and Stethem's slaying. Hammadi, an alleged Hezbollah member, was sentenced to life in prison but was paroled in 2005 and returned to Lebanon.

Germany had resisted pressure to extradite him to the United States after Hezbollah abducted two German citizens in Beirut and threatened to kill them.
He disembarked from a Turkish cruise ship and was held at island passport control. It appears to have been the result of a routine database check on tourists, during the peak cruise ship month for Mykonos (handling over 700,000 cruise passengers in 2019).
How could he be free and vacationing freely in Greece? Ronald Reagan, as mentioned earlier, failed in 1987 to convince Germany to extradite Hammadi. Germany instead by 1989 tried and convicted the terrorist of murder among other crimes (he had been caught walking liquid explosives through the Frankfurt airport) and put him away with a life sentence.
Then the sentence ended early in 2005 and Hammadi was escorted by Germany back to Beirut aged 41 (President Bush failed to extradite him). This prompted his placement on the FBI list for a decades-long hunt as he apparently enjoyed his freedom.
Conservative pundits in 2010 promoted a "Pakistani source" that the CIA killed Hammadi with a drone strike. So there's still a chance reports today are wrong. Greek police news, for example, described the arrested man as aged 65. Hammadi would be 55 now (41 in 2005).