In a stunning move by German prosecutors, criminal charges have been brought against VW leadership for failing to disclose to shareholders (in a timely fashion) the huge financial risks of cheating diesel emissions tests.
It is certain the team bringing this level of charges against a CEO is very well aware what it means to the German economy; they are doing the right thing anyway.
In fact the American diesel companies effectively ran similar cheats as VW yet, politically speaking, they seem to be facing little or no reaction unless you count some legal wranglings starting in 2018.
…class-action lawsuit filed today accuses Ford and Bosch of knowingly installing emissions-cheating software devices in 2011-2017 Ford 250 and 350 Super Duty diesel pickup trucks, akin to the devices at the center of Volkswagen's Dieselgate scandal, allowing the affected pickups to pollute at levels up to 50 times legal limits, according to Hagens Berman
In a completely unreported event earlier this year, Ford tried to tell the court their executives are immune to charges of cheating and fraud because "no true defeat device" can be defined.
Thankfully their silly fallacy seems to have been thrown out.
The Court agrees that Plaintiffs' claims are not contingent on their ability to prove that Ford used defeat devices in its vehicles. […] Ford fails to point out that even if Plaintiffs were no longer able to refer to Ford's alleged use of defeat devices, Plaintiffs could still succeed with their fraud claims. The true issue with regard to Plaintiffs' fraud claims is whether or not Ford materially deceived (under the various state laws) its consumers. The Court finds that Plaintiffs have sufficiently stated a claim for fraud, under state laws, without relying on Ford's alleged use of defeat devices. […] Plaintiffs' overpayment theory is sufficient to provide standing to sue Bosch LLC because of its role in the use and concealment of a cheat device that allegedly constrained the emissions control system of the vehicles purchased by Plaintiffs.
That's still a very long way from Ford executives being accountable for anything, let alone facing criminal charges for deceptive practices.
Last time I checked the only CEO scandal at Ford was firing the guy who failed to build electric cars fast enough for market demand after the company proudly removed regulatory requirements to build electric cars faster and quickly destroyed its own fleet of them.
Try to figure that one out.
With the widely promoted news about VW cheating America basically lit a fire under German regulators, while seemingly doing little domestically about the same. Have you heard of any real diesel emission cheating impacts to Ford or GM? And those aren't the only three. Many car companies were cheating…
The impact to VW has had the perversely competitive effect of passively warning American manufacturers about emissions cheating by making an example of a foreign company that is held back now under real accountability to its regulators.
I'd suggest we consider at this point whether German behavior is some kind of time-capsule from Allied 1940s ethical thinking about doing the right thing, instilled during the Eisenhower occupation of Germany; a mindset sadly that has faded away in modern America.
Imagine today seeing posters like this one that told Americans to read and appreciate black history in order to defeat fascism: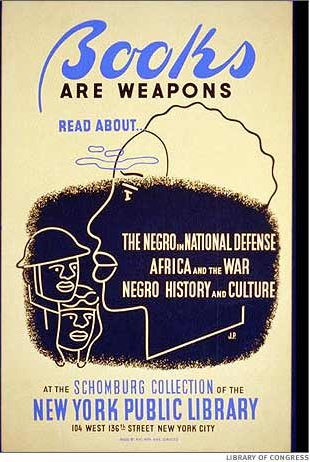 Industries of Nazi Germany infamously went along willingly with obviously toxic policies of Hitler such as using slaves to build vehicles. Only when bombs were raining down on Nazi car executives' own heads did change begin, and even then reparations have been slow.
"The ghost of the Third Reich will hang over every Volkswagen car unless the company takes action and provides justice to the thousands of its former slave labourers around the world," Mr Weiss said.
Some Nazis who experienced the ill-gotten wealth from white-nationalism have even recently said they don't object to how their company used to engage in slavery to increase their own wealth.
…her remarks that the firm did nothing wrong when it employed 200 forced labourers during World War II were thoughtless. […] Former forced labourers have failed to obtain compensation from Bahlsen in individual lawsuits, with German courts citing statute of limitations laws. […] Verena Bahlsen has also been criticised for boasting about her wealth and love of conspicuous consumption. "I own a fourth of Bahlsen and I am very happy about that. I want to earn money and buy a … yacht," she said at a business event in Hamburg earlier this month."
The difference today in Germany, after Allied bombing campaigns cleared the way, seems to be that government prosecutors are in position and willing to go after abusers early, with real authority to hold executives accountable and force their course-corrections.