Update February 2022: A brand new book about Marvin Williams been published! Check it out.
---
I've searched high and low and there seems to be no mainstream re-telling of the exact Marvin Williams murder story. It reads like such an obvious script for a major movie I'm curious why nothing has been done.
Perhaps the closest thing is a movie called White Lightning about police corruption in Arkansas; yet it gives only a very general and fictional retelling of what justice was like in the county where Williams was murdered.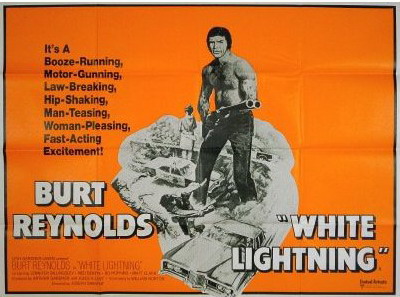 Ned Beatty plays the fictitious Sheriff J.C. Connors in White Lightning, said by some to be the spitting image of Faulkner County Sheriff Joe Martin. It was Martin who served as jailer the night Williams died in police custody.
In brief, Williams was a black 21-year old man in May 1960 (serving as a U.S. Army Paratrooper) when two white police officers apparently pulled him into a County jail at night where he was beaten to death by police clubs.
The officers reported Williams was so intoxicated he was non-responsive and fell down stairs killing himself by hitting his forehead. An autopsy report stated that Williams had no alcohol in his blood and he died from a blot clot caused by concussions to the back of his head (White police officers were not afraid to officially report Black men detained by them including handcuffs had succumbed to self-wounds to the back of the head, even rifle shots impossible to inflict on self).
The Williams family reached out to lawyers and the FBI for an investigation and were rebuffed completely. The autopsy wasn't even reviewed.
Then there appears to be no news until 25 years later there are three brief mentions of events being reconsidered.
First, in August 1985 a trial opens when a witness to murder comes forward no longer afraid to testify:
The case was closed until a former inmate wrote to officials last year saying he saw a black man being beaten by two men the night Mr. Williams was arrested.
Second, in September 1985 an all-white jury acquitted two men.
Two white former policemen were acquitted by an all-white jury today of charges that they beat a black jail inmate to death 25 years ago. A gasp echoed around the courtroom when the verdict was read, ending the trial of O.H. Mullenax, 48 years old, and Marvin Iberg, 50. […] The day after Mr. Williams died, a coroner's jury cleared the two policemen, saying Mr. Williams had fallen and struck his head on the courthouse steps. But the jury was not shown either an autopsy report that said Mr. Williams had died of a brain hemorrhage caused by a fracture to the back of his skull or results of a blood test that found no alcohol in his blood. Witnesses at the trial of the two former policemen testified that Mr. Williams drank little or nothing and was uninjured before his arrest.
That seems obviously corrupt on the face of it. Marvin Iberg allegedly had a reputation of being a stereotypical "white power" personality who joined the police to abuse authority.
And then there's this weird quote by the judge:
Presiding Judge Don Langston said after the verdict that the jury 'could have gone either way. I think the evidence was there to find a guilty verdict' or to find an innocent verdict.
The key witness reportedly felt so fearful he had to withhold his testimony for 25 years? Clearly fairness was an issue.
Also the witness said he thought jailer Joe Martin was the man who beat Williams to death (Martin later became Sheriff and allegedly so corrupt he inspired the above 1973 movie about tax evasion called White Lightning).
Third, according to an AP report
…when Hackney took the witness stand Thursday, he said he saw the late sheriff, Joe Castleberry and jailer Joe Martin beat the prisoner. "As far as I'm concerned, I don't know what they're doing with them (Mullenax and Iberg) on trial," Hackney told reporters after testifying. […] He said he watched the two men beat the black man with a blackjack at the door to the jail. Later that morning, Hackney said, he told then-prosecutor George Hartje, in Castelberry's presence, that he saw Castleberry beat a man. "The prosecutor told me if I wanted out of his jail, I would say as I was told," Hackney said.
After all that sudden testimony in 1985 of corruption and concealed evidence, the 1987 Court of Appeals seems then to have written a decision as if there were no known barriers to fair prosecution.
The question presented here is whether these defendants fraudulently concealed evidence. The racial atmosphere of an entire State cannot justly be charged to their personal account. Nor is it true that a black plaintiff's Section 1983 claim would not have been fairly tried in a federal court in the early sixties…
There are just so many disappointing turns to this case, and interesting circumstances, again I wonder why someone hasn't at least made a short film about it.
The Court of Appeals even seems to be making a perverse "no true Scotsman" logical fallacy, whereby they argued even if were true all whites in Arkansas are violent racists, such an "atmosphere" should not be thought to include the two white men of Conway alleged to have murdered an innocent black man.
Consider here too that it was in 1986 when the Supreme Court ruled that people cannot be excluded from a jury because of their race, based on the right to a fair trial under the Constitution's Sixth Amendment and the 14th Amendment promise of equal protection under the law. This Appeals Court in 1987 therefore appears to be directly contradicting the Supreme Court about fairness of federal trials before Batson v. Kentucky, 476 U.S. 79 (1986), let alone in the early sixties.
USA Today has been working on a modern "tarnished brass" database of police misconduct, which might help someday reveal why Marvin Williams' family was unable to achieve justice.
Every year, tens of thousands of police officers are investigated for serious misconduct — assaulting citizens, driving drunk, planting evidence and lying among other misdeeds. The vast majority get little notice. And there is no public database of disciplined police officers.
I suspect a movie project about his death would expedite the discovery process even more. On the face of it, any reasonable person can see two white men abused their authority in order to lynch a young black man and never were held accountable.