Earlier this year researchers disclosed in a study that the lack of regulation has allowed BitCoin markets to be over 90% fraud.
Nearly 95% of all reported trading in bitcoin is artificially created by unregulated exchanges, a new study concludes, raising fresh doubts about the nascent market following a steep decline in prices over the past year.
Earlier analysis had pointed to robots programmed to manipulate at large and fast scale
Bitcoin prices were being manipulated in late 2013 by a pair of autonomous computer programs running on bitcoin exchange MtGox, according to an anonymously published report.

The programs, named Willy and Markus, allegedly pushed prices up to $1,000 before the bubble burst after MtGox's collapse in late February.

The report's author alleges that some of the trades were coming from inside the exchange itself. "In fact," the report says, "there is a ton of evidence to suggest that all of these accounts were controlled by MtGox themselves."
And here's some brand new reporting on a different value system, social media fraud by someone who worked inside an operation:
The farm has both left- and right-wing troll accounts. That makes their smear and support campaigns more believable: instead of just taking one position for a client, it sends trolls to work both sides, blowing hot air into a discussion, generating conflict and traffic and thereby creating the impression that people actually care about things when they really don't – including, for example, about the candidacy of a recently elected member of the Polish parliament.
I suppose we can say now the Ashley Madison dataset was no exception to widespread online fraud:
Over 20 million male customers had checked their Ashley Madison email boxes at least once. The number of females who checked their inboxes stands at 1,492. There have already been multiple class action lawsuits filed against Ashley Madison and its parent company, Avid Life Media, but these findings could send the figures skyrocketing. If true, it means that just 0.0073% of Ashley Madison's users were actually women — and that changes the fundamental nature of the site.
People keep asking what will a future life with robots look like, when we're obviously already living in it. It basically looks like a world where the late 1800s common phrase in America "there is a sucker born every day" continues to haunt the security industry…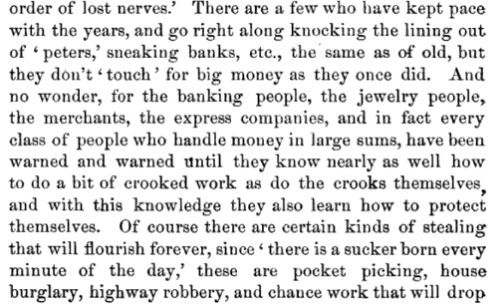 "Sneaking" banks refers to a social engineering trick where one person creates a distraction while the other sneaks money out of the vault.
Note how even back in 1889 an author writes about banks and jewlers hacking themselves to become wise to how to stop hackers. Threats mostly were targeting people too weak to protect themselves individually (hinting towards a need for regulatory oversight).