Information warfare in America has continued almost non-stop since the late 1700s when abolition of slavery began to expand around the world. There has been a concerted effort by white supremacists to erase the reality of who really did what, where and when.
One of the most dramatic expressions of this is the mythology of the "frontiersman" of America. I say mythology because, truth be told, there were very blurred groups in the 1800s who drove western expansion far more than only white men.
The harsh frontier was largely explored by those furthest from the mainstream culture (seeking new lives and smashing a glass ceiling such as entrepreneurial women, freed slaves, mixed-races, convicts). This should come as common sense, since you can imagine who would take the most risks when there was no guarantee of rewards.
"The Revenant" story is a good example of this, as the true story was a very diverse group of non-whites and outcasts. A wall-street banker bored with his job picked the story up and rewrote it as a very loaded white man against nature narrative, which unfortunately was widely read and turned into a disgusting movie full of disgusting falsehoods and degrading imagery (innocent white man has to battle against non-whites, animals, women… to survive and conquer).
I assure you white men in comfortable settings didn't say they'd throw it all away just to expand and explore new spaces for the sake of it. Think about motivations and you can see white men would go when the odds were more in their favor, which in fact usually meant many other people doing the work for them — they didn't play fair.
It didn't always mean white men shirked hard work. One example of that is Ulysses S. Grant who has been portrayed as a failure in business, when in fact he was really a do-it-yourself hard-working independent man. He freed his only slave and faced challenges alone. And yet his image, especially as told by the losers of the Civil War, is being tarnished unfairly as someone who struggled.
Think hard about that fact that the best evidence of an American white man (a hero really) doing hard work himself to be a truly "made man" has been viciously and falsely characterized by historians as a failure. In other words the people lauding some for the "fail faster" culture should embrace Grant, and yet you see them distanced and aloof. There's a subtle reason for this.
On the flip side the complex narratives of success have often been unfairly replaced with a deceptive binary one — successful white men were hardworking even when everyone else was their property/prize and did the actual work.
Confusing matters is the fact that evidence pops up of white men bifurcating from others in the records of westward migration. Those taking the Oregon trail, for example, are described as those who tended to be families who would abide by regulations (e.g. religion and law) settled in with local populations. Those headed to California in contrast were predominantly single white men who waged an all out war on people and nature.
Bifurcation like this tends to end up being an oversimplification that doesn't quite fit (Oregon was site of mass atrocities and some parts of California became preserves). It does show however a simple good/bad framework of settlement does manifest from a grain of truth as it feeds into narratives told by the self-appointed "good" story-tellers.
Here's another way of looking at that bifurcation. In one infamous case a white man brought his slaves with him to California to seek gold and when none was found he abandoned them there and went back to a southeastern state. His freed slaves then found gold on their own and… that white man sued them, claiming two Americans and their gold should be seen as his property.
So when people describe the California trail as "single white men", which it definitely had a lot of, keep in mind they may be (even unintentionally) erasing several or many team members carrying a "single" person on their shoulders.
Really this problem is rooted even deeper in American history. Slavery was banned in the colonial time (prior to 1750) and yet some settlers saw their role in a revolutionary war to expand slavery. Americans saw England making noises about abolition, even banning it in the latest colonies, and aimed to fight and keep slavery going.
This is why abolition arrived in some American states by 1820s in-line with the rest of the world, and a spirit of hard work became foundational. Whereas in Mexico a flood of white men settled and complained bitterly that frontier life was too harsh for white people to survive without slaves.
When I say Mexico, I mean Texas, the area these white men immigrated into then violently seceded, calling itself a "lone star" because it aimed for a white supremacists nation, to keep oppression and slavery going even if it meant being the last slave state in the world.
It is no coincidence that the sole survivor from the white supremacists side of battle at the Alamo was a slave. Mexican forced liberated that black man and killed his oppressors. "Remember the Alamo" really means don't forget the battle for slavery that was lost when white people were defeated and their slave was set free.
This is all a long pre-text to set the background properly before reading a new article in the FT by a Texas historian, called "Americans want to be free to be stupid"
Freedom comes with responsibility. Being stupid is irresponsible. Does being free to be stupid therefore violate the principles of freedom?
The FT article skips right over the crucial fact that Texas "exceptionalism" and "frontier" spirit meant slavery.
Again, Texas was Mexico until white immigrants came with slaves and said no white man could survive the harsh conditions without non-whites to do all the hard work for them. They usurped power and seceded from Mexico (and later from America) just to avoid hard work and keep slaves instead.
Being "free to be stupid" is thus a dog-whistle to slavery, which is not freedom at all. It really means doing harm to others in the most selfish way possible.
This article also erases the significant role of women in the frontier, as men not only looked up to them but treated them as superiors and often substituted them for judge (where none could be found) in disputes.
"Madonna of the Trail" is such a memorial just outside Custer's base camp in Kansas (just one of twelve placed along National Road US40, the first interstate highway established by act of Congress in 1806 and expanded 1926).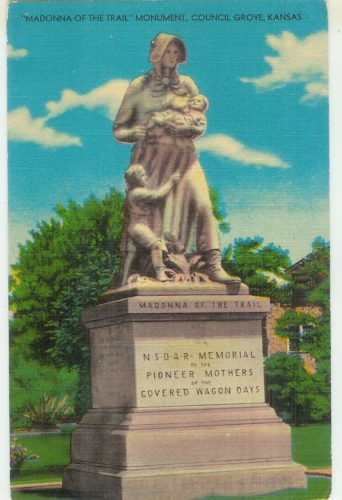 Commissioned by the Daughters of the American Revolution, which had a well-deserved reputation for racism, every single statue is identical and unfortunately depicts only a white woman:
Springfield OH – July 4, 1928
Wheeling WV – July 7, 1928
Council Grove KS – Sept 7, 1928
Lexington, MO – Sept 17, 1928
Lamar, CO – Sept 24, 1928
Albuquerque, NM – Sept 27, 1928
Springerville, AZ – Sept 29, 1928
Vandalia, IL – Oct 26, 1928
Richmond IN – Oct 28, 1928
Beallsville, PA – Dec 8, 1928
Upland, CA – Feb 1, 1929
Bethesda, MD – April 19, 1929
It's not expected to see history told by the FT in such a way that leaves out minorities and women. However it must be recognized more widely how this is continuation of information warfare methods in America that go all the way back to the late 1700s.
Some white men tend to claim to be doing hard work while erasing the fact that their privilege means the work is being done for them without real cost/responsibility.
Avoiding the true history of Texas and the role of women is precisely why this FT article is bunk. You can't separate them. When "free to be stupid" means a privilege that translates direct to harms to others (e.g. human trafficking and slavery is stupid) that's not real freedom, it's oppression.
Calling stupid a freedom, when it means whites stupidly harming blacks, is the continuation of information warfare.