The Associated Press tells a story of polar bears who refused to mate.
After careful and scientific study over three years, the zoo finally figured out the problem:
Puzzled Japanese zookeepers have cleared up a mystery over a lack of chemistry between a couple of polar bears as both turn out to be female, a Japanese zoo said Wednesday. (AP Photo/Kyodo News via Kushiro Municipal Zoo)
Here is a photo of Tsuyoshi (named after the baseball player), the four-year-old "male" polar bear at the Kushiro Municipal Zoo in northern Japan.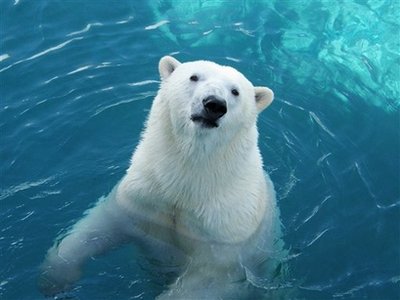 Look at those eyes. Female, right?
Can't you see her purse?
Apparently polar bears are so hairy when they are young it is difficult to know their gender. The bears were believed to be male at 3 months, but found to be female at 3 years. Perhaps the check could have been performed at 1 year?
The zoo has decided to keep Tsuyoshi and leave her name as well (supposedly due to public popularity). Her "brother", adopted by another zoo, also turned out to be female.