An Interactive Media Bias Chart is well worth taking a close look: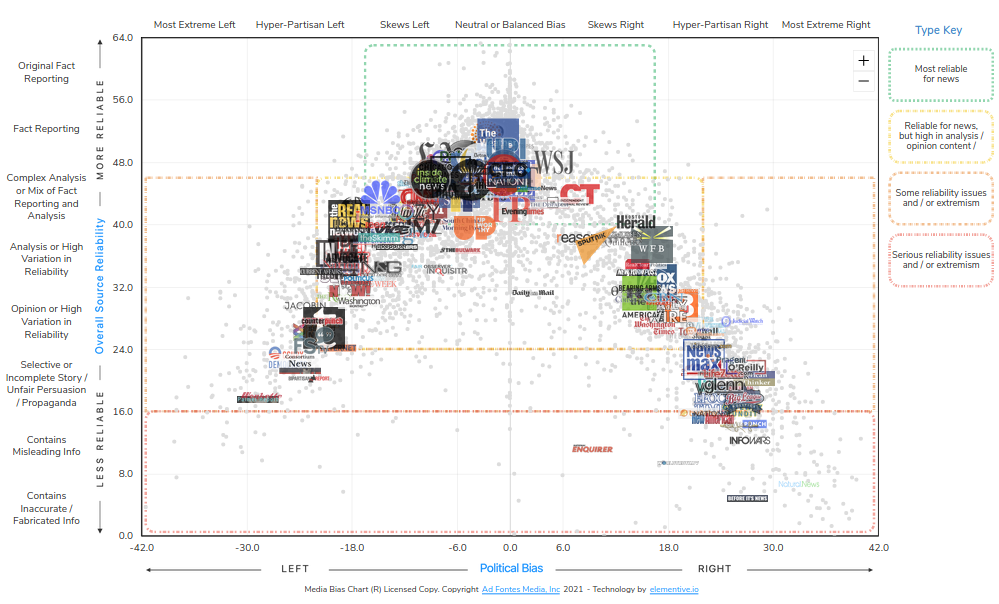 This might as well be a graphic representation of someone trying to ride a bicycle.
Zachery Tyler explained it succinctly like this:
As usual, your best bet for legitimate sources of information is to read the wire services and actual newspapers, such as The New York Times, The Washington Post, The Wall Street Journal, USA TODAY, and The Hill, and to watch serious public-minded outlets like PBS News Hour and BBC News. For more information, including the methodology and more than 300 sources ranked, see the website.
To that I'll add that I would say when you lean too far either side and lack security controls to recenter you're doomed.
And on that note, here is an excellent video by Clint Watts explaining how and why Russia has been so villainous in its attempt to push Americans off-balance and crash the country.
With Clint Watt's chart in hand, the problem with Facebook's intentional curation of news content into two silos (echo chambers) now can come under even more increased scrutiny.
We're not in 2019 anymore talking about the CSO allegedly facilitating genocide. We're now in 2021 seeing Facebook still doesn't do what repeatedly it promises it will do, instead facilitates the anti-balance and bias that leads to violent extremism:
…the data provides a snapshot into a split ecosystem, where users are often served different news depending on their partisan preferences and rarely have a chance to see the differences. The news landscape our Facebook panelists encountered was deeply polarized. In all, of the hundreds of riot-related links we analyzed, only 5 percent of the links (35) were in common among our panelists.
Having no chance to see the differences makes Facebook an editorial force, shaping views by curating news; without any means of finding balance the Internet rider is doomed on Facebook.