A Samsung-built ship "specialized" to carry luxury European cars to America is reportedly a smoldering wreck in the Atlantic, after catching on fire 90 nautical miles (170 km) southwest of the island Faial.
Thousands of Porsches, Audis, and Lamborghinis were marooned on an unmanned burning cargo ship in the middle of the Atlantic Ocean Thursday. […] The ship was still burning and billowing out clouds of white smoke as a Portugal navy ship inspected whether it was in danger of sinking, officials said.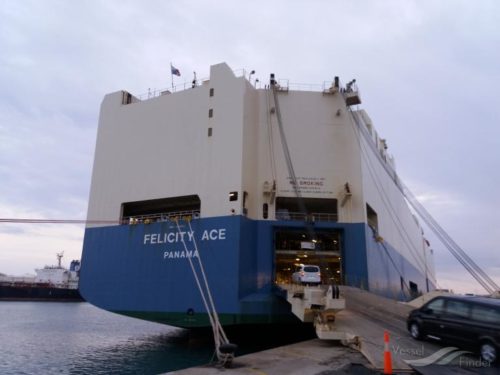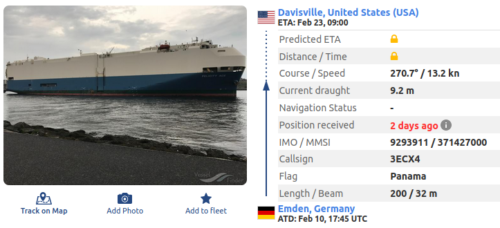 It had a lot of Porsche on board.
Luke Vandezande, a spokesperson for Porsche, said the company estimates around 1,100 of its vehicles were among those on board Felicity Ace at the time of the fire.
My first guess would still be that a Lamborghini started the blaze. Here's just a thought. Someone was in a Lambo revving the engine with nowhere to go. This is a common thing for people who like to play loud noises but don't understand when the car doesn't move to let heat dissipate (including excessive waste, such as flaming exhaust), then at some point flames engulf the body.
In an ironic twist for their manufacturer (regulations cheating Volkswagen) one easily could argue that diesel vehicles (even Porsche) shipped to Americans would have been far less likely to cause such an environmental disaster.
A simple search of the cargo contents shows a lot of lithium battery car manifests going different places, which all together would generate a fire especially toxic to the environment…
3 F83 AUDI E-TRON
24 GEA AUDI E-TRON SPORTBACK
1 GEA AUDI E-TRON SPORTBACK
5 GEN AUDI E-TRON
30 F4B AUDI Q4 E-TRON
29 F4B AUDI Q4 E-TRON
1 F83 AUDI E-TRON
Also of note on the boat is a 2016 FORD MUSTANG VIN: 1FA6P8CF6G5283818 consigned to 313 AMBER JILL COVE KILLEEN, TX 76549. I don't see anyone writing about that, let alone a 2018 HARLEY DAVIDSON FAT BOB VIN: 1HD1YLK12JC022519 consigned to 820 GARZA JONES LANE LAREDO, TX 78045.