The 2021 JD Powers quality rankings clearly put Tesla very low on the list.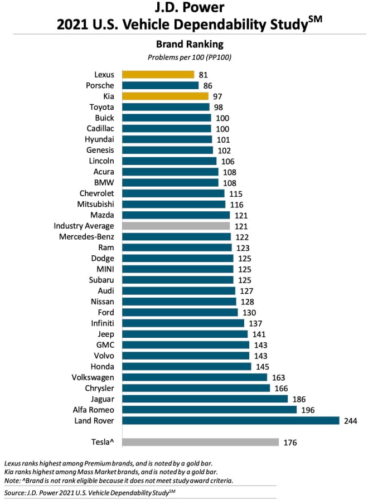 When you think about Chrysler (despite recalls for batteries that catch on fire) being even more dependable than a Tesla, it says a lot!
Years ago experts tried to point this out by referencing Kia (before it turned things around) but who really listened? (Hint: NOT Tesla)
Sandy Munro, who tears apart and reverse-engineers cars to assess quality, issued a brutal appraisal of the Model 3 citing "flaws that we would see on a Kia in the '90s."
In other words, Kia grew dramatically better from feedback while Tesla only seems to be getting worse. A recent study put it as:
The only thing reliabile about Teslas is their poor reliability.
No wonder stories like the following nightmare have become regular updates in the news:
…a bone-chilling problem has prompted a recall on some Tesla models. The issue has left owners stuck without heat in the dead of winter…
That flaw was from poor engineering practices, with Tesla trying to cut corners even when it puts owners in serious risk. The ironically named HotCars says Tesla is intentionally lowering quality:
Not everything on a Tesla is inherently low-quality, but Tesla is certainly cutting corners.
Even China, the epicenter of cutting corners, has recently tried to heap shame on quality of the Tesla brand as very far below expectations (with Tesla clocking a sad 133 failures per 100 cars — averaging more than one for every car).
An example of how this serious lack of quality in Tesla plays out comes from a self-described "very active EV advocate" who seems to be spending huge amounts of time on a basic flaw, and has announced arbitration in an attempt to get a repair done.
I am convinced that Tesla is well aware that they are installing faulty battery PCSs in the penthouse. In fact, Tesla once issued a Technical Service Bulletin about the "HV Battery System," which states that "For certain Model 3 vehicles, the power conversion system needs replacement." Although the bulletin projects dates for the vehicles possibly affected (the earliest, one month after I took delivery), it does not clarify why those PCSs had a problem. Were they from a different manufacturer, design, material, or build than other PCSs installed before and after those dates? I strongly suspect that, in reality, Tesla has been installing the very same, identical PCSs in the Model 3 for years, both before and after that Service Bulletin, and has failed to inform all Model 3 owners of the potential problem.

This would explain why an increasing number of owners are now finding that this integral part of the Battery and Drive Unit System is starting to fail after 3, 4, 5 years of ownership —in my case after only 3 years and 9 months. It is apparent that these battery PCSs are of poor design and quality, faulty, prone to break down, and Tesla is trying to pass the hefty expense of these failures on to owners…
The blog post links to many Tesla owners suffering similar problems and offers this scathing analysis of Tesla business practices.
Tesla has bragged that the maintenance and repair costs for its vehicles are so low that they make their higher purchase prices more affordable than a gas car over a lifetime of ownership. With the Service Center refusing to cover faulty —and expensive!— PCSs under the Battery and Drive Unit Warranty, Tesla's braggadocio about such costs now strikes me disingenuous —if not deceptive.
And on that disgruntled owner note "Tesla is the only automaker that has chosen not to grant J.D. Power permission to survey its owners in all 50 states." In other words the Tesla score could be even worse if its owners were actually allowed to speak.