Daniel Tonkopi, the Ukrainian CEO of Delfast, says permission has been granted to officially discuss deployment of his product into war:
Delfast has been providing electric bikes to the Ukrainian Army since the first day of the war. We transferred electric bikes to the front line, but we did not talk about it—we do some things quietly. Now we've gotten permission from the command, and we're publishing these pictures.
Really we're talking about motorcycles, yet for some reason people don't like emphasizing the motor when using the phrase "electric bikes".
If they did it might help with historic context of bicycles used in war for an extremely long time, as I've written here before.
Even more to the point, two-wheeled innovation in irregular war technology goes all the way back at least to the 1800s — over a century of bikes used in war with and without motors.
That being said, the photos posted by Tonkopi fit the well-tread path of bikes being light, agile, invisible and thus well-suited to haul heavy equipment around the front lines as we've seen since at least WWI.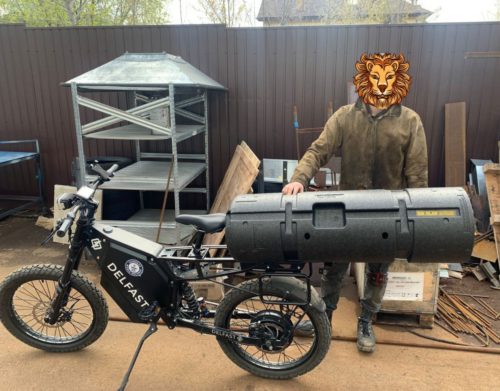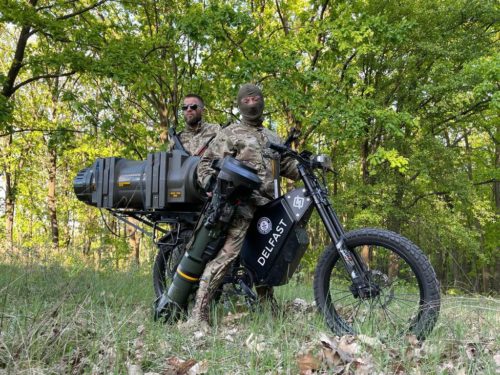 Tonkopi provides classic motor head talking points on his post along with these images.
– #1 in the world in terms of range, we're the current Guinness World Record holder
– #1 fastest electric bike in the world, acknowledged by Forbes for two years in a row, 2021 and 2022
– #1 all-terrain electric bike, acknowledged by Business Insider for two years in a row, 2021 and 2022
– Bonneville Speed Record holder among electric bikes
He doesn't cite the range but it was indeed very impressive, especially since any serious bike rider would unlikely ever ride more than 100 miles in a day.
That massive (by electric bicycle standards) battery is what allowed it to set the new 367 km (228 mi) record for the longest distance traveled by an electric bicycle on a single charge. Of course the average speed of 21.5 km/h (13.5 mph) during the record attempt certainly helped.
The hidden subtext is long range correlates to high power for large loads, such as anti-tank weapons carried for a 50 mile trip to the front lines and back.
Thus what's missing from these pictures and classic WWII "long-lines" talking points is a next generation of electric bike "cargo" design. The box frames provide even more capability for equipment as well as battery size. More gear for more range, what's not to like.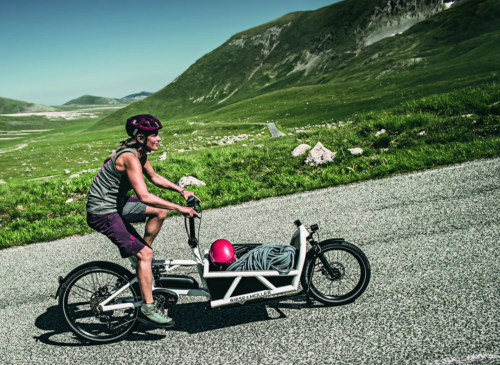 To be honest suspension of a cargo load isn't up for big drops (yet) and bottoming the frame on a berm can be pain…. Nonetheless, the box definitely hauls major loads so ask me how many stealth tank-busting drones or counter-drones could swarm straight off a R&M Load 75 into a deadly loiter position?
Armored box up front, flip switch to open bay doors, press fire and ride away. It's like a ground force having a mobile launcher for its own mini air force.
The mash-up is less fantasy as it might seem, given bikes have been getting air force technology infused into them for a while.
Range was specifically called out as a factor in 2014 by War is Boring, when it profiled special operator "stealth" bike innovation coming from secret drones.
…the propulsion system Logos plans to use in the stealth bike already powers a drone. A secret drone. We asked about the conditions the bike might encounter. What kind of damage are the companies designing the bike to take? "We have not encountered a military-use scenario that is more brutal to a vehicle than, say, the Erzberg Rodeo, or casing a 120-foot jump," a BRD official told us. "We're likely to see fewer large-scale land operations and more smaller, distributed tactical forces operating autonomously and at extended range from supply and logistical centers," Logos added. "This vehicle is envisioned to allow special operators to conduct their missions with the ability to travel long distances, rapidly, over unforgiving terrain, while remaining undetected by hostile forces."
That's all water under the bridge now since Delfast is clearly proving bikes not only able to meet objectives but essential to modern irregular war, as everyone should have expected.
A 2017 article "Without a Motorcycle in Kandahar, 'You Are Like a Prisoner'" was foreshadowing of how the Afghan war would be won and lost by distributed/localization networks, hit & run tactics, and terrain advantages.
Something tells me this is poetic justice, since Russians ignored all of the warning signs in true copy-cat fashion — like Detroit in the 1950s thought squeezing gas-guzzling air force engines into American muscle cars as a show of power somehow would turn out better than supply chain crisis after supply chain crisis.