I was surprised to read German news from July about Fiat having a huge win in battery electric vehicle (BEV) sales.
The Fiat 500 electric remains the top-selling all-electric car in Germany, with 2,170 new registrations in July. For reference, the Volkswagen ID.4/ID.5 (counted together) noted 1,600 units, Opel Corsa-e was at 1,406, while the ID.3 was at 1,383.
Fiat is crushing BEV sales in a country known for worshiping cars and skilled driving?
Their 500e model didn't just have a good month, it ranks highest for the entire year in total German BEV sales with an impressive 13,448.
Can you guess who is notably absent from the July rankings, selling many thousands fewer BEV in 2022 than Fiat?
The answer is an American BEV brand better known as "Worst Electric Car You Should Never Buy". It couldn't sell enough cars in July to even make it to the list in Germany.
Tesla sales, like their cars… crashed.
Combine plug-in hybrid sales with BEV and the German numbers get a bit more interesting.
Back in 2021 we saw the "Stellantis NV" group land four models in the European car top 10 list. All four of those top sellers have BEV variants, which is what seems to be happening in Germany in 2022. The Fiat 500 is a perfect example, having a BEV variant for a decade that has achieved clear superiority over its dirty oil burning cousin.
My time spent with the 500e was unexpectedly pleasant. I picked it up expecting it to have some of the same flaws as the ICE 500, but the more I drove it, I realized they had been addressed and the 500e was a much more accomplished vehicle. And since Fiat didn't mess with the shape of the vehicle too much, it has every chance to be popular, as it should be, because it's a very good small EV.
Think about the following list like a smooth brand loyalty transition into electric technology, so the total numbers are something of a prediction.
According to the official data, Volkswagen once again sold the highest number of plug-in electric cars – over 7,500 units in July. BMW and Audi were the next two most popular plug-in brands, by the number of registrations, both above 4,000. Plug-in car registrations by brands (at least 2,000) last month:

Volkswagen 7532: 4364 BEVs, 3168 PHEVs
BMW 4608: 1829 BEVs, 2779 PHEVs
Audi 4086: 2307 BEVs, 1779 PHEVs
Hyundai 3866: 2587 BEVs, 1279 PHEVs
Mercedes-Benz 3578: 1090 BEVs, 2488 PHEVs
SEAT 3273: 1012 BEVs, 2261 PHEVs
Opel 2711: 2635 BEVs, 76 PHEVs
Kia 2449: 501 BEVs, 1948 PHEVs
Fiat 2176: 2176 BEVs
Again, Tesla sales are so low they are absent entirely from that article's list of top brands. It begs whether anyone would even notice if Tesla was banned due to its negligently unsafe practices.
In Wirklichkeit stoße der Tesla zwischen 156 und 181 Gramm CO2 pro Kilometer aus und damit deutlich mehr als ein vergleichbarer Diesel-Mercedes.
Translation: In reality the Tesla design emits between 156 and 181 grams of CO2 per kilometer, significantly more than a comparable diesel Mercedes.
Germans see this clearly.
A refined and improved Fiat 500e sells because it's so much better than combustion engine versions of the same car, while Tesla's sloppy and rushed product comes in "significantly" worse than dirty diesel.
Seriously, we're at a point where Tesla has demonstrated year-over-year such sub-par engineering and safety practices that it deserves to lose access to roads, as California's Department of Motor Vehicle (DMV) has recently suggested.
Extracting only BEV numbers from the article source perhaps makes the point more clear about Germany.
Registrations for a Tesla simply fall too low to make it on the chart, even below Peugeot:
4634 Volkswagen
2870 Renault (includes Dacia)
2635 Opel
2587 Hyundai
2307 Audi
2176 Fiat
1829 BMW
1302 Peugeot
Let's flip now to Norway numbers for July, where Tesla was reportedly supposed to dominate the country's plan to be all BEV by 2025.
Here are the July numbers in a country reporting BEV sales as 78% of their car market:
673 Skoda Enyaq iV
649 Volkswagen ID.4
279 Hyundai Ioniq 5
238 BYD Tang
253 Audi e-tron
236 Ford Mustang Mach-E
145 Kia EV6
130 Audi Q4 e-tron
114 Nissan Leaf
113 BMW ix
74 Polestar 2
57 BMW i4
Aaaaand eventually Tesla shows up with just 38 cars registered… it's a curious thing unless perhaps you read the 57 pages of official complaints to the NHTSA about the 2022 Model Y.


Look at the stark difference in those numbers! Many of these complaints in 2022 are in fact a serious safety problem called "phantom braking".
Tesla in late 2021 rushed out a recall due to massive brake failure causing fatalities (violent stops, abrupt speed changes)… and the problem seems even WORSE in 2022 after the "update".
Let me say that again, because surely there is no other car company in history this awful.
Buying a Tesla in 2022 after they rushed out an emergency safety recall last year seems like an even worse decision than before.
Tesla quickly rolled out an over-the-air update to address the issue, yet, since that recall reports of phantom or unintended braking are higher than ever. In fact, the single highest reported cases of phantom breaking analyzed by the Post occurred just one month after the recall.
As a footnote to brand comparisons, while Stellantis surges ahead in the European clean vehicle market they're also running dead last in America grotesquely flogging big and dirty oil burners.
Stellantis ranked last among major U.S. automakers in corporate average fuel economy in 2021, according to the U.S. Environmental Protection Agency. U.S. regulators earlier this year said they would increase penalties for failing to hit CO2 emissions targets, a decision that could cost Stellantis as much as $572 million.
So Tesla maybe is like Stellantis in America, an electric expression of the American DGAF buyer brutally flaunting danger to self and the planet: an overly hyped status object for "collectors" and "posers" like firing a gas flamethrower during a gas shortage with no real practical or safe application in society.
While Stellantis obviously gets such stark market differentiation across an ocean by offering completely opposite models to drivers on either side, Tesla clearly does not.
That being said, the ice in America (pun not intended) may be thawing finally. Idiocy of wanting to waste even a minute in a Tesla (e.g. registering complaints about wheels falling off, smoke pouring out of the vents, destroyed in a fire days after delivery) may finally be over.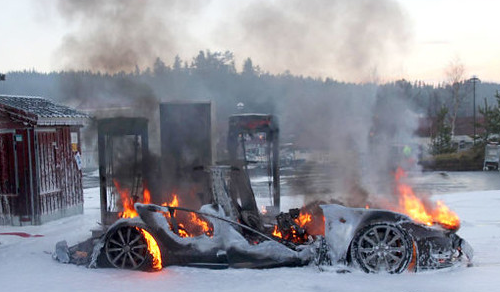 The 500e has in fact been a cult favorite with Bay Area track heads and car nuts for years now, who offered a simple phrase to describe why 100s of them were drawn to it.
How does Wetzler feel about his 500e, given his own racing pastime? He says the 500e "is very torquey, and from 0-30 spoils you with instant throttle response and a good belt of acceleration. The regen braking to actual braking transition is very smooth and natural feeling, something many lower priced EVs can't claim. It cruises nicely on the freeway, and is decently fun to drive… I can drive the Fiat and not hate life.
It's a car for people who don't hate life.
Sounds like driving such a brilliant car designed for actual living, helps them fall in love (again) with the most important reasons for driving.
Or as Fiat themselves put it ten long years ago in a 60 second advertisement about their BEV track times…