The word on the street is Elon Musk thought Nazi was spelled with a T, which is why he put it on the hood of his cars.

But seriously, Tesla's public relations with the German government thus far have its CEO telling people to ignore long-standing rules while he promotes the worst possible failures of history.
Start with the fact that the German government a long time ago offered incentives to buy electric cars, which are expected to change at the end of 2022.
Germany will extend its enviromental subsidy for electric cars [from 2020] until 2025, government and auto industry sources told Reuters on Monday, a day ahead of a German auto industry summit in Berlin. In June, Germany doubled incentives for electric cars, which comprised of a 3,000 euro (£2,693) bonus for electric…
Tesla, the low-quality and racist manufacturer led by a South African habitually caught delayed and lying about its capabilities, two years later has announced it doesn't care about German government rules (e.g. wants people to ignore 2022 ending as expected).
To put it another way, we all should expect 2023 incentives from the German government to continue on plan… while Tesla thinks people instead should be squeezed to put orders in right now (put money onto Tesla's dying books before year end — it's sales in Germany have crashed) even when it knows it can't deliver the cars.
This is social engineering of the worst kind, trying to pay people to go around long-standing German regulations linked to delivery of actual vehicles.
The incentives, or premiums, paid to buyers of electric cars will expire completely once an allocated sum of 3.4 billion euros ($3.44 billion) from the next two years' budget is spent, according to government sources. "E-vehicles are becoming more and more popular and will no longer need government subsidies in the foreseeable future," Economy Minister Robert Habeck said in a statement.
Popular means driven on the roads, not in some fake balance sheet gamed by unethical Tesla accountants. Germans are talking reality, Tesla is begging the market to shift instead towards their selfish fantasy using the well-known Nazi deposit scheme (click to enlarge).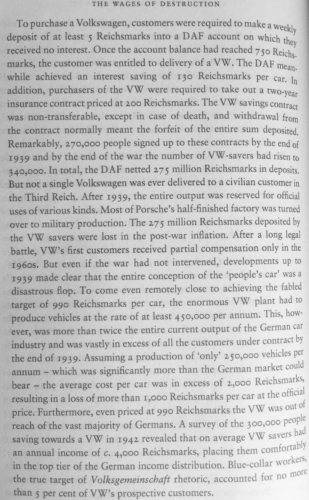 Every other electric car manufacturer has delivered in Germany while Tesla falls far behind, so it's a wonder why anyone at this point would consider buying one from such serial liars and under-performers.
That's not all, though. Tesla also is being very political in its attempt to reverse history.
Their CEO has recently been overtly promoting Nazism in his social media accounts.
Adam Parkhomenko tweeted, "Wait. Elon endorsed Republicans AND shared a picture of a Nazi soldier? So he's exactly what we thought he was."
The CEO of Tesla buying Twitter to overtly push political extremism and promote Nazi messaging is exactly what many people expected.
Back in June, mind you, Politico reported that Musk was "leaning" toward Florida Gov. Ron DeSantis, a Republican, as his preferred 2024 presidential candidate. And go figure, he's not advising Florida voters to vote for Democratic state legislators in the name of divided government. The guy isn't just a Republican, he's a Republican who embraces far-right memes and cozies up to neo-Nazis.
As one analyst astutely put it, Tesla's CEO is calling for the return and rise of Nazism as his idea of "balance" in government.
Gotta balance not-nazis out with some nazis, otherwise the not-nazis will run wild with their not-nazi agenda
In other words, the Tesla CEO doesn't like the not-Nazis of Germany going unchallenged and repeatedly seems to want to bring Nazism back.
He might as well tell people his cars kill more people in his master plan to "balance" safety on the streets with not-safety.
One of my favorite analyst paragraphs ever about Tesla being built on lies has this anecdote:
Elon Musk demanded that Tesla stop testing brakes on June 26. Doug Field, chief engineer, resigned on June 27. Is this a coincidence? Of course not—Doug Field doesn't want to be responsible for killing people.
That should sound familiar to anyone who has studied Hitler's leadership. And not very long ago the Tesla CEO ran into heavy criticism while presenting himself as a Hitler apologist.
He tweeted an image of Adolf Hitler that said, "Stop comparing me to Justin Trudeau. I had a budget."
Despite all these unforced errors, and despite all the opportunities in the world to be an anti-Nazi while engaging with the German government, the Tesla CEO has presented himself only as open to a return to Nazism.
A penchant to promote and coddle Nazism continues unrepentant and growing at the worst times.
Take for example how the U.S. has been dealing with news of anti-semitism promoted by celebrities.
Incidents of bias and hate speech have also been rising in the U.S., including recent comments by the singer Ye, formerly known as Kanye West, and a social media post shared by NBA star Kyrie Irving.
What would you expect the German government to want to see next from a car company leader? Perhaps silence. Perhaps concern for safety. Certainly not Nazi memes.
Within this context of concern the Tesla CEO jumped up and…
Wait for it…
…used his giant giant bully pulpit to openly promote Nazism as if a show of approval during the reported rise in anti-semitism. And he even took such action during the memorial week of Kristallnacht.
BERLIN (AP) — Holocaust survivors from around the world are warning about the reemergence of antisemitism as they mark the 84th anniversary on Wednesday of Kristallnacht — the "Night of Broken Glass" — when Nazis terrorized Jews throughout Germany and Austria. In the campaign #ItStartedWithWords by the organization that handles claims on behalf of Jews who suffered under the Nazis, several Holocaust survivors have recounted on video how antisemitic speech led to actions that nearly saw the mass extermination of Jews in Europe in the last century.
Could a car company get any more wrong than its CEO pumping support for Nazism into Germany during the start of November, while admitting delivery failures and trying to tell people that government rules don't matter?
To be fair, in one case the CEO "deleted the tweet after a number of users informed him that he wasn't quoting a famous French philosopher, but a neo-Nazi pedophile."
Or to put it another way Germany under strict occupation by militant anti-Nazis became famous for producing the best cars in the world. Coincidence? Given how bad Tesla engineering is and how much their CEO seems to always end up fiddling around with Nazism… Germany might as well look in the mirror for why allowing Tesla's allergic reaction to law and order ("permanent improvisation") will end badly for everyone.