Team New Zealand have recorded the fastest wind powered land speed yet.
'Horonuku' named by Ngati Whatua Orakei meaning 'gliding swiftly across the land' did exactly that and was clocked at 222.4km/h in 22 knots of windspeed on Lake Gairdner in South Australia.
The design looks like an airplane sideways, much like a sailboat, hinting at the future.
Skipper Glenn Ashby sounds much like Maverick in Top Gun, navigating dangerous "shifts and puffs" like an F18 avoiding canyon walls… with zero visibility.
Amazing to watch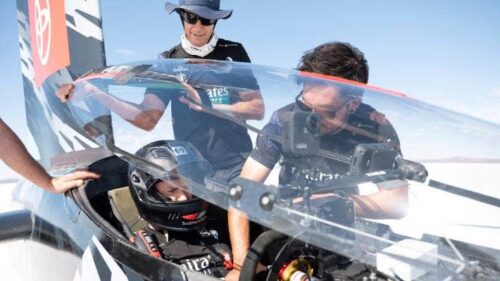 His cockpit recording could be the basis for the next action movie in the series: "Glenn, you have three months to put together a team…."
Even more remarkable is they started their attempt just this past summer.
The difference of course is that "save the world" fiction of Top Gun cares not at all about harm to planet (1950s power projection), while this real life story is the exact opposite demonstrating missions centered on actually saving the world.
If all the money wasted on the con game of "driverless" transit were spent on solar/wind energy instead, it would make a world of positive difference. Top Gun's anti-drone narrative is about caring (nod to Blade Runner), but this one is humans caring for each other AND their environment.
In related sustainable high efficiency news, MIT announced an ultralight print than can be made into solar fibers/cloth or shell. Another speed record could soon become a blend of sun and wind.