Policies at an American school are being driven by a "Christian" law group of the Pennsylvania Family Institute, which is part of the national Family Research Council extremist hate group.
A librarian reportedly was surprised when censors used the policies to threaten him.
A new policy banning educators from "advocacy activities" in the Central Bucks School District is already causing confusion and frustration over what that could entail.

Central Bucks South High School librarian Matt Pecic said on Wednesday a principal told him to take down four posters with a quote from Elie Wiesel, a world-renowned Holocaust survivor and author. According to Pecic, the principal said the poster violated the new policy.

Pecic, who has worked in the district for 31 years, was told the posters had to go, or Human Resources would be contacted. Pecic said it was his understanding there would be "consequences" if not followed.

So Pecic removed the posters, telling WHYY News he felt "powerless."

"If I didn't take it down, I knew there would be consequences that could impact me," he said.

"It's a horrible feeling. And you feel like you have to do something that you don't agree with," Pecic added.
The posters had warned "Silence encourages the tormentor, never the tormented". Censorship of them predictably turned into public condemnation of the school for tormenting its librarian and students.
This school already was under investigation for "creating a hostile learning environment".
One peculiarly alarming detail is that school administrators said unless they are given a list of exact names to identify anyone alleging abuse, they will make it unsafe for students suspected of alleging abuse.
Another alarming detail is the PR firm Devine and Partners was hired by the school to throw a librarian under the bus with an obvious non-sequitur.
The district's outside public relations firm, Devine and Partners, released a statement alleging the librarian was "asked by the administration to present the quote in conjunction with Mr. Wiesel's book in order to promote educational inquiry and student interest in reading the novel, or to take it down. We regret that the decision was made to remove it."
We have told you to remove the poster, which we will regret if you remove the poster?
That's quite the gaslit PR position, reminiscent of Kristallnacht.
And what part of a library poster with Mr. Wiesel's name next to a quote doesn't rise to the requirement of a promoting educational inquiry in a book by that author?
The school should get its taxpayer money back.
And on that note, what's with a school issuing hot take down orders on Holocaust posters near International Holocaust Remembrance Day?
Maybe if the school had listened to their librarian, even put the guy in charge, they'd actually learn a thing or two about what "promote educational inquiry and student interest" really means. Censorship is a backwards and upside down way to get there.
Clearly this school is under the sway of some very wealthy and powerful American groups apparently setup (hello Texas) to block education as they torment children, parents and educators.
Cannon was a vocal member of a Facebook group called Moms for Liberty Bucks County PA. Moms for Liberty is a national group that fights for book censorship. When she ran for school board, she and two other candidates were endorsed by the right-wing Proud American Patriots Network. The PAPN was linked with the Three Percenters movement, a right-wing militia group. If you thought Cannon's fringe ideas and connections would make her unelectable … you'd be wrong.
Canon, while touting her membership in a domestic terror group, has used the backwards and upside down logic tactic extensively.
She claims for example that censoring representation or symbols of the groups she doesn't like will make them feel her environment is more inclusive of them. That's exactly backwards, naturally. Nothing says being excluded like having your posters and symbols taken down.
Meanwhile, she posts on Facebook as Debra Theresa to spread motivational quotes from "Adolf Hitler":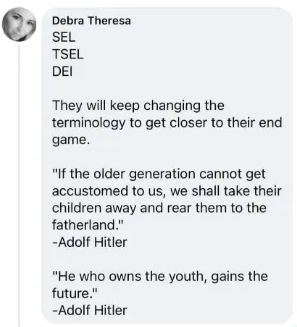 Local news has reported her sentiments very dryly as common for the time and area.
As Pennsylvania life languished in the early days of the pandemic and most people stayed home, vandals left their mark in Philadelphia. The graffiti in March 2020 included multiple swastikas and other symbols of hate, including the white supremacist symbol "1488" that partially pledges allegiance to Hitler. […] The 238 incidents involving white supremacist propaganda in Pennsylvania put it in the top eight states with the most activity, coming behind Texas…
And they point out also it's no accident we're talking about schools as a political battleground for such "vandals".
More than 96% of teachers are white, and more than half of Pennsylvania schools have no teachers of color, according to state data.
Pennsylvania schools run by extremist hate groups, especially those targeting LGBTQ, is something to reflect on this 78th Holocaust memorial weekend.
Thousands of gay, lesbian, bisexual and transgender people were arrested and thrown into camps during Adolf Hitler's 1933-1945 dictatorship, based on anti-homosexuality laws that preceded and outlasted the Nazi era.
Outlasted is an understatement.