Targeted harassment of critics of Palantir appears to be an organized function driven by right wing extremists posing as investors.
It's that simple.
More attention should be brought to the situation. These attacks are a symptom of Palantir being a political dragnet for monopolist (fascist) objectives.
First, Palantir doesn't deliver on what it claims. It fails at even basic intelligence, as I've written about before. People quitting Palantir over the years have reached out to me to complain how misled and ashamed they feel for being a part of the bait.
If you doubt Palantir, you're probably right. In other words, the American company shamelessly built an overpriced and unaccountable "justice" system that tries to paint the world with an overly simplistic good/evil dichotomy.
Second, it's a proprietary opaque platform designed for data entrapment. Any time or money invested into trying to integrate with it is sunk cost, never recoverable. That's their hook.
"Every trust in England will be forced to integrate [by Palantir]…" said GP IT consultant and clinical informatics expert Marcus Baw. "This means there has already been significant taxpayer investment…. "Trusts are busy, with limited IT team capacity, so they cannot afford to redo work."
Third, it is accused of privacy violations as an overbroad dragnet to facilitate right wing political attacks and target critics. That's the "reel" problem (pun intended)…
"The company is failing to fulfill its human rights responsibilities."
That was a warning from observers, which proved to be chillingly accurate.
Unidentified police officers in Hesse [using Palantir] accessed the contact details of several politicians and prominent immigrants from official records and shared them with the neo-Nazi group, according to local reports.
In other words, unwitting targets of Palantir sign giant contracts on promise of some knowledge gain only to find out it's an intentional trap. They lose control of privacy and sensitive data as it goes into use/processing for right-wing political extremism.
Let it sink in for a minute that police in Germany used their Palantir deployment as intelligence to facilitate Nazi groups attacking political opponents.
If that doesn't give you an accurate enough picture of what Palantir is intending to do, read on for more.
Here's how one particularly subversive Palantir "investment group" characterizes themselves as taking on the world.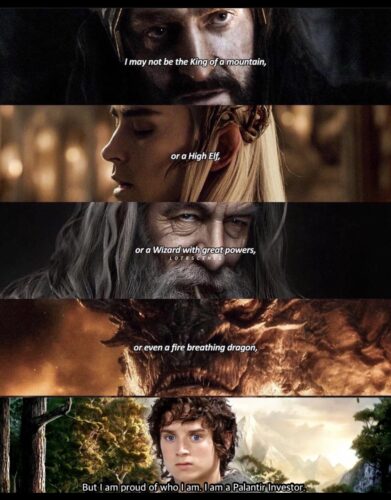 This group clearly sees Palantir for what it allegedly is meant to be. They say they are "investors" as if they care about quick profit, yet they seem far more interested in abrupt power gains for… a race war.
It helps explain why an "investment group" has such overt political intentions, and why they setup a Twitter account to abuse people — spread hate as their brand in attacking critics.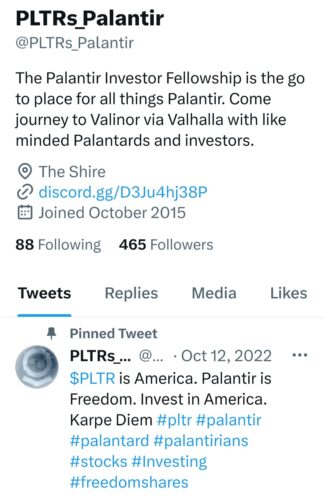 They pattern (arguably in British English) with tired American political attack memes — dog whistles loud enough you don't have to have dog ears.
"Valinor via Valhalla" is a shout out to right-wing "fascination". Like the swastika, the origins erode and unfortunately become irrelevant with heavy hate group usage.
This iconography has long held sway in the political sphere. The idea of a tall, strong, blonde-haired and blue-eyed Nordic race was one that came to underpin the Nazis' Aryan ideal and cemented the subsequent right-wing fascination with the Norsemen. Interestingly, JRR Tolkien, whose Middle-earth draws heavily upon the Sagas and Eddas, admonished "that ruddy little ignoramus Adolf Hitler" for "ruining, misapplying, and making forever accursed, that noble northern spirit."
You can see this "investment group" operate more like a right-wing hate group as it coughs up "Soros" hairballs.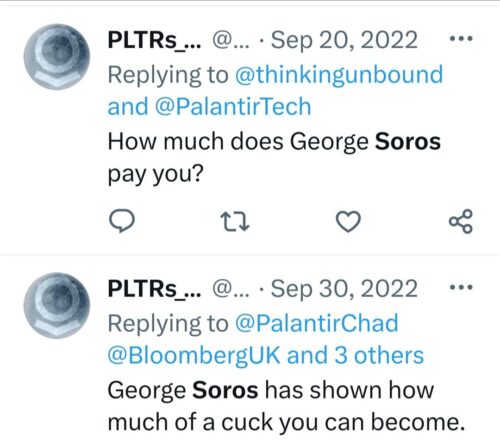 You might recall how Elon Musk infamously insulted and taunted a disabled member of his staff? Trump mocked disabled people? That insensitivity is another pattern of political extremism, which this "investment group" has turned into a tasteless moniker: "#palantard"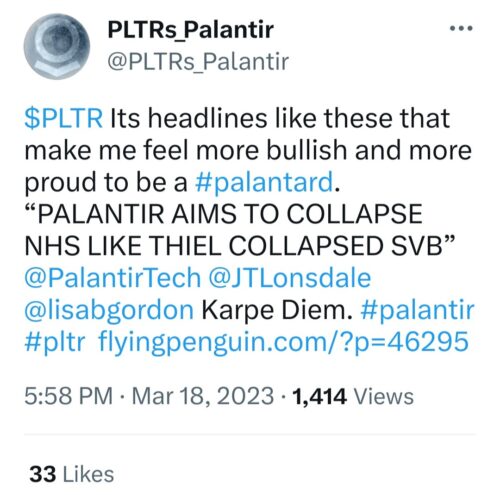 As expected, their response to my criticism of Palantir is lacking any intelligence other than naming (see point one above, how Palantir fails at what it promises).
Obviously they name-search for the company, then raise a dog-pile flag to go after any critic by using generic personal attacks as censorship. Get it? Hunt to find targets for public attack based on singular weak identifiers (e.g. critic). Such a good/bad simplistic classifier narrative to mobilize a mob reaction is the literal opposite of intelligence.
A look at their Twitter and Discord accounts, like assessing use of the Palantir platform itself, shows directed and coordinated/targeted harassment for political purposes (power).
They engage in typical Pepe memes, chan language ("chad," "tard"), and monopolist fantasies (e.g. flashy watches as commodity fetishism of class supremacy, a derivative of Colonialism).
A group pumping out Soros as an insult and playing 2016 Alt Right memes is the face of who really believes in Palantir as a wise investment. That's not a coincidence.
And perhaps most telling, the "investment group" pleads they can't be racist or antisemitic because they refer to Palantir's CEO as their "daddy" (e.g. the flawed "some of my best friends are" defense), which is obviously about as right as them saying that following (Kan)Ye isn't wrong.