It's a hood, so that's what I'm calling it. Just like the Nazi Tatra T87.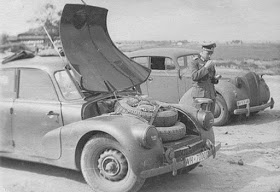 Musk says Tesla… Hitler said Tatra, where's the difference in management, seriously?
China's State Administration for Market Regulation (SAMR) has allegedly announced reopening an earlier recall of Tesla Model S imported from California.
…expanded a late 2021 recall to cover more imported Model S electric vehicles due to the risk of their front trunks (frunks) opening unexpectedly while the vehicle is in motion. […] If the secondary latch is not locked when the primary latch is accidentally released, the frunk lid may suddenly open while the vehicle is in motion. If this happens, it will affect the driver's view, increasing the risk of a crash…
It's interesting because there has been ongoing global confusion about this safety issue; somehow a bunch of Model S sent to China were dropped out of the 500,000 cars recalled by Tesla in 2021 for the same issue.
According to documents submitted to the National Highway Traffic Safety Administration (NHTSA), there are 475,318 vehicles subject to the recall… The Model S recall is particularly concerning because the issue affects the front trunk, which could obstruct the driver's view of the road if it flies open while driving.
This comes not long after Tesla had to recall last December over 400,000 of its cars in China, which was right after their recall last November for another 80,000.
The numbers seem big because they are, in fact, rediculously high for a company that promised it would be better than all others. Tesla's 20 recalls in 2022 affected 3,769,581 vehicles putting on par with buying a Kia, worse than a VW.
Worse than a VW.
Have I mentioned VW was basically a copy of the Nazi-killing unsafe Tatra?
Food for thought considering the Chinese-owned (Geely) Swedish Polestar has had just one single recall, affecting under 100 vehicles.