Some crazy electric bike stats flew across my desk and I just had to take a minute to say… WOW.
With Flluid-2 you get an ultra-long range e-bike with an unprecedented range of 225mi (350km)… with a max speed of 28mph (45km/h in the EU).
Before you say anything about those numbers, let me interject slow is smooth, smooth is fast, which is exactly how an American just finished the Dakar Rally unaided.
Thus we're looking today at a dreamy 2,000Wh design by Flluid CTO Erik Buell, famous for his motorcycles. Although his genre of motorcycle never appealed to my riding styles, his engineering always interested me as being a rule-bender ahead of the industry. Here too, while the Flluid doesn't immediately appeal to my sense of riding (not a fan of 130Nm "super-bike acceleration" torque nonsense), I will say that what he's doing with eBike numbers is very important to recognize.
As someone just pointed out to me, using an electric rate of $0.12/kWh a Flluid bike consumption rate sits at 1,000 miles per dollar. Can you imagine if American cars were rated on their consumption in miles per dollar? LOL. The 51.8V battery will be at 80% in just 4 hours on a 3Amp charger, so we're talking super low-cost, high-performance engineering for a significant higher quality of life.
I've written before many times about the intelligence of bikes, especially electric bikes, and this takes it to a whole new level.
If you're getting over 200 miles on a charge you're entering revolution territory (pun not intended) across many industries and applications. This is a huge deal for all kinds of public services from military to healthcare. The mail including packages should be delivered on this bike. An EMT or firefighter should arrive on this bike. Shoulder-fired rockets in the forest… need I go on? Forget drones, think automatic ebikes with healthy humans pushing pedals and actually outside doing shared activities including talking with each other as they ride!
Flluid pumps their Valeo Cyclee Mid Drive Unit running fully automatic gears with predictive shifting. That's some interesting automation too, yet I'm far more impressed with the powerful idea of moving refrigerators, washing machines, loads of lumber, even ambulance and fire duty operating more effectively and efficiently on the main Flluid design. Big trucks are just dumb, once you run the numbers.
No joke, you could stick a reasonably large barrel, pump and a hose on this thing to have emergency fire response continue during/after major disasters (road infrastructure failures). I am absolutely serious. Move first-response to swarms of firefighters on ebikes that aren't blocked by road size or closures.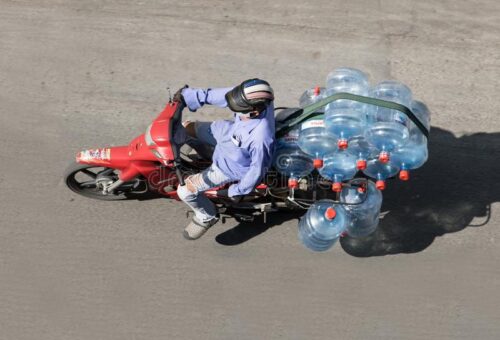 The official marketing from Flluid calls it a car replacement. Really it's a cage challenger (big box-like multi-wheeled carriages of any kind). Move most Americans outside the "luxury" (waste) of their padded cages and the overall safety of riders/passengers not only will dramatically improve, all the pedestrian risks will be improved too. That still probably sounds counter-intuitive to some even though the data makes it extremely clear. More bikes saves lives in myriad ways through everything from better health of the riders to better health for everyone not riding. This bike could improve quality of life dramatically wherever it sees mass adoption (e.g. replacing mail trucks, garaging police cruisers).
There's no better solution to the malignant problems of American road safety than moving as many people as quickly as possible to ebike designs, away from toxicity inherent to ancient cage culture. Congrats to Buell on his excellent achievement towards that end.
It's also worth noting that places to find these bikes seem to be… Harley dealers. I was just looking at one next to a giant German Iron Cross insignia and some flames on a sweatshirt. Not what I expected given how allergic that Harley brand used to be to anything new or different. Buell has definitely broken them out of their cage. Did I mention the Flluid has French financiers?
Something French is being sold at the local Harley dealer? Yup. You read that right. A French bicycle sold at your Harley dealer. To be fair, this is an awesome motor on a cycle — motorcycle — and it's all about real freedom.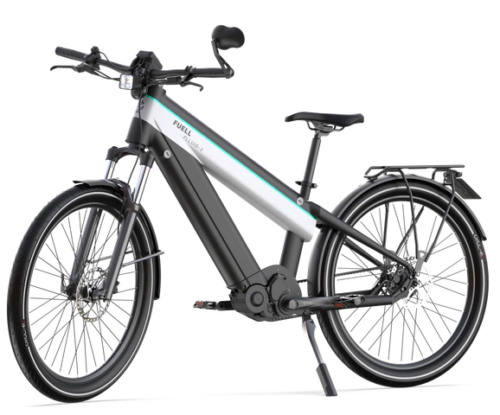 My how times have changed, perhaps thanks in part to the engineering of Buell.