Update March 2022: Drone wars in Ukraine is highlighting many of the same issues reported below.
---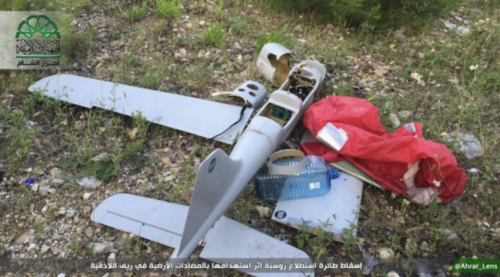 The site "AINonline" offers us a count of drones in battles over Syria. Russia, for example, has recorded 23,000 flights of their own and claims 118 opposition drones shot-down with the vast majority this year.
The following section on "gaps in electronic warfare shield" was particularly interesting as it emphasizes Russia's current dependence (pun not intended) on primitive jamming systems and kinetic counter-measures.
Russian official, deputy defense minister for military technical cooperation with foreign countries General Aleksandr Fomin, accused U.S. forces of assisting the Syrian rebels in carrying out drone attacks on the Khmeimeem airbase. Speaking at the Xiangshan security forum in Beijing last fall, he said that, "a group of 13 drones moved according to a common plan of combat deployment, under control of a single crew team. That time, a U.S. Navy P-8 Poseidon ASW aircraft was on an eight-hour patrol mission over the Mediterranean Sea. Upon reaching out our electronic warfare shield, the drones retreated somewhat to receive correcting instructions and began using satellite communications channels to receive outside assistance to find and explore gaps in that shield. Then the drones attempted to penetrate through, only to be destroyed."

Apparently, Fomin was referring to January 6, when Russian forces shot down seven drones with anti-aircraft missiles and crash-landed seven by jamming the drones' flight control systems.
Unclear why seven and seven was reported as a group total of 13 drones.
The rising scale of drone operations by Russia is part of a tale (pun intended) of their newfound ability to turn the U.S. into a dog they hope to wag around (even though last year that turned out very badly for them).