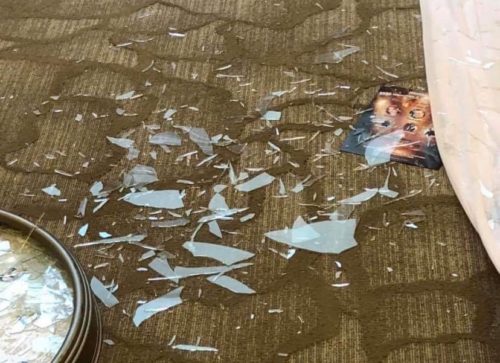 The latest report suggests a man briefly visited and desecrated a religious center (2am, Saturday December 14th) in California before fleeing to Hawaii:
A Pennsylvania man accused in the recent vandalism of a Beverly Hills synagogue was arrested in Hawaii and is being charged under a hate crime enhancement, police said Wednesday. Anton Nathaniel Redding, 24, of Millersville, Pennsylvania, was arrested in Kona…
Allegedly the Hawaii Criminal Justice Data Center (CJDC) used its five-year-old facial recognition system to track and capture him.
That Millersville reference is interesting because of the series of similar hate crimes last year, although I haven't seen anyone yet make the connection:
Multiple hate crimes investigation are underway at Millersville University. The university said derogatory race-related graffiti against black people was found Friday in a men's restroom in the Student Memorial Center. Two other incidents are anti-Semitic and considered hate crimes in the wake of the Pittsburgh synagogue massacre last weekend.
The year before, Millersville was called a "alt-right recruiting ground" after hate group recruitment posters were revealed in the news:
Signs recently posted by those that espouse white supremacist and neo-Nazi philosophies have appeared on MU bulletin boards and property. […] Over the last two days, stickers and posters were found on campus promoting Identity Evropa…a white supremacist group in the United States, established in March 2016.
In further related news the latest data shows far-right terrorism in America has increased 320% since 2014 and "every extremist killing in the U.S. in 2018 was linked to far-right individuals or organizations".