Supposedly the Medal of Freedom allows the occupant of the White House to award "an especially meritorious contribution to the security or national interests of the United States, world peace, cultural or other significant public or private endeavors".
In the latest news, however none of those concepts seem to apply to a golf player named Gary Player who is set to be awarded this supreme award. The primary explanation of his selection seems to be in this sentence:
Trump played with… Player last fall at his private club in northern Virginia.
Who is Player? What is he known for besides playing private club golf with someone in the White House?
The African Book Publishing Record (Volume 34, Issues 1-4 – Page 13) says he was
…often used by Pretoria as a virtual roving ambassador of apartheid…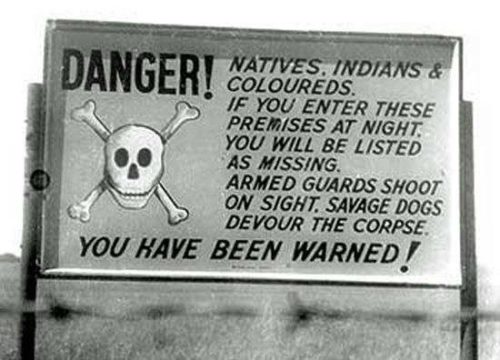 "Selling Apartheid: South Africa's Global Propaganda War" explains this in more detail on page 52: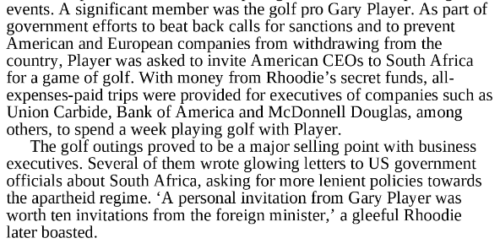 By 1981 Player was widely confronted for his ongoing propagandist role promoting apartheid rule, according to "Off the court" by Arthur Ashe and Neil Amdur, page 147:
Gary Player, a South African, says, "I'm a golfer, not a politician," when the media asks for his views. He's a hypocrite. I would like Gary Player to address himself to the question of whether he favors apartheid or not — a simple yes or no would do…
This came as Player responded to sanctions against apartheid in 1981 by establishing his "Million Dollar Challenge" tournament in Sun City and inviting Americans to invest. When I say responded to sanctions, here is what Bishop Tutu said (quoted in the 5-20-1981 "Statement to International Conference on Sanctions Against South Africa"); the environment where Player conceived his new event was clear:
Those who invest in South Africa should please do so with their eyes open. They must not delude themselves that they are doing anything for the benefit of blacks. Please let us at least get rid of this humbug. They must understand that they are buttressing one of the most vicious systems since Nazism.
Perhaps it should have been called the Most Vicious System Since Nazism Challenge?
In 1987 Player was still being condemned for breaking boycotts of apartheid, internationally known for his continued high-profile role promoting white supremacist government. He is listed by name in the "Centre Against Apartheid, Department of Political and Security Council Affairs" report on page 11:

The Guardian provides a succinct note on Player's reputation over time, in a 2007 story about Nelson Mandela distancing himself.
Mr Player is not known for his sensitivity to the plight of the downtrodden. He described apartheid South Africa as "maligned, misunderstood, pilloried" after he was heckled while playing abroad.

He was closely tied to the ruling National party during the 1970s as a member of a clique that launched a pro-apartheid newspaper with the help of illegal government funding.

He has also been criticized for failing to speak up on behalf of his country's best-known golfer of Indian descent, Sewsunker "Papwa" Sewgolum, who was forced in 1963 to stand in the rain to accept a major trophy because he wasn't allowed inside the racially exclusive Durban Country Club. Mr Player later said he welcomed Mr Sewgolum playing in South African tournaments because he brought "colour" to golf.
Adding confusion to the history, is Player's own version, where he sees himself as a change agent (claiming in 1961 he asked for Mandela to be set free although not jailed for life until 1964, and that in 1971 he formally asked for apartheid in sport to end). Compare that to his habit of using Mandela's voice for non-change, pushing the program of reconciliation instead of equality after apartheid.
CBC interview: "I said, 'I have so much admiration for you.' I said to him, 'It is remarkable, how can you not have revenge?'"
TimesLive interview: "I said 'Mr Mandela you must hate white people and have tremendous amount revenge'. "He said 'to the contrary' I have no hatred and no revenge…"
He also complained in 1993, quoted in "Golf's Global Ambassador from South Africa", that as someone from a "brainwashed" white supremacist background he found it unfair to be expected to change and oppose apartheid if American golfers weren't facing opposition to the Vietnam War.

Instead of explaining why this illogical whataboutism by Player is so morally bankrupt, perhaps I only need to point out how the official history of Pebble Beach indeed recounts 1972 opposition to the Vietnam War in the face of Nicklaus and what he thought of it:

Overall, while Player clearly has tried for decades to rehabilitate his image after gladly becoming the internationally condemned face of an apartheid regime, later acting as if he had actually wanted to be a change agent… he also very much became a fan of weak reconciliation after apartheid ended, preserving white economic domination and losing the support of even Mandela.
Seems like a "nice guy" opportunist ambassador who has been more than willing to go along with whatever regime or leader can make him rich quickest.
Just not seeing his qualification for such an award. As Maria Farrell explained recently:
The moral hazard is clear; why would anyone do the right thing from the beginning when they can take the money, have their fun, and then, when the wind changes, convert their status and relative wealth into special pleading and a whole new career?
I guess the next question, given his profile, is whether he was involved in the NRA campaign to funnel guns defeating the UN boycott, or involved in Ronald Reagan's aborted Seychelles coup involving golfers of the "Ancient Order of Froth Blowers".
Those gun-running high-dollar events fit perfectly and could at least explain the white nationalist White House today rewarding him for some long clandestine security angle. He may have been playing a role to help massage American business interests through and around the global apartheid boycotts (per the Nixon-era white nationalist "Tar Baby" foreign policy as described in 1976).