I am growing very tired of Americans calling violent coups unprecedented in their country.
Hello 1873 and 1874?
Hello 1876?
Hello 1886?
Hello 1889?
Hello 1894?
Hello 1898?
Hello 1919?
Hello 1921?
Hello 1923?
Hello 1933?
Hello 1954?
Ring any bells yet, or is there a feeling of denial?
Many violent coups were perpetrated by white nationalists after civil war who were angry about losing in 1865 and angry that black and brown people gained rights; coups manifested in attacks on anti-racist Americans to prevent them from reaching or holding public office.
The KKK threatened that March 4, 1869 — first day of rule by avowed racist presidential candidate Horatio Seymour — would bring widespread lynchings of white Americans if the losing candidate Seymour wasn't planted into the White House.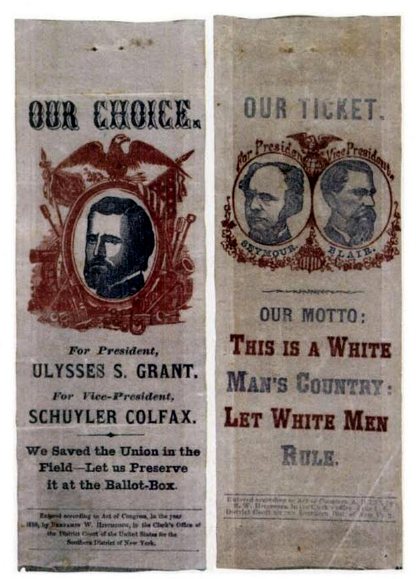 The KKK instead was destroyed by President Grant's "let us have peace" platform after he won the Presidency in a landslide.
Fast forward a few decades to February 18, 1915 Woodrow Wilson was in the White House and screened the propaganda hate film called "Birth of a Nation" by his friend and former classmate (based on "The Clansman" book), calling its obvious lies "true" and giving it his blessing.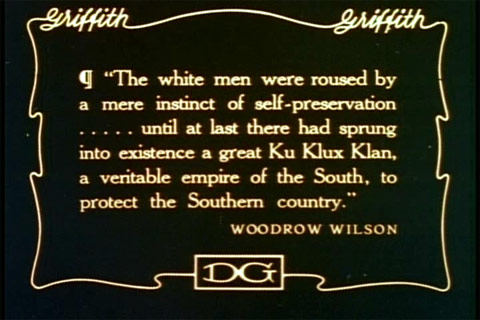 This was a complete reversal from Grant's "let us have peace" time in office. American cities erupted into fights over bans of a KKK disinformation film. Even if they allowed the spread of disinformation, cities fought over bans meant to prohibit blacks from seeing the film (isolating and enabling white-only audiences to spread disinformation faster).
That is a notable comparison to today by itself, yet even more relevant is a Wilson speech a few months after the film had been running, on July 11, 1915 at the 25th anniversary convention in DC of the Daughters of the American Revolution ("Mothers of Fascism").
Wilson encapsulated his racist sentiments in a particular motto:
Our whole duty for the present is summed up in the motto 'America First.'
This was captured by Souza, who wrote a 1916 march to commemorate the speech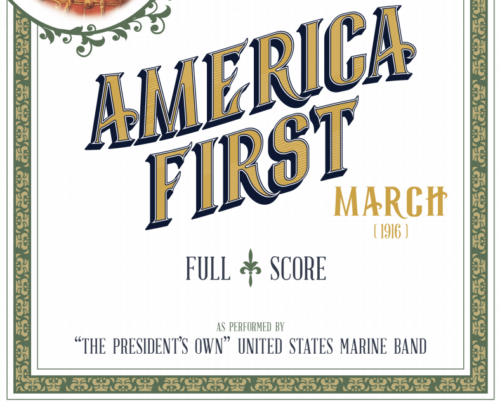 Thus in 1916 Wilson campaigns were branded with "America First" as screenings of "Birth of a Nation" expanded to restart the KKK, blacks were forced out of government and monuments to domestic terrorists were erected around the country kicking off mass murders ("1919 Red Summer") and coups like the Tulsa 1921 massacre and Rosewood 1923 massacre.
W.E. DuBois at this time, rueful that he had been fooled and helped put a white supremacist in office, described Wilson's method for transfer of power in America as a return to…
…cruelty, discrimination and wholesale murder.
"America First" entered service as a battle flag of white power groups who believe the enemy of America is any non-white (white power over the nation is diminished — leading to feelings of loss and guilt — by any other race gaining some).
This history of violence, the symbolism and a run of coups in America, should be treated as very important history for every citizen to know.
Perhaps more to the point the "America First" platform has always been a toxic "grievance" signal of white nationalists/isolationists:
It was used by supporters of President Woodrow Wilson during the 1916 election to defend his decision at that time to keep America out of the First World War; by Republican President Warren Harding in the 1920s to reject Wilson's call for the United States to join the League of Nations; and by the America First Committee in September 1940 opposing President Franklin Roosevelt's assistance to Britain in the face of Hitler's aggression. Most recently it was used by presidential candidate and former Nixon aide Pat Buchanan in 1992, opposing George HW Bush's decision to oust Saddam Hussein from Kuwait, and further calling for a withdrawal of all US troops from Europe.
In 2000 Trump released a statement that he wouldn't associate with people he considered losers like Pat Buchanan, calling him a Neo-Nazi, while at the same time calling David Duke a Klansman.
…David Duke has decided to join the Reform Party to support the candidacy of Pat Buchanan. So the Reform Party now includes a Klansman, – Mr. Duke, a Neo-Nazi – Mr. Buchanan…
This probably is read most accurately as Trump saying he wouldn't join with Nazis and KKK when they are going to lose, meaning he would be very glad to join them if guaranteed a win.
Thus in 2016 the Trump family very openly claimed the KKK/Nazi tainted "America First" banner as their platform and their soft/silent coup began.
"I like the expression," the candidate said. "I'm 'America First.'"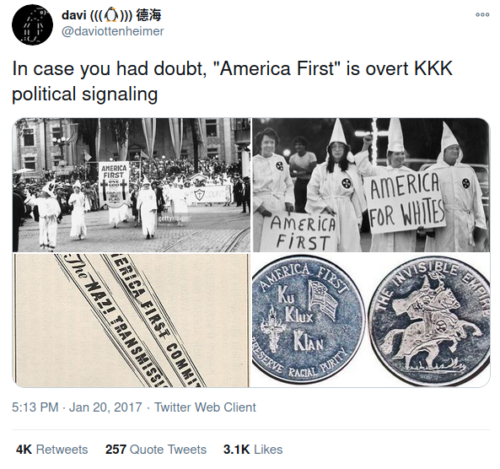 Suddenly, without any real explanation, the banner of losers was being held up by "winners".
Everyone plainly saw something was unusual in early 2017 and started to debate who supported such an odd transfer of power, who really made it happen.
Unfortunately mainstream commentators never got to the point of asking whether "America First" entering the White House could be a coup, which I called out immediately: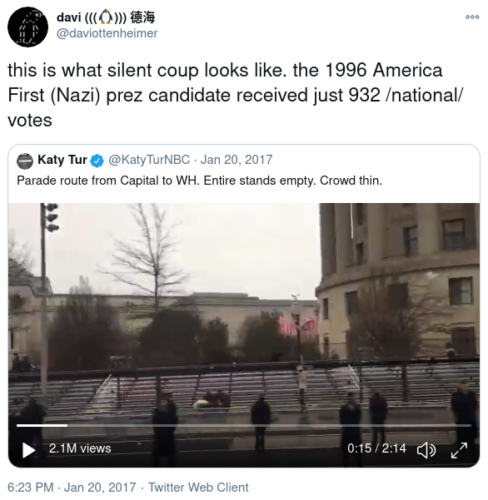 Just to be clear here about my tweet, those "932 national votes" for America First in 1996 went to a candidate named Ralph Forbes who was "former member of the American Nazi Party".
Forbes was the same man who in the 1988 presidential election had managed the campaign for David Duke (infamous for "Nazification" methods intended to grow KKK membership in America).
Read that closely because "America First" in 1996 ran a self-avowed Nazi as their candidate and had 0% of the vote. Then twenty years later in 2016 they held a parade to empty stands in Washington DC claiming a large support base.
Want to guess why the Trump family regularly waffled when asked to denounce or distance themselves from David Duke? Sadly nobody asked them to denounce or distance themselves from "America First"!
Whereas in 2000 Trump went out of his way to label Duke a loser (as well being as a Klansman), in 2016 he tried to play around like he never heard of the guy (as horribly mis-reported by Politifact, who fell for the ruse).
…Trump dodged multiple questions from Tapper asking if he'd disavow the support of white supremacist and former KKK leader David Duke (he would later blame a "bad earpiece" for his noncommittal answers).
What we're seeing now is an incompetent violent end of "slow motion, in-plain-sight attempt" at the end of a coup, not the start.
Thus I argue (and have said since that time) that we actually saw a coup in America back in 2016 and these last four years have been little more than an idiotic bumbling attempt by wannabe tinpot dictators to figure out how to close the door on democracy.
The Far Side perhaps a long time ago best illustrated the assault on the capitol: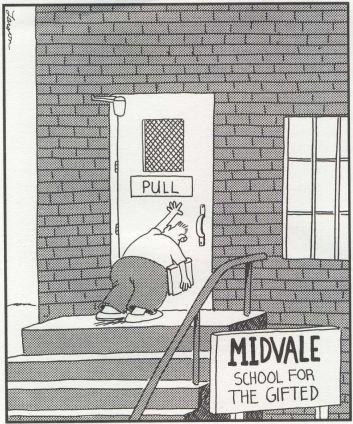 I've been asked to write this into longer form so maybe I will shortly.
Related: If you're searching for details on prior coups, they are easy to find.
For example, the horrors from a successful 1898 Coup continue to be felt to this day.
…summer of 1865, just after the Civil War, Union commanders in the battered port city of Wilmington, N.C., appointed a former Confederate general as police chief and former Confederate soldiers as policemen. The all-white force immediately set upon newly freed Black people. Men, women and children were beaten, clubbed and whipped indiscriminately… One of the most terrifying examples erupted more than a century ago, when white supremacist soldiers and police helped hunt down and kill at least 60 Black men in Wilmington in 1898.
For another example, Hawaii in 1893 (as I've written about here before) had a coup on behalf American sugar barons; violence was used to force a black woman out of power.
Queen Liliuokalani was of the belief that the then president of the U.S. would reinstate her as queen, however, President Grover Cleveland deceived her by promising her a reinstatement after she granted amnesty to all those who had been involved in the coup.
Republican former President George W. Bush even said "This is how election results are disputed in a banana republic—not our democratic republic".
Yet those "banana republics" got their name as a direct result of American foreign policy on regime change! His comment sounds like "this is what we do to others, not ourselves" given the sad fact it's why Americans love eating their banana splits.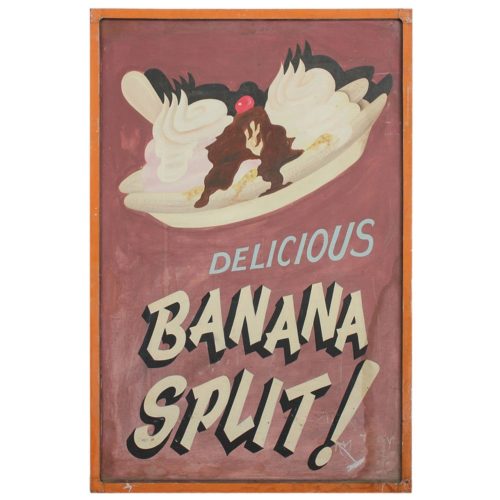 Even Bush should remember 1954 shootings or the 1978 shootings, both very recent and sad chapters in violent opposition to American transfer of power. I guess I should ask how many people today remember "the people's mayor" Moscone?
And for those saying 2016 or 2020 wasn't related to a coup, and offering us some very misguided analysis (e.g. Defense One has an awful hot take that they see no signs the military was involved, despite obvious and overwhelming evidence), I offer you this humorous example of what that "no true Scotsman" logical fallacy sounds like to me: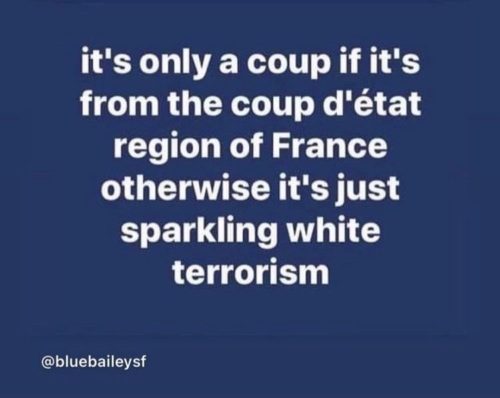 ---
Update January 12: Now This has posted a video collection with some of the many violent incitement statements by Trump directly calling for harm to Americans.
CSIS Brief similarly reported in 2020: "Based on a CSIS data set of terrorist incidents, the most significant threat likely comes from white supremacists… right-wing attackers were most likely to cause more deaths in a given year."