I think the phrase that stands out for me most in this US Navy press report is "stateless".
The guided-missile destroyer USS Winston S. Churchill (DDG 81) seized illicit shipments of weapons and weapons components from two stateless dhows during a maritime security operation in international waters off the coast of Somalia, Feb. 11-12.
It was a "flag verification" that led to the discovery, after these dhows were monitored for nearly two days in international waters.
Churchill's Visit, Board, Search, and Seizure (VBSS) team and embarked joint service Advanced Interdiction Team (AIT) discovered the illicit cargo during a flag verification boarding conducted in accordance with international law and in international waters. The cache of weapons consisted of thousands of AK-47 assault rifles, light machine guns, heavy sniper rifles, rocket-propelled grenade launchers, and crew served weapons. […] The original source of the weapons has not yet been identified. Churchill located the dhows and provided more than 40 hours of over watch and security for the ship and its boarding teams throughout the two-day operation.
"Source of the weapons has not yet been identified" seems odd as well, given 40 hours of over watch. Pretty clear these are Chinese-made RPG-7… so I guess the remaining question is who is buying and shipping them?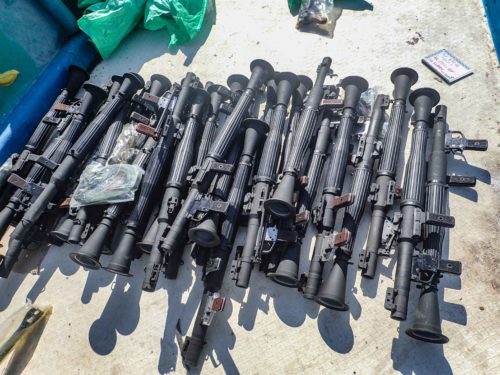 Some speculate these are Iranian deals, and perhaps even headed for Yemen.
Yet I'll go out on a limb based on export data and wonder aloud whether the arms originally were Chinese shipments to Ethiopia that ended up diverted.
Ethiopia seems likely to top Chinese diplomats' agenda for East Africa. China and Ethiopia have expressed their enthusiasm for expanding military ties, and officers from the Ethiopian military have even received training in China.
Another clue could come from the UAE Embassy attack plot in Ethiopia, disclosed February 3rd.
Ethiopia's state-run media have said authorities arrested 15 people over a plot to attack the United Arab Emirates' embassy in the capital, Addis Ababa. The Ethiopian Press Agency (EPA) on Wednesday cited a statement from the National Intelligence and Security Service (NISS) as saying that the suspects were working on foreigners' direction.
The US Pentagon clarified "foreigners' direction" to mean Iran was behind this plan to attack UAE embassies.
Rear Adm Heidi K. Berg, director of intelligence at the Pentagon's Africa Command, said that Iran was behind the 15 people arrested in Ethiopia and that the "mastermind of this foiled plot".
Tempted to say these were Chinese arms for a failed plot in Ethiopia diverted via Somalia smuggling network somewhere else. Or maybe they just didn't get to the plot in time and were in limbo.
And I hate to admit it but the idea of these "stateless" caches of guns from unknown origin floating about reminds me of the latest story in America:
Untraceable ghost guns are now the emerging guns of choice across the nation. Nobody who could buy a serialized gun and pass a background check would ever need a ghost gun. Yet we allege Polymer80 has made it easy for anyone, including felons, to buy and build weapons that pose a major public safety threat.