This American story about freedom is like a page right out of the famous 1974 book Zen and the Art of Motorcycle Maintenance, except it starts with the "idiot" light scenario.
…the stop engine light came on his tractor.

"All it was was some water in a little old sensor wire and he walks around there and dried it out and took it off and put it back on," Wells said in an interview with AL.com He has always gotten his tractor repaired at a local dealer, so he was surprised to learn his only repair option was to call John Deere to adjust proprietary software on the machine, a repair he says took a John Deere technician less than three minutes but cost over $600. Wells on Wednesday filed suit against John Deere in federal court in Huntsville, alleging the company's proprietary tractor software is creating a monopoly that's unfair to small farmers. His lawyers are asking the court to declare it a class action suit and say they hope to represent all affected in Alabama, Tennessee and Mississippi.
My first question is actually why only those three states? It's a federal court, right? The article continues…
A separate federal class action lawsuit against John Deere was filed in North Dakota on Wednesday. A similar suit was filed in Illinois earlier this month.
My second question is whether farmers have thought about starting a consortium or company to pull away from the monopolist John Deere, maybe by reviving the spirit of a venerable Toyota Corolla for example.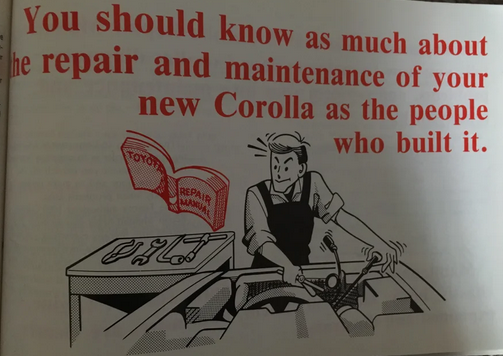 The US government already has been siding with a more free market, as one would hope, in a classic move to limit corruption from monopolists.
After more than a decade of legislative proposals, the Biden Administration is preparing plans to allow equipment owners to have the right to repair their own equipment. First reported by Reuters Tuesday, President Joe Biden is expected to sign an executive order in the coming days to encourage the Federal Trade Commission (FTC) to limit the ability of farm equipment manufacturers to restrict tractor owners from using independent repair shops or completing some of the work themselves.
In a strange response John Deere officially doubled down on blocking repair.
John Deere does not support the right to modify embedded software due to risks…
Even more to the point, Deere's statements claim that it supports customers doing repairs right before it said it does not support the government's act on right to repair.
I am reminded of a blog post I wrote in 2005, which had this quote:
The Motor Vehicle Owners' Right to Repair Act would give Seymour the means to determine whether the Check Engine light signaled another gas cap vagary or a major oil leak.
Doesn't a tractor qualify as a motor vehicle? Seems like it doesn't deserve any different treatment than any manufacturer.