Tesla's "dumbest" factory yet, located in Germany, already has become one of the least attractive for workers.
One current employee, who requested anonymity out of fear of losing their job, describes the Berlin gigafactory as "total chaos." […] In the last year, Tesla dropped from being German engineering graduates' second preferred employer (behind Google) to sixth. It is now behind German car manufacturers like Porsche, with some respondents pointing to Elon Musk's comments about firing employees who wanted to work from home.
Comments about firing? That's an understatement.
Elon Musk: If people working for me do anything dumb anytime even in the distant past I fire them without notice or explanation and call them a mistake. They're always accountable for everything.
Also Elon Musk: I run fast and dumb with scissors, making as many cuts as I like in constant improvisation and failure. Yet I'm never accountable in anything. Change really applies only to someone else.

Elon Musk's ideas rarely work and he's often exposed for intentional lies, yet he insists everyone keep him, get it?
It's a failure of basic ethics, another emperor has no clothes lesson of America.
…the depiction of the empty evil inherent in climbing the ladder could not overcome that their [lack of accountability in] success still looked better than most American lives. […] Marc Andreessen, who also invested in Twitter, albeit much earlier than Musk, could have ridden off into the metaphorical sunset looking like a genius for developing Mosaic and then Netscape, pioneering how we would all experience the internet. Instead, he showed us all of his mental shortcomings, by tweeting about the harms of anti-colonialism; liking tweets from people like date-rape apologist and conspiracy theorist Mike Cernovich; and being thin-skinned by blocking anyone who said anything slightly less than complimentary about him. Again: He did all of this on a platform he funded. Elon Musk bought Twitter and Twitter makes people dislike Elon Musk.
Who wants to be treated like a piece of garbage by these techno-tators?
Elon Musk fired nearly 70% of Twitter staff before begging the skeleton crew he left behind to find him someone to hire — submit their wider network to his immoral and unpredictable firing antics.
Employees were encouraged to make referrals, according to two people who attended and a partial recording obtained by The Verge.  The announcement came after a number of staff in Twitter's sales department were fired on the same day….
I wonder if Musk has rolled out the dumb idea to pay staff a hiring referral bonus but double that amount if he fires the newly hired person right away…triple bonus award if he fires both of them without any cause other than to hate someone!
Musk took to saying "I've got to fire someone today," one executive recounted. "No, no, I just do. I've got to fire somebody." […] Some came to work fearing every day would be their last at the company. As one former executive said, "Everyone in Tesla is in an abusive relationship with Elon."
Recently it was reported Tesla's aloof chief heard a rumor about a prediction and immediately illegally terminated 10% of staff without required warning or severance, before saying he plans to hire only positions easier to fire.
CEO Elon Musk earlier this month emailed executives saying he had a "super bad feeling" about the economy and that Tesla would cut 10% of salaried workers…[adding to] a blizzard of lawsuits in recent years over working conditions at Tesla facilities.
It looks far too convenient to illegally fire any number of people to cover up his own failures, instead of being accountable himself.
A Tesla employee survey in 2018 literally called him a tyrant.
…an unapproachable tyrant who devalues the contributions of the staff, and may fire them on a whim … we treat people, the fundamental unit of a company, like any other expendable resource.
With that in mind, it's no wonder Germans are avoiding or abandoning the fascism of Tesla — ignoring a car no German really wants to drive, as its logo may as well be a swastika.
The newest factories built by the Hitler-admiring CEO now read like a sad repeat of Ford failures way back in 1941.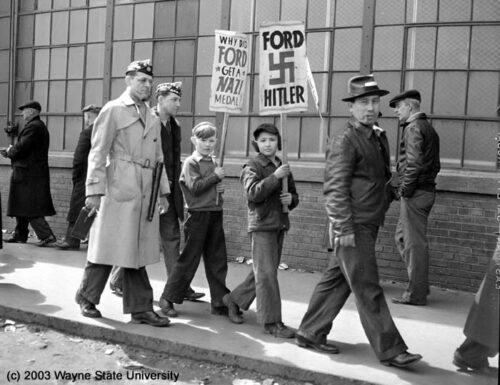 Such willful and abusive ignorance from Elon Musk is legendary, yet it somehow continuously gets worse.
In September, the Tesla factory's fire brigade was unable to put out a large cardboard fire itself and called in help from local firefighters. It then emerged that Tesla had no working fire alarms. 
Talk about a self-own.
Tesla is infamous for inability to manage fires, while claiming they manage risk by firing anyone and everyone other than Musk himself. The problem couldn't be any clearer.
Failures in factories and products have gone on for over a decade, unique to them, and they haven't changed because Musk is still there doing the wrong things. It's 2022 and Musk's brand new factory in Germany to showcase his best effort, couldn't engineer its way out of a burning cardboard box.
The last one cites an electrical worker who reported Tesla for issuing bogus completion certificates in fire safety classes that never happened. Without question Tesla thought it could speed construction deadlines by willfully undermining safety.
The CEO has, as intentionally dumb as ever, thus built himself a German dumpster fire with no fire alarms — a literal hell. Of course nobody should want to work in his hell.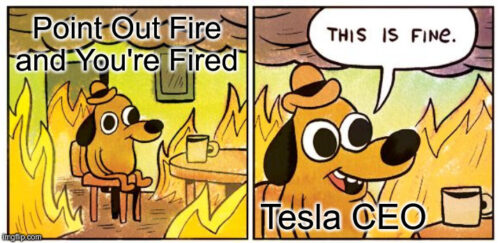 If you read German language news, they openly discuss Tesla being a total fraud with a CEO completely clueless in a delusional rush to take over the world.
A Siemens chief for example describes doing all the hard work behind the scenes. But even more to the point of history, he said it involved ignoring angry rants being thrown at him by an unhinged Elon Musk as if describing a Hitler meme.
Der Bekannte habe bei Kaeser angerufen und gesagt: "Ich hab da einen, der will elektrische Autos bauen, aber der hat keine Ahnung, wie das geht."
Der hat keine Ahnung –> Musk has no clue how to build a car.
Es gab demnach Probleme beim Hochfahren der Fabriken, Musk wusste sich nicht zu helfen.
Musk wusste sich nicht zu helfen –> Musk has no clue how to build a factory.
The story goes on to describe Musk screaming obscenities and threats. The German executives didn't do anything Musk said and unfortunately made his dangerously dumb anger look competent (instead of just quitting).
Das Problem wurde trotzdem gelöst.
The problem was solved anyway (overlooking overt racism in "hard labor" camps, not to mention ignoring CEO who throws around Hitler memes and thoughts).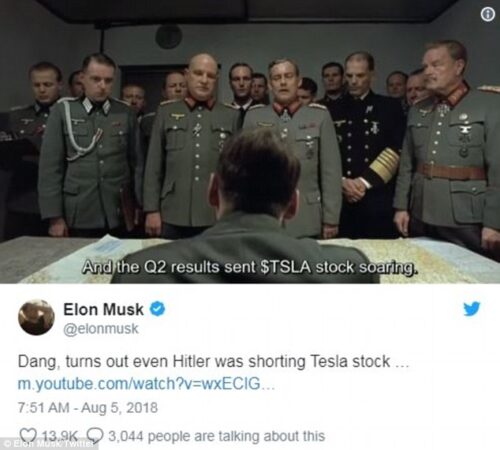 That certainly gives context to Tesla recently arguing if they can't rope Germans into the chaos and hell it's creating, it expects to just roll into Poland. Not kidding. Tesla tried to tell Germany that the border could be moved east to recruit Poles into hard labor.
Dumber and dumber, Tesla is in total opposition to law and order.
People raised in America might still idolize such nonsense, but Germans know their history better.