A new report looked at 11 fatalities by driverless systems over a few months (May to September).
One wasn't a Tesla, but it also turned out to be a car that didn't have driverless.
Oops, miscategorization.
The remaining 10 people were killed by Tesla engineering. As I've warned since at least 2016, crash investigations bring us to the same place: Elon Musk should be held liable for intentionally and systematically reducing road safety.
I think there's a pretty clear pattern of bad behavior on the part of Tesla when it comes to obeying the edicts of the (federal) safety act, and NHTSA is just sitting there," he said. "How many more deaths do we need to see of motorcyclists?"

[Center for Auto Safety's executive director] noted that the Tesla crashes are victimizing more people who are not in the Tesla vehicles.

"You're seeing innocent people who had no choice in the matter being killed or injured," he said.
When a person is killed in a crash caused by a defective car, that manufacturer is liable.
Right?
Hello Ford Pinto?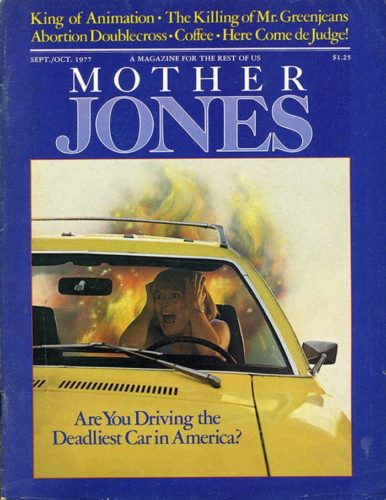 After my 2016 BSidesLV keynote presentation I faced many people who said they thought Tesla was in a perfect loophole that the U.S. government would leave open — future leaning claims about safety "innovations" that weren't true yet wouldn't be regulated because profits.
Tesla shared its profits with politicians, to put it mildly.
At this point it is beyond obvious Tesla regularly lied to rapidly push known defective products that killed people; misrepresented hardware and software even when it posed grave danger to human life.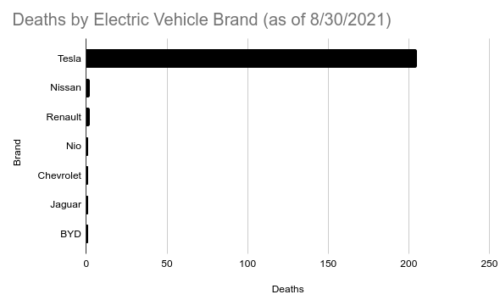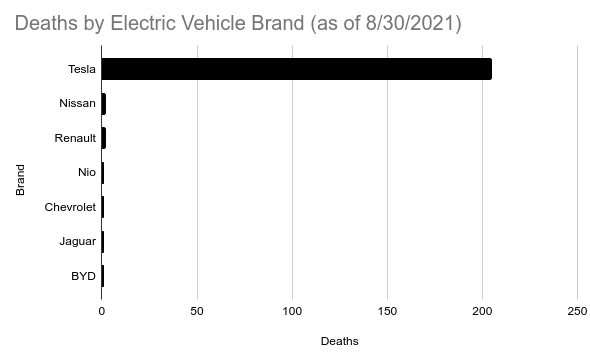 Tesla really should be banned from public roads.
Raj Rajkumar, an electrical and computer engineering professor at Carnegie Mellon University who studies automated vehicles, said he wouldn't be surprised if Tesla was found to have had a high number of crashes involving its driver-assist systems. Tesla…stopped using radar in its system and instead relies solely on cameras and computers — a system that Rajkumar calls "inherently unsafe."
To be clear, making a car that an engineering professor calls "inherently unsafe" is something unique to Tesla.
It falls further and further behind other brands, which have been rising to their safest records in history.
Take for example Nissan has dominated all time EV sales in the highly competitive and demanding Norwegian market (many more cars for more miles than Tesla), facing challenging roads in bad weather. Widespread adoption of Nissan's innovative "assist" technology has resulted in zero crashes.
Nissan, with over 560,000 vehicles on the road using its "ProPilot Assist," didn't have to report any crashes, the company said.
There's no more excuse.
If the CEO of FTX can be charged with loss of assets, why can't the CEO of Tesla be charged with loss of lives?