Here are two fascinating quotes from an article about how journalists should be trained to report on road deaths.
First the government:
"It's as if we were living through a war," Pete Buttigieg, Biden's transportation secretary, said of road death rates in the US. "We cannot accept that these fatalities are somehow an inevitable part of life in America."
Then the think tank:
"We just hit a sixteen-year high in road deaths," Zipper told me, of the US. "And Americans don't really notice it. They don't really know about it."
Ouch. The public has lost the ability to understand their own danger because of the lack of coverage.
Ok, I lied. Three quotes. Look at how the journalists report road deaths:
US road deaths have climbed in recent years, including during the pandemic, even as road use declined. Pedestrians and cyclists have been particularly hard hit. In late November, the New York Times reported that fewer foreign-service officers in the US State Department died overseas last year than were killed by vehicles while walking or biking in DC.
More foreign-service officers were killed by cars in America, than overseas for any reason.
It's important to recognize that Tesla Deaths are a symptom of this U.S. road problem.
Without fraud there would be no Tesla, and their con was right away targeted at anyone who wanted to invest in safety.
Article about an NHTSA coverup of data showing Tesla 'Autopilot' to lead to *more* crashes than regular driving

https://jalopnik.com/feds-tesla-autosteer-safety-investigation-was-bullshit-1832542003

An early article that discusses the methodology behind Musk's safety claims

https://www.zerohedge.com/news/2018-05-29/are-teslas-self-proclaimed-worlds-safest-cars-actually-among-worlds-deadliest

Norwegian article citing insurance data that shows Teslas are unusually prone to accidents

https://www.dn.no/motor/fremtind-forsikring/bilforsikring/forsikring/elbiler-krasjer-mer-enn-andre-biler/2-1-558339

Article presenting evidence that Tesla has fire deaths at 4x the rate of other vehicles

https://www.businessinsider.com/why-tesla-cars-catch-on-fire-2019-4
People should think of the Tesla as a poorly controlled loitering munition, a threat to everyone's safety if not national security. Of course fatalities increased, given Tesla wasn't immediately banned in 2016 after demonstrably making roads uniquely less safe.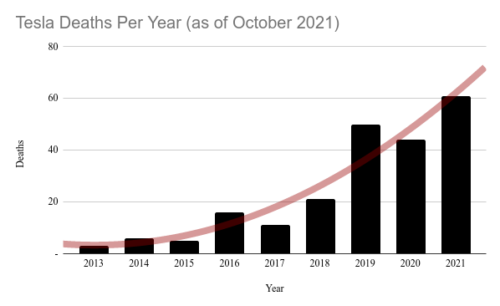 America banned lawn darts, and this one shouldn't be harder to figure out.