Scant details are reported so far on how a driver escaped "without entrapment" after their Tesla ended up burning in a quiet green pasture.
My first guess is the owner was so disgusted with Tesla's rapid deflation they just set it on fire to collect the insurance and buy a Ford truck instead. You can always tell a garbage car brand when buying a Ford is considered a big step up.
My second guess is a driver lost control (overheating the car and/or suspension failed) while speeding on a curve, as so many poorly designed Tesla are prone to do, and it burst into flames while gently rubbing against soft grass.
In any case, several rural departments wasted valuable time and assets attending to a notorious toxic dumpster fire made by Tesla.
Multiple Washington County fire departments battled an electric vehicle fire for several hours on Saturday. Around 5:30 p.m., the Meyersville and Washington Volunteer Fire Departments were called to a single-car accident without entrapment in the 14000 block of Whitman Road in Washington. […] Units from the Brenham Fire Department and the Berlin and Chappell Hill Volunteer Fire Departments provided mutual aid to extinguish the fire and cool the batteries on the car. The fire was out around 9:15 p.m., and units were released from the scene at approximately 10:45 p.m.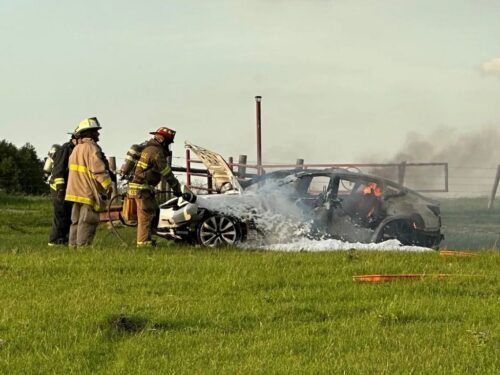 My third guess is the driver was on the Tesla "self driving test" when software crossed a double yellow to crash into a cattle pasture behind a fence as an homage to Elon Musk's vision of future transit — full of bull shit.
In directly related news, even though nobody else probably will make this connection, GM is funding and hosting rural fire safety training to reduce harms.
While the training is open to all first responders, McLaine says it's particularly important for rural E-M-Ts and firefighters, who are volunteers and may have different training than professionals. "Most of the fire services in the United States, the vast majority are from volunteer fire departments. Where we've gone around the country, and where we've targeted certain areas that we deliver this training, we have seen a tremendous outpouring of support and appreciation."
Thank you GM. Appreciated is the right word given so many Tesla fires and so little help or concern from Tesla.
Firefighters who have tried to get help from Tesla, even basic documention, reportedly get no response.
How many towns had to respond this one time? Five?
What was the cost of Tesla design flaws to these five volunteer departments over five hours?
If you see a Tesla, you are looking at massive societal burden… billionaire misconduct, taxing rural hardworking people with his selfish greed.