A new police report has language much closer to what should have been reported in every Tesla crash since 2016.
The owner of the car says it tried to kill her.
As soon as she enabled her badly misnamed Autopilot, or perhaps after she turned on the badly misnamed FSD (at this point just call it crap), she alleges it veered across lines and flipped itself into a tree.
…in the hospital Saturday night after she put her Tesla into self-driving mode and the car veered off the roadway, hit a tree and rolled several times, deputies said.
Note that is law enforcement making a statement that a car was "self-driving" when it "veered" suddenly. It only adds to the several warnings I've written recently given multiple similar "veered" crashes.
Here's another detailed version of this new crash report:
At 6:41 p.m. Sunday, the driver was traveling westbound on McKinley Road and placed the Tesla she was driving into self-driving mode. Once selected, the vehicle pulled to the right, went off the road causing it to roll several times and hit a tree, according to Mecosta County deputies.
Again, it's not being reported in the local news as "the driver said" or alleged, but rather as a preliminary statement of fact by responders: "Once selected…[that crap] went off the road…" on an empty rural two-lane paved road with clear markings near "135th Ave" (a tiny dirt lane).
It's actually noteworthy the car's algorithm managed to ignore bright lines and find a tree to hit in a mostly empty area.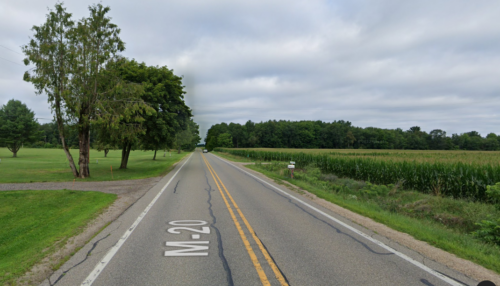 What was Colfax County, Michigan weather at the time of crash? Sunday May 28 was dry (0.00 precipitation for 7 days prior), clear and sunny reaching high of 87F (low 43F). She was traveling westbound, with sunset over two hours later at 9:20PM.
There seems to be a worsening effect with Tesla safety (more danger in newer models), related to subpar engineering management practices, rushed production and zero regard for human safety. In one very recent example the Tesla was destroyed and owner dead within the first 600 miles of "driverless" being used.
Model Year: 2023
Mileage: 590
Date: March 2023
Time: 05:15 (10:15 PM local time)
For what it's worth, I worked with security researchers on safety tests back in 2016 that proved Tesla could veer suddenly off the road and crash (that was the last time I have ridden in one). I have never stopped warning about it since then, including a keynote talk at a security conference.
My predictions of more death due to more Tesla being on the road has been painfully accurate, even though in the summer of 2016 it was considered scandalous to even dare to suggest such a thing.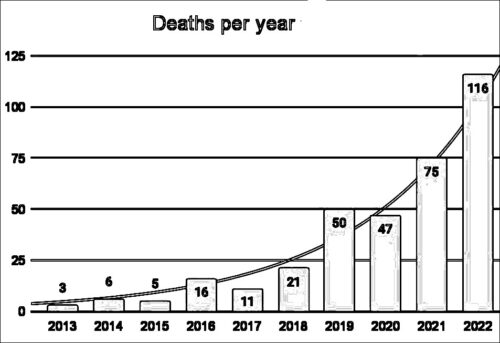 Talk about an early warning of AI dangers, unfortunately people still bought into the fraud… and now hundreds are dead (over 30 confirmed fault of AI). What's new? Given what I'm seeing in 2023 police reports, ongoing Tesla design failures coupled with their business problems means safety will likely continue to decline through this year.
Consider please, despite all the hype and bombast about becoming the safest car on the road by charging its customers huge fees for "full self driving", in 2023 we still read about a wrong-way veered Tesla:
CHP does not know what caused the Tesla to drive in the wrong direction… the Tesla was engulfed in flames. Two passengers inside the Tesla and the driver of the Acura were all pronounced dead at the scene.
Just like in 2013 (a decade ago) we used to read about a wrong-way veered Tesla:
Investigators said the Tesla was leaving Laguna Beach and veered into oncoming traffic… Two adult men inside a "severely damaged" Honda Accord were declared dead at the scene, officials said.
What a veered car.