A Chinese/German drone collaboration is delivering micro-dose poison at 14 hectares/hour and achieving a 98% kill-rate on armyworm.
Specifically, the drone atomises the pesticides into micron-level droplets, so the chemicals can evenly adhere to the surface of maize plants with higher coverage rate. The strong downdraft generated by the propellers can significantly reduce liquid drifting and increase pesticide deposition, which means that both sides of the leaves and the central part of crops can be more precisely targeted. Such mechanism can not only increase fall armyworm's exposure to chemicals but also cut down a large amount of pesticide use and better conserve the beneficial insects.
Targeting sounds like it's more of a "bracketing" spray than an injection into each worm on a leaf, although the drone company suggests they are looking into worm-recognition capabilities.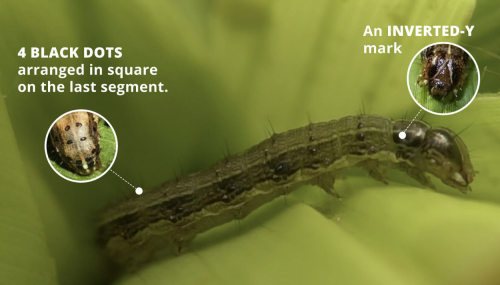 Targeting the individual worms instead of plant-level dosing still seems cost-prohibitive in this story. To achieve that accuracy I think we'd be talking Integrated Pest Management (IPM) with technology-augmented insects, or micro-drones, instead of these sprayers.
Perhaps soon there will be Integrated Drone Management (IDM) appearing in agricultural operations centers where augmented bugs are deployed from drones like static-line parachute jumpers.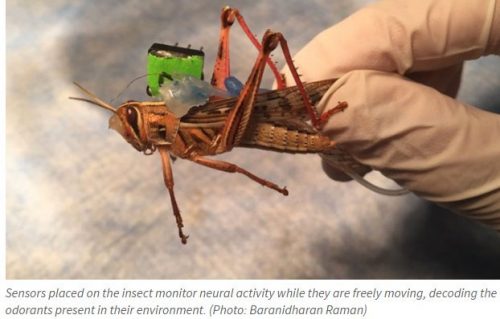 Many years ago when we were starting research on how to stop drones setup as biological weapons, we looked at them as flying bombs in the same way the Italian fascist military dropped mustard gas on field-hospitals and ambulances.
Chinese agriculture, however, clearly is being driven to develop more highly-efficient low-dose toxin delivery at a micro-target levels. That kind of emphasis in tooling accuracy means drones soon may advance past U.S. bladed assassination missiles, innovating so quickly we will have to update the risk discussions.
To be fair, five years ago any kind of anti-drone methods to stop weaponized versions meant a specific audience where examples needed to be general. Today it seems a general audience is open to hearing what harms may be ahead and more specific examples are more welcome.
Unfortunately what I must emphasize most today isn't just how drones rapidly move towards highly-targeted assassination methods for something labelled pest. I must also point out members of our security community actively have been found labeling non-whites as pests. Beware people advertising themselves as deserving authority to protect humans from harm, who may in fact be enabling and promoting harm through technology.
Meanwhile, in Japan, a drone is being created to replace pesticides at a more macro level. Ducks have been used to eat weeds and pests in rice paddies, avoiding the need for toxic chemicals. So someone decided they would attempt to replace the ducks with a robotic one.
Immediate downsides that come to mind are 1) the lack of fertilizer byproduct from robot collecting instead of digesting the weeds and bugs and 2) the lack of meat byproduct from eating the ducks before rice harvest (ducks have to be removed anyway or they'll eat the rice).