A month ago on Thanksgiving I pointed out how a neighborhood had tried (and failed) to stop yet another Tesla fire.
Now I must point out during the Christmas holiday there was a Tesla fire in St. Louis.
The call came out around 3 a.m. from a home in the 400 block of Pasadena Avenue. While crews were arriving on scene, it was determined that a Tesla in the attached garage was on fire. […] News 4 was told the fire did extend into the home and caused further damage.
It's worth noting that Tesla has been failing to prevent fires and ignoring victims for a long while; far worse than even a Ford Pinto. For an easy and obvious risk comparison, a Tesla can be expected to kill anyone anywhere anytime while the faulty Pinto required a collision from behind.
Total Tesla Fires as of 12/26/2022: 168 confirmed cases | Fatalities Involving a Tesla Car Fire Count: 50
The infamous Pinto was argued to have 23 cases as Ford was hauled under scrutiny and held accountable for design failure.
For another comparison, recent bad weather in America killed 49 people so far and is called "Blizzard of the Century". Tesla fire deaths are at 50 and…
It has become a national security issue for any Tesla to sit in garages, let alone operate on roads, without coming under tailored versions of heavy/punitive vehicle safety regulations that Ford proved necessary long ago.
In related news, a Tesla in fraudulent "Autopilot" mode last month crashed into a freeway safety wall and then burst into flames in front of another Tesla.
The driver told Kaplan he had his 2018 Model X in Autopilot but "it suddenly veered hard to the left [as the 405 freeway curved right] and stopped against the wall." […] Kaplan bought his Tesla about four months ago with 6,000 miles on the clock but said: "It has been a complete disappointment – software notwithstanding, the fit and finish are miserable." He said he's also experienced many frightening miscalculations by Autopilot in his Model X.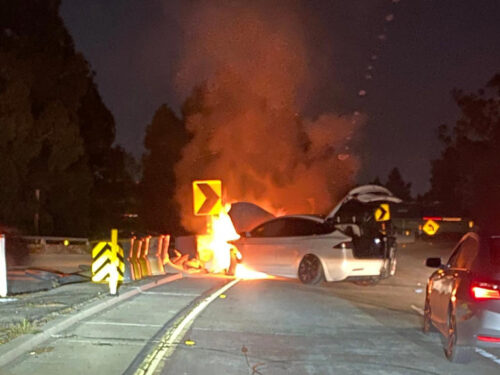 He's not exaggerating about the quality issues (symptomatic of bad engineering culture and management). Thousands of formal complaints in 2022 from people buying new Teslas translated into the latest Model Y needing 14 recalls, and the latest Model 3 needing 13 recalls.
It's hard to find a worse car company.
Kaplan clearly regrets thinking he was getting a deal buying a used Tesla after someone else wisely dumped it with just 6K miles. What possible reason now could he have to keep his lemon, especially after witnessing Tesla's unique brand of failure and fire risk? It's not even safe for him when parked.
Neighborhoods that naively allow Teslas should plan for families forced from roads and homes even on holidays, wasting huge amounts of community emergency resources on an easily predictable and preventable environmental disaster.