They just can't seem to get their cars right.
NHTSA Campaign Number: 22V844000
Manufacturer: Tesla, Inc.
Components: EXTERIOR LIGHTING
Potential Number of Units Affected: 321,628
Summary: Tesla, Inc. (Tesla) is recalling certain 2023 Model 3 and 2020-2023 Model Y vehicles. One or both taillights may intermittently fail to illuminate.
It's hard to understand why anyone would buy a Tesla. Have they not read the NHTSA files?
The NHTSA for example points to 11 safety complaints already recorded for the 2023 Tesla Model 3.
The prior models were dogs too: 2022 Model 3 had 9 safety recalls, 2021 had 13, and 2020 had 14… a huge number for a company caught repeatedly lying about safety and implicated in over 50 deaths from design defects.
In one case, as I've written about before, Tesla's recall response was pushed without proper engineering allegedly making safety incidents worse than before the recall.
Pushing a recall fix that makes safety even worse is… unbelievable, yet also on brand for a car company that hasn't innovated since 2006. In fact, in 2021 I clearly warned of this problem and then watched as my warnings were proven accurate.
Given that the bug appeared in the first place, what is to prevent an even worse bug from being deployed to cars on the road at any time and in any place?
Here's what the start of 2022 looked like for new Tesla owners:
NHTSA ID Number: 11471044
Incident Date February 20, 2022
Consumer Location DURHAM, NC

While driving at a normal speed and turning around at an intersection in our neighborhood, the car suddenly went out of control, causing the car to hit a fire hydrant in front of a home, smashed a tree before crashing into the siding of the home. Insurance deemed the car as "totaled". We were reimbursed by insurance so this is not about monetary losses, but a report to protect other drivers and their families. The Tesla database records mentioned user acceleration and error, but this doesn't sound like a reasonable cause. The airbags didn't open and neither did the automatic emergency braking or forward collision warning work. I was unable to brake and control the car to stop. This accident is captured in the security system video of the impacted home.
I find this all the more fascinating when compared with the Nissan LEAF. Nissan quietly dominated EV sales in 2018 and outsold Tesla in important EV safety test markets like Norway. Its LEAF reigned as the all-time top selling plug-in electric car through December 2019.
What were the Nissan LEAF safety recalls over all these same years that Tesla failed so hard at safety?
Nissan delivered a near perfect record or one flaw.
LEAF turned in safety engineering scores that should have been headlines for the EV market.
And even more to the point, while Tesla's ill-conceived full-of-shit "driverless" (FSD) has crashed hundreds of times needlessly, Nissan recently posted that its own "pilot assist" operating nearly 600,000 cars had zero crashes to report.
Zero crashes while zero recalls!
It's an amazingly modest yet dominant engineering position.
People talk about EV being new but cars have been electric since the first cars.
Nissan's own timeline (first EV mass production) goes all the way back to the late 1940s US occupation of Japan. Their mass production Lektrikar famously blew away 1980 performance requirements for EVs.
People talk about Tesla like it's an early mover, yet it's very, very late.
As the world's first mass-market EV, LEAF has secured unprecedented achievements. In 2011, it was the first-ever EV to win the World Car of the Year award in the 47-year history of the prize. […] LEAF introduced unprecedented technologies that helped drivers optimise efficiency, including the innovative e-Pedal for one-pedal driving, regenerative braking and Eco-Mode.
And people talk about Tesla like it is a big player, yet it's very, very small.
The number of public charging points increased hugely over LEAF's life, from 2,379 in the EU in 2011, to 213,367 today.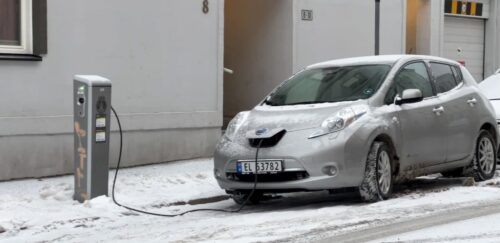 Tesla not only has far fewer charging stations, sales are less than 4% of all EV vehicles in the EU. It's barely registering, and on some top 10 EV lists such as Germany and Norway the Tesla models don't show up at all.
Tesla year after year has made wildly boastful "coming soon" claims to confuse and excite people. And as a result it appears distracted, weak and exhausted, unable to even connect bat to ball — putting owners and everyone around them in serious risk of injury or death.
Meanwhile, Nissan absolutely hit the ball out of the park with its innovations and EV engineering.