Tesla engineering has been blamed for their cars abruptly slamming brakes and causing deaths, as well as big highway pileups.
Tesla CEO Elon Musk announced the automated driving assist was available to the public the same day that a Tesla on FSD caused a pileup in a tunnel.
They're considered a "sore thumb" of transit.
Now a Tesla owner has taken this a step further and treated the unsafe car design as a platform to facilitate his plans for rage and hate.
A video from local news shows the man in a Tesla swerve abruptly and slam the brakes.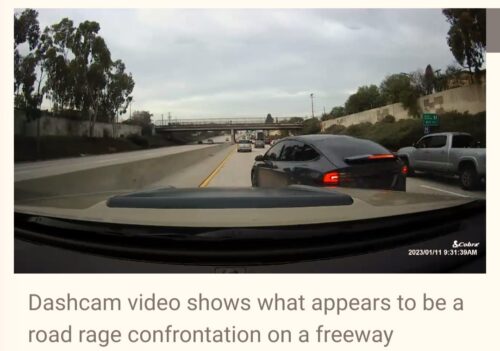 See the hidden license plate?
The video in full shows he jumps out and assaults other people and their property, not just this one time.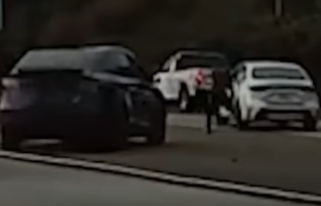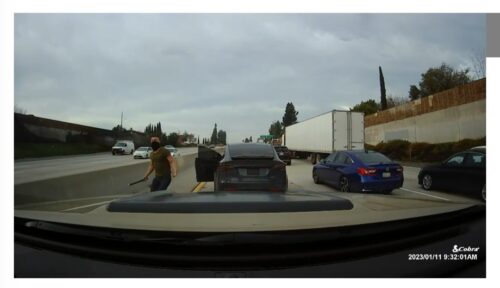 Look at the blue car to the right for a normal license plate, easy to read by comparison.
Hitting a car with a weapon, as we know from extremely rigorous police prosecution of bicyclists, is a serious crime.
There were no injuries, but [because he rode a bicycle instead of attacking from a car] he was charged with multiple felonies, and eventually pleaded guilty to assault with a deadly weapon, and vandalism.
Of course police easily could find this criminal, as the car is constantly being monitored in great detail by Tesla. Insurance algorithms may already have identified him.
He stands out as Elon Musk's Twitter rage army… on wheels and in person.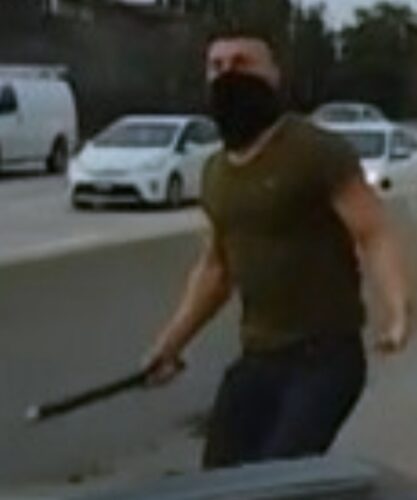 The pre-meditation is evidenced by measures taken to hide the license plate… and maybe that giant black pipe used in a very specific way.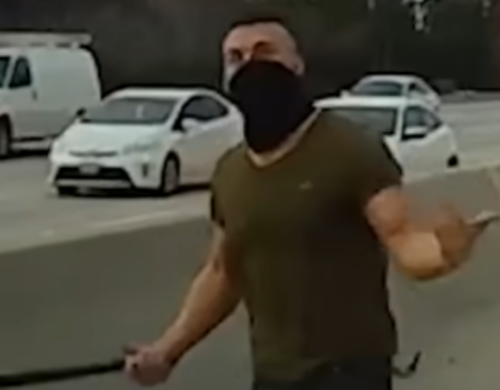 Police deal with illegally obscured plates all the time, of course.
Some may recall the license plate was invented specifically because car drivers from the beginning of cars were cruelly causing crashes and using their powerful engines to run away without being recognized.
Tesla seems to be not only trying to reinvent the wheel, it's recreating the worst possible mistakes in history… by design.
Update January 14:
At least ten independent crimes have been connected to the same Tesla.
Everyone that has come forward has reported experiencing similar things: they were harassed, even chased, by a man in a dark Tesla.
This now begs a deeper integrity check of law enforcement ignoring hate crimes.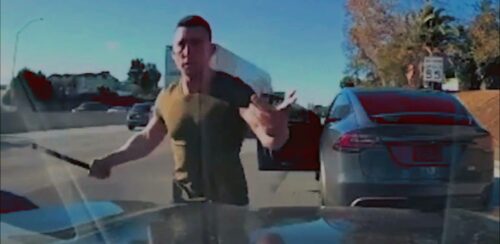 A dozen alleged felony crimes with one vehicle and police say they are struggling to find a violent white male perpetrator despite him being in a constantly surveilled car.
All the drivers have filed reports with law enforcement. The incidents have happened across Southern California, so different agencies are investigating.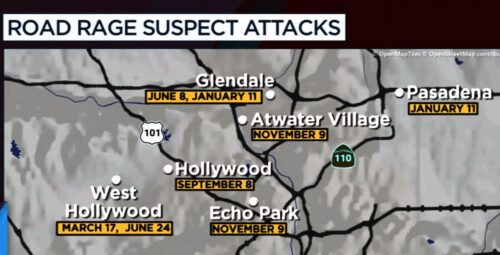 Different agencies investigating violent crimes is a subtle nod to the unsolved killing fields of Texas.
His "uniform" is strangely consistent, as well as his premeditated and repeated use of that same Tesla and pipe.
It appears he targets non-white drivers, am I right? More specifically he may be targeting women or people he has profiled as unlikely to run him over, despite swinging a pipe.
For example in one video outside a shed in Atwater he yells "you better go outside Cali where you came from" and you can hear the clear retort "You don't even know where I'm from. I'm born and raised in LA".
Police easily could have pulled Atwater storage shed records, in that case of hate alone. He obviously had a reason to park there. So what is the reason police let the obvious criminal Tesla roam so freely?
Update January 31: he is arrested and has targeted women.