There is some excellent reporting from the Daily Beast, as they lay out the details of a police search:
…U.S. attorney's office said that the travel document "contains numerous ingress and egress stamps, including stamps that reflect use of the passport to enter France, Spain, the United Kingdom, and Saudi Arabia in the 1980s."

The passport—which was Austrian but listed a Saudi Arabia address—was found in a locked safe…
A few notable points here:
Locked safe contents
False identity
France, Spain, UK and Saudi Arabia in 1980s
The locked safe is notable because the false identity passport was very old, yet never had been destroyed. Why keep an old document locked in a safe unless it still serves some purpose? Let's look at what it may prove for those gaining access.
This triad of European countries with Saudi Arabia immediately should be recognized as an arms trade group.
It was less than a year ago this was discussed in the news:
UK, France and Spain to maintain arms sales to Saudi Arabia
The word "maintain" is a big clue. We are talking here about passport stamps from the 1980s, when those arms sales initiated.
An older news story from the 1990s thus becomes more relevant to perhaps explain why this passport still was locked in a safe.
…Mark Thatcher, 41, helped broker a British arms deal to Saudi Arabia worth a reported $35 billion in the mid-1980s.

According to a long report in the London Sunday Times, middlemen in the arms deal–which involved aircraft, warships and ammunition–received about $360 million for their services.

Both the Sunday Times and the Independent on Sunday said Mark Thatcher earned a $19-million commission for helping secure the deal.
Whenever arms trade, or similar black market dealings, come to light there usually are signs of an effort to make large payments untraceable. The Daily Beast offers exactly these details from the police search.
Also found in the safe was $70,000 in cash and 48 small diamonds that prosecutors contend are often kept on hand by someone who needs to make a quick getaway.
I understand why prosecutors right now are saying diamonds are evidence of quick getaway plans. They have a job to do and they probably are right about flight risk.
Yet quick getaway plans don't match up with a long-expired counterfeit passport, which is why I am reminded here of a similar story from Frontline in 2002 of arms payable in diamonds…
U.N. arms expert Johan Peleman…got a lucky break. Peleman learned of a cocaine bust in Milan, where Italian police discovered four prostitutes in a hotel room with a Ukrainian businessman named Leonid Minin. The police also discovered more than $35,000 in cash, a half-million dollars in diamonds, and more than 1,500 documents detailing a tangled web of business dealings in oil, diamonds, timber and gun shipments to Africa.
A police search based on drugs and prostitution uncovers cash, diamonds and…arms deals.
What may come to pass is the current investigation into Epstein's history of sex crimes also may now implicate him in serving Israel funneling European arms to Saudi Arabia during the Reagan Administration.
When Reagan came to power he wanted to undo humanitarian embargo policies that Carter had enacted, avoid Congressional worry about oil embargo/power, and return to the prior era of executive-privilege like Nixon/Kissenger secret arms deals.
The explosive growth of major cash sales of weapons to Third World nations—especially those in the oil-rich, but politically volatile Middle East and Persian Gulf region—stimulated a growing congressional desire to be better informed, and consulted with, on such sales that had serious potential consquences for American national interests.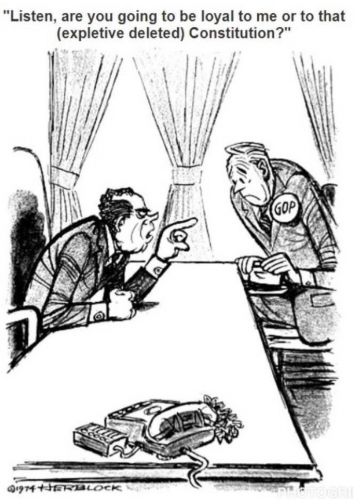 More to the point, Nixon had spent the early 1970s secretly building up Iran's military capabilities and Reagan wanted to spend the mid-1980s using executive power to secretly expand Iraq's military capabilities in a war with Iran.
Here's "National Security Decision Directive (NSDD) 99, signed on July 12, 1983″, which clearly explains everything in Reagan's mind.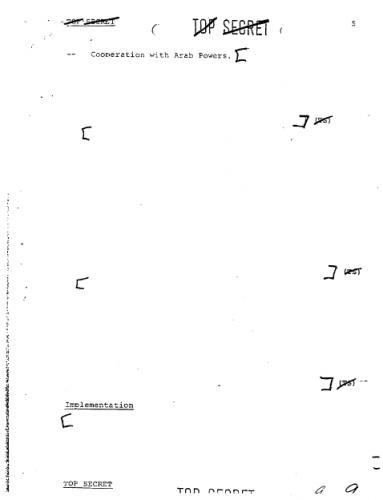 1985 seems to be the crucial turning point in strategy, as Reagan normalized relations with Iraq he also backtracked on direct arms sales to the Saudis (claiming personal responsibility while also saying he didn't know what was going on).
You can see the result of that shift was arms deal numbers jumped for France, UK and Spain: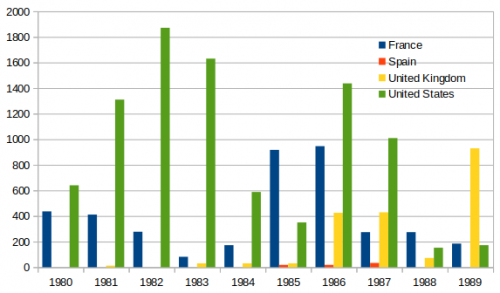 That's a graph I made from the SIPRI database of 1980s arms transfers to Saudi Arabia. Who brokered them?
The answer in part might be a guy who founded his own financial firm in 1982. His peculiar Austrian passport with a fake name, a Saudi address and stamps from France, UK and Spain now just needs to be held up to a 1980s calendar of major arms deals:
Maybe the target of this current investigation also will be linked directly with infamously unpopular American-made secretive arms deals to both Iran and Iraq to manipulate and destabilize them (see also: Iran-Contra Scandal of 1986).
The Shadow World and BAE Files have a Compendium at Tufts that summarize the significance of this passport to already documented history:
An investigation by the UK government's Serious Fraud Office (SFO) uncovered 'commission payments, or bribes, totaling as much as GBP 6 billion paid by BAE Systems to members of the Saudi royal family and others.

[…]

The [1985] Al Yamamah deal resulted from the reluctance of the U.S. Congress in the early 1980s to allow sales of major combat aircraft to Saudi Arabia, fearing they may be used against Israel.
General reporting about the 1980s may call out a "reluctance of the U.S. Congress" to sell arms, and I often see talk about Thatcher's "intent to create jobs" (lining the pockets of her own son) by selling arms into brutally repressive regimes. Andrew Feinstein even goes so far in his book "The Shadow World" to phrase the deals like this (p91):
Such were the benefits of Al Yamamah to Thatcher fils that some refer to the deal as 'who's ya mama'.
I have yet to find anyone discussing however whether Epstein was given an Austrian passport by the US or Israel to broker European arms into Saudi Arabia and thereby fuel Iraq in its war with Iran.
In other words, people talk about Epstein's strange and shadowy accumulation of wealth in very similar terms to Thatcher, without any of the transparency. Maybe they should look into whether his counterfeit passport was within or near a nexus of arms payments between Reagan, Thatcher, Prince Bandar "Bush" bin Sultan, Saddam Hussein and Shimon Peres.
To help, I'll give a couple examples of what money laundering and arms trade accountability has looked like for Mark Thatcher.
First, consider his conviction for laundering a diamond mines and oil coup d'etat led by an ex-SAS officer:
…son of former British Prime Minister Margaret Thatcher pleaded guilty Thursday to unwittingly helping bankroll a botched coup plot in oil-rich Equatorial Guinea…[after] he paid $275,000 in two installments last year to charter an Alouette III helicopter to be used in the takeover attempt…
I say laundering because his "unwittingly" helpful role since has been proven to be formally approved as necessary by British Prime Minister Thatcher, his mother.
On his release from prison, [ex-SAS officer] Mann said he could never forgive Sir Mark, who he claimed was a key participant in the military adventure rather than a mere investor, for failing to come to his aid.
And second, given the above secretive laundering role, there's a direct parallel to Epstein's track record in "financial services" versus reality:
For years mystery has surrounded the way in which Mark Thatcher suddenly acquired great wealth in the 1980s, when his mother was in office. He repeatedly has refused to answer journalists' questions about the subject but is reported to have told friends he made his fortune offering "financial services.

[…]

The Sunday Times said Thatcher was one of a group of people who helped broker the deal, and who received among them a $360 million commission from the Saudis. It said his share was $18 million.

[…]

The Sunday Times quoted Saudi arms dealer Adnan Khashoggi as saying that Mark Thatcher's value to the Saudis during the negotiation was that he could go to his mother and get an answer to any question they raised.
That leaves quite a lot for Epstein. Given records saying the Saudis expected sexual favors as part of the bribery system (e.g. the UK inflated cost of its jets 30% before signing the deal), it's not a stretch to see how human trafficking through private jets and private islands became Epstein's 1980s self-enrichment plan, thanks to his special passport.
Now we just need the Daily Beast to give us some dates from his passport stamps and the name in the passport to see if the above international history analysis holds any water.